HTC EVO View 4G Review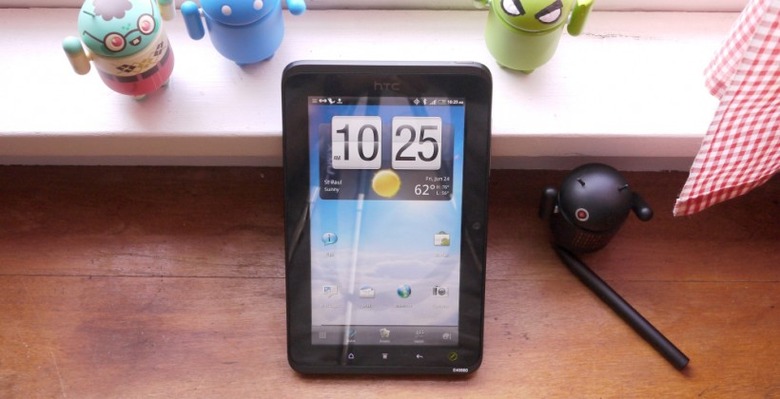 Welcome to a review of a tablet we essentially had a pretty good look at already, but have come to understand in a slightly better way now that it's got a new handsome color set on its outer bits. Head back to the review of the HTC Flyer EURO then see the review of the HTC Flyer WiFi for a full understanding of what we're about to deal with here, then behold the greatest color scheme of them all: black and red. The difference between those models and this one is the internet connection capabilities. While that, the difference in the colors of metal and plastic, and some app additions and subtractions may be the only changes between here and there, an epiphany of usefulness has come over your humble reviewer – have a look below to see how this is your note-taking champion and the bigger version of the EVO you've always wanted.
What I'd like to show you first is a series of hands-on videos from each of the three different versions of this device, starting with the Euro, moving on to the Wifi, and finally looking at the newest version, the EVO View 4G, the device we've got here today. Notice the similarities and note how while there are slight differences, they're all basically the same device. This does bode well for those realizing that this means HTC has a lot of confidence in this device, only altering the way it connects to the internet in the guts, leaving the software and the user interface, for the most part, very much alone.
[vms 39b5002a3f8909ecb88f]
HTC Flyer Euro Edition
[vms 81bb43b39c62553b2970]
HTC Flyer Wi-Fi
[vms 7d868cbc926602a61e4d]
HTC EVO View 4G
Hardware
This device has a size of 7.7 x 4.8 x 0.52 inches (195.4 x 122 x 13.2 mm) and weighs in at 420 grams (14.82oz). It's certainly not the lightest or the thinnest of any tablet on the market at the moment, including tablets with larger displays, but it DOES fit right in the palm of your hand – supposing you've got a relatively large hand like yours truly. You've got a micro USB jack at the bottom if you're holding it in portrait mode, a lovely silver volume rocker at the top of the right side, a headphone jack and power/lock button on the right side of the top. You've got a front-facing 1.3-megapixel camera and a back-facing 5-megapixel camera, and a pop-off panel covering the top back of the device, behind which you can insert your very own microSD card up to 32GB.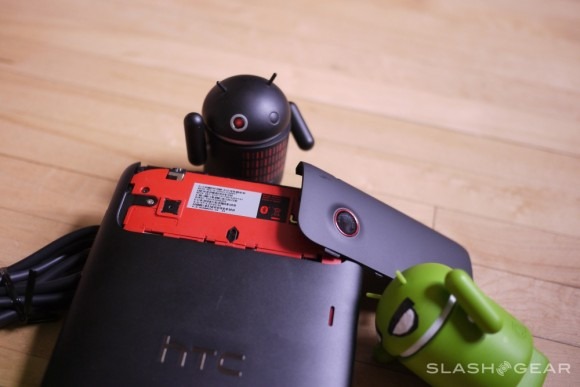 One problem with this device, and I'll explain how to fix it in a moment, is that the scribe pen does not attach to the tablet in any way. If you want to keep it with the device, you'll have to... I don't know... tape it to the back, right? No way. All you've got to do is head to the accessories bin and pick yourself up a case – HTC has several official models that'll work perfectly for you – you'll be wanting to keep that nice glass display safe anyway. Head back to our sister site Android Community's post entitled HTC EVO 3D and HTC EVO View 4G Accessories Rundown and see everything you can get.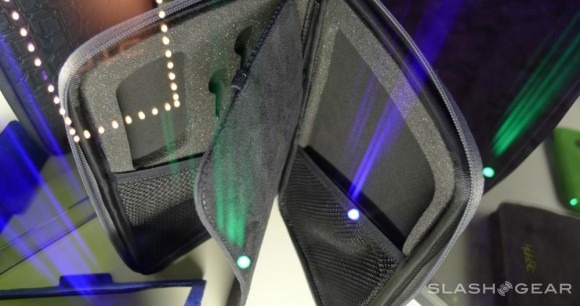 This device is small enough to fit in an adult-male sized pair of jeans, large enough to be called a tablet – it's got a 7-inch display if you did not know already. This device runs Android 2.3.3 Gingerbread, has a single core 1.5GHz Qualcomm Snapdragon processor, and you'll be able to connect to the internet with WiFi or WiMAX. This device is capable of sending and receiving SMS messages, but as far as we can tell, there's no phonically going to be coming in or going out without some sort of special app like Skype.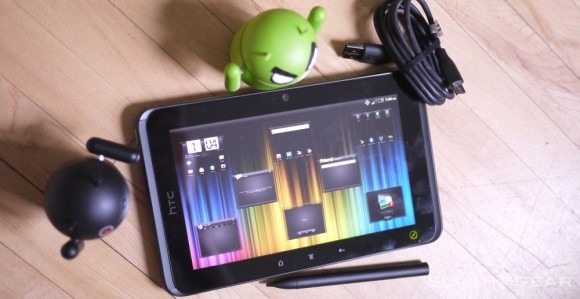 Software and Performance
You've got Qik for video chat, Notes for taking notes, and HTC reader for reading e-books. The applications you'll get in this version of the tablet are essentially the exact same set you've gotten in the WiFi version of the tablet save for some extra bloatware presented by the carrier. Bloatware is a word that here means useless, added by a company to further pull you into their web of payments for product, essentially something you're going to want to find a way to delete as soon as possible. Unfortunately you won't be able to delete most of the applications that are included in the out of the box build on the EVO View here, a rooting situation is what you'd have to use to get your device clean of these bloated apps – if rooting is something you're not likely to do because it involves hacking, these apps you shall be a keeping.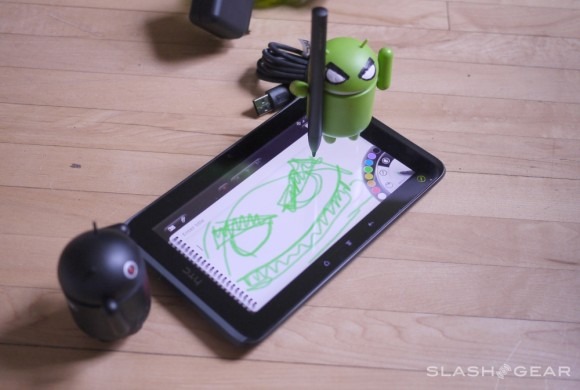 That said, there are quite a few applications that you'll find good use for. Google has been fairly good at figuring out what it is you'll want from an Android device, and have required all those manufacturers who hope to add the Android Market to their device to keep these apps in tact (in most cases, that is.) You'll get Gmail, Google search app, Google maps, and every other little tidbit you've got on the Android device you already own.
[VMS 259401518960f7a06f94]
Above we've recorded a video which disseminates some knowledge on this device particularly on a few apps you'll want to use, will undoubtedly be using quite often, or will want to download once you've got the device. There's also a few often-asked questions on the device answered such as "what happens when I'm using the pen and my finger touches the screen at the same time?"
Camera
The camera in the past we've called generally mediocre. The past few days we've got to look at this iteration of the device, it's seemed to be better. Perhaps it's the weather, maybe it's just that everyone's excited that it's summer, who knows. You'll be able to see for yourself below, have a look at the highest quality photo the back-facing camera is capable of here: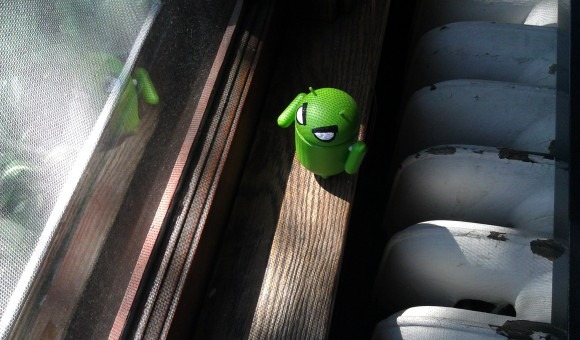 And some of the highest quality video as well – look at that good puppy getting into position for the video – cute!
Battery
As with all such mobile devices, you'll want to know how this device's battery holds up. Inside the EVO View you'll be getting a 4,000 mAh non-replaceable battery that adds up quite well. While HTC says the battery will be lasting you four hours of video playback or between 820 and 1470 hours on standby, we've got to say that we've not had to charge it since it arrived, again, several days ago. Impressive as all tablets seem to have been since this Android wave began.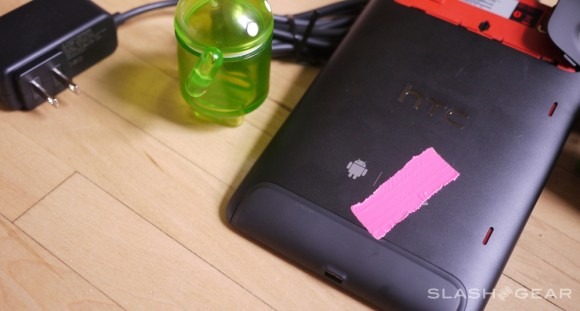 Wrap-Up
What you've got here is a note-taking machine. You're able to use the Notes app in so many different ways that we're surprised an iteration of this device hasn't been called the HTC Scribbler. You've got to keep an eye on the pen, unless of course you've got a custom case, which you almost certainly will, and it'll be your best friend and NEARLY an indispensable addition to this already super tablet. It's a 7-inch tablet running a single-core 1.5GHz processor, and by all means that's all it should need to get all of your note-taking done.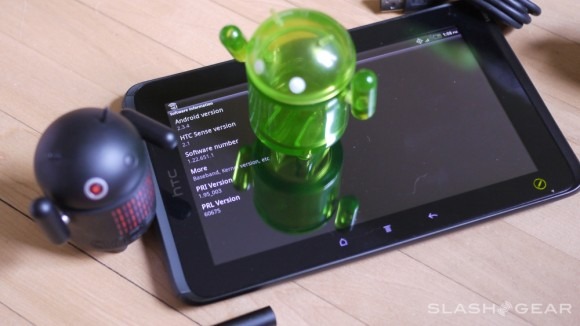 But therein lies the dilemma – what if you want to use it for games as well? I'll tell you right here and now – no game that we've tested on this device has seemed slow, force closed, or had any error of any kind thus far. If you'd like us to test something hardcore that you don't believe we could have possibly come across that might bust down this Qualcomm Snapdragon, by all means, send it on over – we'll try it out! For now though, power.
If you plan on purchasing this device, consider first that you're also able to purchase the WiFi version from Best Buy, a device that's exactly the same with slightly less bloat in the apps and having no monthly contract for connectedness. When you use this device for notes, you wont need the internet, and when you're using this device for internet, you'll more than likely either be in range of a WiFi connection or you'll have your handset in your pocket with a mobile hotspot. No problem!