HTC EVO 4G: where will I get WiMAX?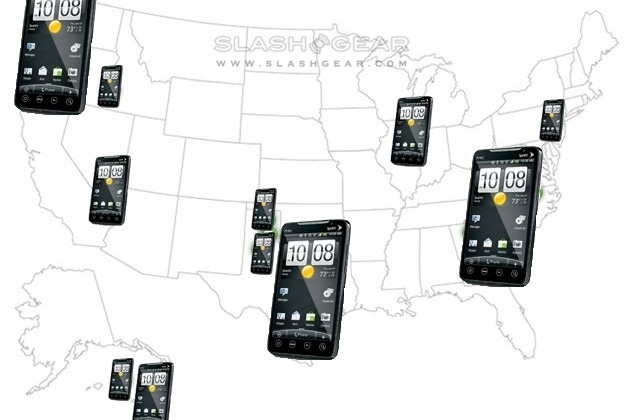 So, you're tempted by Sprint's HTC EVO 4G, and frankly who can blame you?  If our all-too-brief hands-on play with the WiMAX-packing Android 2.1 smartphone taught us anything, it's that HTC have taken the best of the HD2, slapped on an arguably more alluring OS and created the sort of superphone we scoffed at Google for describing the Nexus One as.  Plenty has been made of Sprint's 4G promises, but that got us wondering: exactly who will get to enjoy the HTC EVO 4G's WiMAX connectivity?
So far, the Clear-built 4G network covers 27 "markets", which you can see at their interactive map here.  Over the course of 2010 Sprint expect to see new coverage in Boston, Denver, Houston, Kansas City, Minneapolis, New York City, San Francisco and Washington, D.C.  Of course, outside of WiMAX areas the EVO 4G will fall back onto EVDO Rev.A data networks, the speed of which we're familiar with from the carrier's existing line-up.
That actually means that relatively few people will be able to enjoy the EVO 4G's flagship feature; Sprint say over 30m people are covered now, and up to 120m will be by the end of this year, but it pales in comparison to the regular EVDO network.  We're also unsure of how Sprint will be pricing either the smartphone or its accompanying plans; there's speculation that WiMAX data will demand some sort of surcharge above Sprint's regular data plans, and of course if you want to use the MiFi-style connection sharing app there'll probably be another payment for that.
We're still excited by the HTV EVO 4G, and we reckon it's just the shot in the arm that Sprint – and WiMAX – needs in order to fend off the by-now persistent rumors of financial peril.  Still, we wouldn't be at all surprised if HTC had an HSPA+ version of the EVO 4G – with the same huge capacitive display, Snapdragon processor and high-resolution camera – in their engineering labs, with the added bonus that such a device could work not only on AT&T and T-Mobile USA's planned networks, but fit in with what's available in Europe.  That'll be even faster than WiMAX, potentially.
Should that stop you buying the HTC EVO 4G on Sprint?  Probably not, though we'll be interested to see what devices cross the wire in the interim period between CTIA Wireless and the EVO 4G's release over the coming summer.
HTC EVO 4G hands-on demo:
[vms 77a97fc38f3421614151]