HTC EVO 3D Review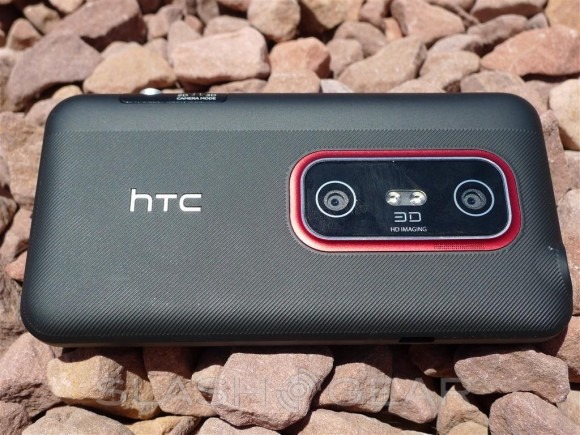 The HTC EVO and its chanting followers is something we rarely see in the smartphone industry, back when it launched it had a very quick rise to fame. I mean it had that huge 4.3" screen that made all the other phones around look tiny, it had 4G and it was fast. I can see why everyone fell in love with the original EVO and why its still selling like hot cakes, it is a sweet phone. Will the new HTC EVO 3D live up to the same fame — can it be everything and more? Read on to find out.
Hardware
I've had the pleasure of carrying around the HTC EVO 3D for the past few days and I must admit that so far I really like it. If you are HTC how do you build on the success of the original to get all its followers and new buyers alike — you build an amazing phone that looks strikingly similar to the original, but better. That sounds easy enough right HTC? Right! For you readers wondering that is exactly what they have done. They took the original EVO and added a few fancy new features like 3D and a high-res screen and made it as close to the original as they could.
The new EVO 3D is only a few millimeters taller and its almost the exact same thickness. The weight is the same and it looks just like its older brother like we mentioned above. They managed to pack all the goodies into basically the same size package and I'm thinking most of you will love it although you kickstand lovers might be a little sad as the EVO 3D is missing that convenient feature.
The screen is a 4.3" 540 x 960 qHD display that features glasses free 3D to boot. It has those hard to miss twin 5 MP cameras on the rear and a 1.3 MP front shooter for video chat. The capacitive touch buttons on the bottom are exactly the same as the EVO so that should make you all happy. Next up is that processor inside — it features a dual-core 1.2 Ghz Qualcomm MSM8660 CPU with the Adreno 220 GPU along with 1GB of RAM as well as a 8GB MicroSD card out of the box. Then it has all the usual things like volume rockers and Micro USB port but the new additions to the family are the huge dedicated camera button and shiny aluminum 2D/3D toggle switch.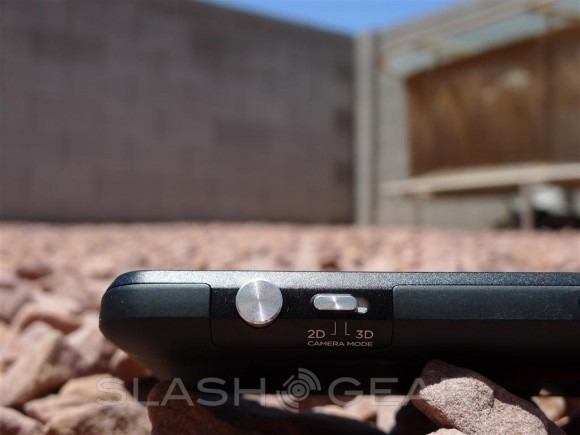 While we are talking about hardware make sure to head over and check out our EVO 3D hands-on and unboxing as well as the HTC EVO 3D vs Optimus 3D battle.
[vms 0faf985047d4c3f13ed0]
Software and Performance
The EVO 3D comes crashing in with the latest in Android, 2.3 Gingerbread, as well as the new and improved HTC Sense UI version 3.0 to round things off and make it look good. We should all be pretty familiar with Android 2.3 Gingerbread although Sense covers up basically all visual changes so I'll focus on Sense. The new Sense 3.0 is pretty fancy, I think HTC might have outdone themselves. The lockscreen alone is probably my favorite feature hands down. Being able to quickly and directly access things like phone, camera, or Gmail is a very nice touch and something I've been doing with 3rd party unlock screens apps for over a year. You add the new features in the weather app and widget and you have my main visual needs covered — well that and the high-res screen.
There isn't much for 3D software as the phone knows when your sliding through your gallery what picture is 3D and what is 2D and it displays the correct type for you. When on a 3D image you can toggle 2D/3D with a on-screen command. There is a few 3D photos that come pre-loaded on the device as well as some 3D games like Spider-Man 3D but the Optimus 3D did have more games included.
The homescreen carousel is perhaps a little too easy to trigger, although it was much harder to get started on the Sensation 4G and I'm not sure why. You can see what I mean in the video above. All the Sense animations are extremely smooth and fluent. It is almost so smooth that sometimes I pass the panel or setting I want by accident and it moves to the next, but I can't really complain.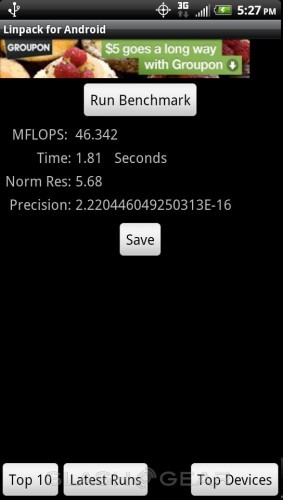 The quadrant benchmarks were pretty average clocking in at 2115 and slightly less the second time around. That is on par with the Sensation 4G testing as well. I know some of you might be thinking the Samsung Galaxy S II review shows the SGSII blowing that score out of the water but I want to remind you the Galaxy SII is a lower resolution 480 x 800 vs the EVO 3D and Sensation running 540 x 960. That isn't enough to make a huge difference but it does take some toll on performance.
Camera and 3D
Now for the part many of you have been waiting for and that is 3D. Is it just a gimmick or is it an actual function that you can use from day to day — that will most likely be up to you the users. Packing twin cameras on the rear this thing is ready for action, flip that 3D toggle switch and instantly start recording in 3D. I must admit at first I had some mixed feelings on the entire 3D thing. The camera takes a hit in performance and you have dual 5 MP sensors vs the 8 MP sensor in phones like the Sensation 4G and Galaxy S II and I feel the camera overall is lacking because of that. You can see from my HD video test below that the 5 MP camera just doesn't quite cut it, but then again the main area of focus is on 3D.
I'm getting ready for a backpacking trip to the Grand Tetons in Wyoming so I took a photo of some of my gear in a medium lit room and you can see just how poor the single 5 MP camera really is, but outside in natural light things get a little better.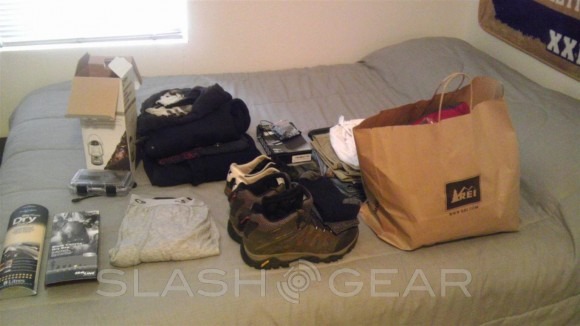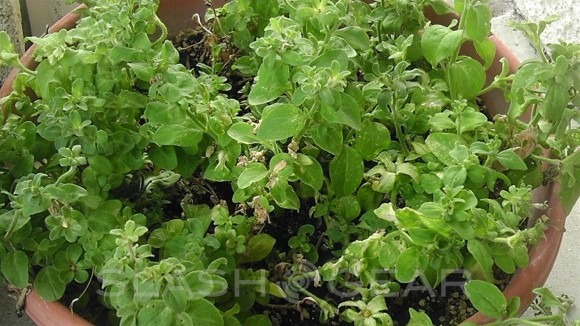 Capturing images in 3D is where the good stuff is right? I went ahead and took a few photos in 3D and although they don't turn out that great on a PC you can see in the photo below things do get a little grainy but that is just the effect on the glasses free 3D screen. Using any video or pictures from the device on something like my 27" 3D LCD they look much better but then I'm using glasses.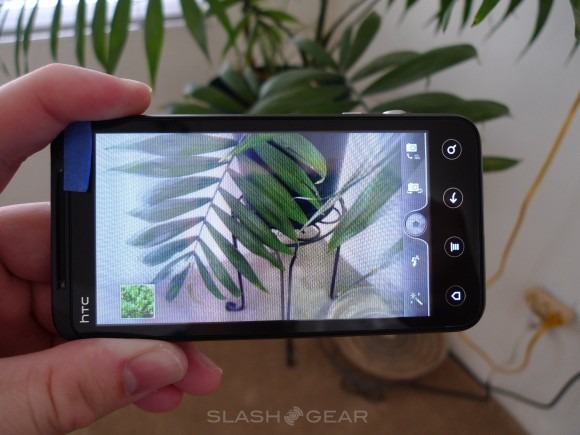 The fact that they've added the toggle switch for 2D/3D is a nice touch, it really makes things simple and easy for users wanting to go back and forth between the two with ease. On the Optimus 3D you have to actually close out and launch the 3D camera so kudos to HTC.
HD Video Test
[vms 26cbb0acad1e6ca74b9a]
So are the 3D features worth it you ask? Again, I would have to say if that is a feature that you can see yourself using, or are already into 3D then yes the 3D is a sweet bonus and really makes for some interesting photos. I will however mention that even if you don't plan to use the 3D all that much its always nice to be future proof, and the HTC EVO 3D is still a top tier and amazing device with 3D aside. It still outperforms almost everything else on the market and would be a great addition to your EVO collection.
Phone and Battery
I'll keep things short and sweet regarding battery life. I know that was a huge concern for many of the original EVO owners but the new 3D packs a 1,730 mAh battery and it will get you through an entire day of solid use. I've done some browsing, made multiple phone calls, recorded some video in 2D and 3D, took around 40 pictures and even played a little Spider-Man 3D and I'm sitting around 7 hours right now with a decent slice to spare. I will mention that I did NOT have 4G enabled so 4G is another story. That will probably kill your battery a little faster but the increase in size should help the EVO 3D outlast the usage of the original.
A few mentioned call quality in my hands-on comments so I'd like to comment on that. I feel that call quality and speaker quality is on par with most other HTC phones. I was able to hear callers loud and clear and I'd even say the EVO 3D seems to have a better earpiece than the Sensation 4G or it has better placement. The speakers for listening to music or speakerphone sound better than I expected — as usual with a small speaker on a phone it does sound a little like a tin can speaker, we don't get much bass but I wasn't expecting any to begin with.
Wrap-Up
Is the HTC EVO 3D your next device or should you wait to see what comes next, is that what you all want to hear? Does the 3D alone make this a worthy upgrade from my original EVO might be another question you're all wondering. I'd have to say yes — the HTC EVO 3D would be a great replacement for your aging EVO. Whether you use the 3D features or not it is still the best device on the carrier.
It packs plenty of punch with a dual-core processor, upgraded graphics, that amazingly clear and beautiful qHD high-res screen and it has Sense 3.0 so what else do you need? The 3D feature may seem like a gimmick to some, and in a way I'd almost agree with them but the games sure are fun. The build quality is as good as it gets just like all of HTC's hardware. The phone feels great in the hand, I wouldn't call it heavy but it has a nice and comfortable "solid" feel to it.
HTC has done a great job making the 3D aspect of this device only part of the package and for those that need it, it is there and easy to access with the toggle button all while flipping through pictures the phone knows when they are 3D or not. For those that wont use this feature just leave the camera on 2D and go about your day because, as I said above, the phone is still the best option in the lineup.