HTC Desire Z Review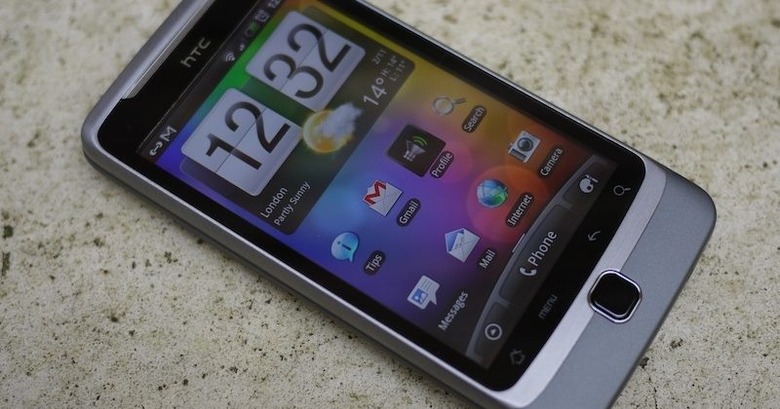 The HTC Desire Z is the company's second new Android smartphone of the season, smaller in chassis and screen than the Desire HD we reviewed last week, but toting a flip-out hardware keyboard in an attempt to clean up in the heavy messaging market. Does this European version of the T-Mobile G2 hit the spot? Check out the full SlashGear review after the cut.
Hardware
As we said, if you've seen the T-Mobile G2 then you'll be familiar with the Desire Z hardware. The matte grey and silver handset measures 119 x 60.4 x 14.16 mm, making it a little on the thick side thanks to that hardware keyboard, with a 3.7-inch WVGA Super LCD capacitive touchscreen. Underneath are narrow touch-sensitive buttons for home, menu, back and search, along with an optical joystick that can be pressed as a select button.
On the left hand side there's a microUSB charge/sync port and a volume rocker, while a dedicated camera shortcut button is on the right, a welcome addition to HTC's Android range. The power/lock button and 3.5mm headphone jack are on the top edge. On the back is a 5-megapixel autofocus camera with LED flash, together with an eye-catching brushed metal battery cover that's released by a small switch. Underneath is a 1,300mAh battery, SIM card slot and, underneath the battery itself, a microSD card slot. We'd prefer to have had the memory slot more readily accessible.
HTC Desire Z unboxing & hands-on:
[vms b6c3b5bea9515d1a1fc4]
Push the left side of the screen, and it lifts and slides across to reveal the Desire Z's hardware keyboard. This has four rows of keys – the numbers share with the top letter row, and are accessed with an Fn button – with dedicated @, search and tab buttons, along with two shift keys and two user-definable shortcut keys. As you'd expect it's all backlit.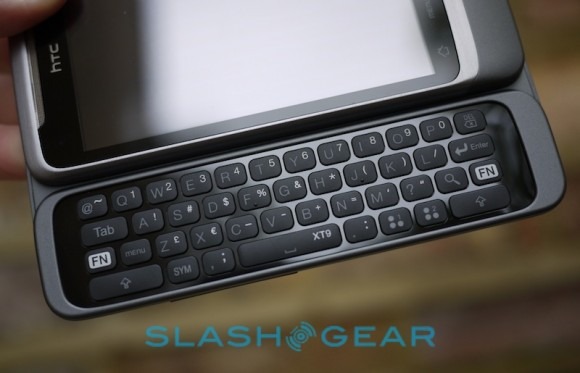 The keys themselves are reasonable but not the best we've encountered on a phone; certainly, they're not as good as on HTC's own Touch Pro2, an altogether chunkier handset but which made up for its scale by having a particularly usable 'board. The Desire Z's keyboard is better than a first-gen DROID, and there's a reasonable amount of travel given the shallow key-tray on offer, but they're still on the cramped side which prevents faster typing.
We were initially concerned by how sturdy HTC's hinges on the Desire Z might be, though they seem to be wobble free for the moment. More worrying is the minimal spring-loading used: hold the phone by the top half, and you can see the lower section droop away under its own weight. Tilt the phone slightly, and it'll pop open. Now, the likelihood of you ever trying to carry the Desire Z by just the top or bottom half is probably quite low, but it does mean the handset opens quite easily in a pocket and can get caught, as well as making us wonder about long-term performance.
[Update: HTC tells us that the hinge strength was a conscious choice, and that the Desire Z is designed to be free enough for the phone to be opened with a single finger. The company is confident it won't be a long-term durability issue.]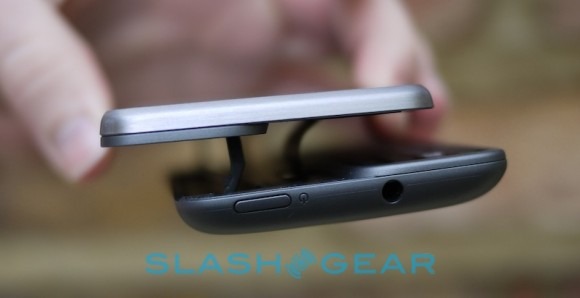 Inside, the Desire Z has an 800MHz Qualcomm Snapdragon MSM7230 processor paired with 512MB of RAM and a 1.5GB ROM. It obviously lacks a few CPU cycles when compared to the 1GHz processors we've been used to seeing recently, but it's from the silicon company's latest-gen Snapdragon range and includes the Adreno 205 GPU for improved graphical crunching. We ran Quadrant, an Android benchmarking tool, and the Desire Z scored 1533; that's less than the G2 manages, but still higher than the 1GHz Nexus One or DROID X on Froyo. Meanwhile there's quadband GSM/EDGE and dualband (900/2100) UMTS/WCDMA, along with WiFi b/g/n, Bluetooth 2.1+EDR, GPS, a digital compass, proximity sensor and ambient light sensor.
Software
As with the HTC Desire HD, the Desire Z runs Android 2.2 Froyo with the latest version of HTC's Sense interface on top, and support for things like Flash Player 10.1. The software experience for both is the same – we'd recommend reading our Desire HD review for all the details – including integration with the new HTCSense.com online portal. A free service, Sense online allows you to remotely track the Desire Z, access its SMS/MMS messages, lock the phone or make it ring, or even completely wipe it.
Having set up Sense for the Desire HD, we had hopes it might carry across all our linked contacts when we used the same account on the Desire Z. Unfortunately this didn't prove to be the case; we still had to do the work manually. Froyo supports multiple Gmail and Exchange accounts loaded simultaneously, with push-email for both together with calendar and contacts sync, as well as POP and IMAP, and as ever HTC's custom apps work well. We were glad of the optical trackpad, too, which makes navigating through text far more straightforward; it's something we definitely wish HTC had managed to squeeze into the Desire HD as well.
HTC's on-screen keyboard continues to be one of the best text-entry systems around, and ironically we were faster at some points using it over the physical 'board. Unfortunately the OSK's clever auto-correction and auto-punctuation system has mostly been ignored with the physical keys: you can double-press the spacebar to insert a period, but there's no automatic change from "im" to "I'm", for instance.
What might frustrate would-be Desire Z owners is the absence of a pure-Android version of the handset. The T-Mobile G2 runs bare Froyo, without any modifications like Sense, which likely means it will get future OS updates quicker than the Desire Z does. Now, we like Sense – and the new online component is great – but we also like to have the choice whether to use it or not.
Multimedia
While the Desire HD proved very capable with multimedia playback, the smaller screen on the Desire Z is somewhat less eye-catching. It's a decent SLCD panel, with reasonable viewing angles, but we still prefer the zinging colors from AMOLED screens like on Samsung's Galaxy S family of devices. The video app supports 3GP, 3G2, MP4 and WMV clips, which falls short of what Samsung is offering, but playback is generally solid and sound through headphones is good. Audio, meanwhile, supports AAC, AMR, OGG, M4A, MID, MP3, WAV and WMA formats, and there's an FM radio which requires a wired headset to use as the antenna.
In addition there's DLNA streaming using the preloaded Connected Media app: you can choose from the music, photos and video stored on your handset to squirt over WiFi to a networked media player. Unfortunately HTC doesn't offer an HDMI output on the Desire Z.
Camera
While it lacks megapixels on the Desire HD, the 5-megapixel camera on the Desire Z is still capable of 720p HD video recording. Stills are grainy and look unusually overcast, even when taking in decent daytime lighting; in low-light, the flash suffers from the usual LED malaise of having a particularly narrow sweet-spot outside of which subjects are either overblown or hopelessly under-lit. There's no front-facing camera, either, which means no video calls or easy self-snaps.
Video is better, looking crisper than the HTC HD7 managed with its 5-megapixel optics and lacking the Windows Phone 7 device's hunting autofocus. There's only minor blur, though with no HDMI output you're left using HTC's DLNA app or uploading content to YouTube via the usual Android channels if you want to share footage on a bigger screen. In short, HTC still hasn't addressed criticisms of its camera quality, and the company continues to lag behind rivals like Samsung.
HTC Desire Z 720p video sample:
Phone & Battery
The Desire Z impressed when it comes to phone performance, proving particularly tenacious with a signal in places a Nexus One gave up. Audio quality was decent, and we had no problems pairing various mono and stereo Bluetooth headsets (and using AVCHD buttons on the latter, to control audio playback). Meanwhile the speakerphone was loud, though certainly not the loudest we'd heard.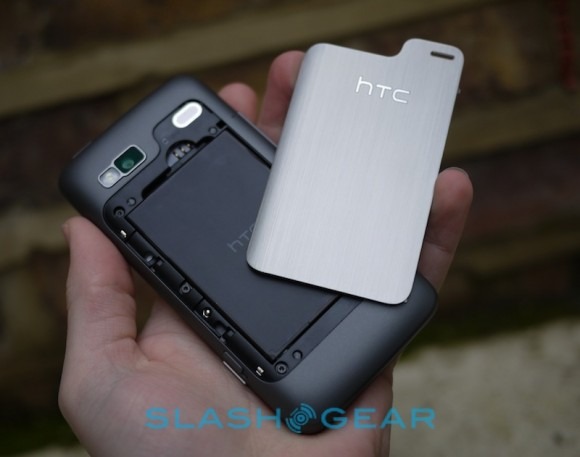 Battery life was the real surprise, however; with push-email turned on, both WiFi and 3G active, and some browsing, messaging and calls, we managed to make it almost through two days of use before the Desire Z died. Using the GPS and 3G for navigation while mobile did drain things a lot faster, however, but with moderate use this could be one of the first Android handsets not to demand a nightly recharge and yet also having sufficient power to run whatever apps you like.
Wrap-Up
The market for Android smartphones continues to get more crowded, and the bar for what makes a great handset keeps getting higher. That's great for the consumer, but it does make the Desire Z's job harder. Hardware keyboards are still rarer among Android devices than their all-touch counterparts, which gives the Desire Z something of a pass along the way, but we're not 100-percent convinced by the usability of this particular HTC 'board. It's good, especially after some practice, but then HTC's on-screen keyboards are good too and, thanks to the correction features, accurate as well.
Our temptation, then, would be to opt for the HTC Desire HD with its better-quality camera, Sense online support, huge display and great on-screen keyboard. The compromises in bulk and usability involved in getting the Desire Z's physical QWERTY will likely be too great for most users. If you're addicted to a hardware 'board then we'd pick the HTC Desire Z over its DROID 2/MILESTONE 2 counterpart, but there are stronger all-round Android phones on the market today.