HTC Desire Review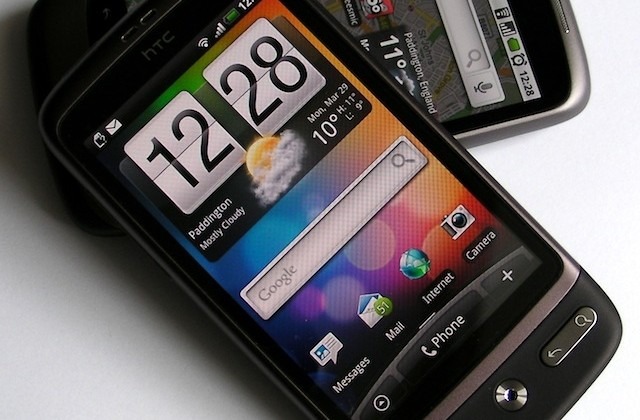 The HTC Desire is the company's second-strike in what they hope will be a one-two sucker punch for the Android competition. Following on from the excellent HTC Legend, the Desire borrows plenty from Google's Nexus One but packages it with HTC Sense for arguably better out-of-the-box usability. It makes for a tricky argument, however; HTC manufacture both smartphones, and have been accused by some of purposefully building the Desire to a price by snipping away at the spec sheet. We've got two questions, then: is the HTC Desire any good, and does it hold its own against the Google Nexus One? To find out, check the full SlashGear review after the cut.
The Desire measures in at 119 x 60 x 11.9 mm, which is just the tiniest broader and thicker than the Google Nexus One at 119 x 59.8 x 11.5 mm. Thanks to the rubberised back-panel, however, the Desire feels chunkier in the hand than the numbers might suggest; everyone we asked told us they thought the Nexus One was significantly thinner. Build quality is high, with sturdy front-panel buttons and a creak-free casing, and the soft-touch back does make it a little easier to keep hold of than the slippery Google phone. Our one point of concern is taking off the battery cover, which causes it to flex and pop dramatically.
HTC Desire unboxing video:
[vms f7c5a0bf619f979c6cf3]
It's something you'll have to do if you want to switch microSD cards, though, which like the SIM are trapped by the battery itself. The Desire has 512MB of ROM and 576MB of RAM, and takes up to 32GB microSDs; there'll be an 8GB card in the retail box. The battery itself is a 1,400mAh pack, just like the Nexus One. Ports include microUSB on the bottom and a 3.5mm headphone/headset socket on the top, and in the box there's a set of wired headphones with call/music control buttons.
HTC have switched the Nexus One's touch-sensitive front panel buttons and trackball for four hardware keys and an optical mouse. The physical keys are far easier to hit than the buttons on the Nexus One, and though we predominantly used the touchscreen for navigation, the optical mouse worked well. Speaking of the touchscreen, at 3.7-inches and WVGA resolution it's still one of the largest Android displays on the market today. As with the Google-branded device, colors on the AMOLED panel are rich and vivid, and HTC's default Sense UI – complete with animated whole-screen weather effects – does a great job of showing off what the display is capable of.
HTC Desire first-impressions:
[vms ad02658508fe4616098a]
As on the HTC Legend, Sense gives you seven homescreen panes versus the regular five, and introduces a new Live View (or "helicopter view") gesture – triggered with a pinch-zoom on the desktop – which shrinks all seven panels into a page of thumbnails. It's more effective on the Desire than it is on the Legend, we found, since each thumbnail ended up larger on the comparatively bigger display. Sense also brings with it a range of widgets, many of which are familiar from previous HTC devices. The most significant change is Friend Stream, of which more on later, but HTC have also set up an on-device download system for browsing and installing more of their widgets. Obviously the usefulness of that will depend on how frequently HTC release them, however; we couldn't spot anything new that hadn't been available when we reviewed the Legend several weeks ago. Hopefully once both devices are broadly available, HTC will begin to update their catalog.
Even with all seven panes stuffed full of widgets, shortcuts and the rest, the Desire's 1GHz Snapdragon processor never feels stressed. In fact, the homescreen whips from side to side with no delay, Live View is instantaneous and we noticed all of the data-heavy widgets seemed to update a little quicker than on previous handsets. When you first boot up the Desire, HTC ask for Facebook, Twitter and Flickr login details (as well as any POP, IMAP or Exchange email credentials you may want to use), and then the phone pulls in the latest updates together with contacts and calendar entries.
As with earlier HTC Sense devices, Facebook and Flickr updates are associated with the individual contacts responsible for them, while Twitter messages drop into HTC Peep, the company's own Twitter client. Sense also attempts to combine duplicate contacts into single, unified entries, though you can also do this manually, linking and unlinking as appropriate. Fresh to the Legend and Desire, however, is Friend Stream, HTC's answer to MOTOBLUR and Sony Ericsson's Timescape; this pulls together updates from the three services into a single timeline, complete with a desktop widget that allows you to update one or more from a single UI.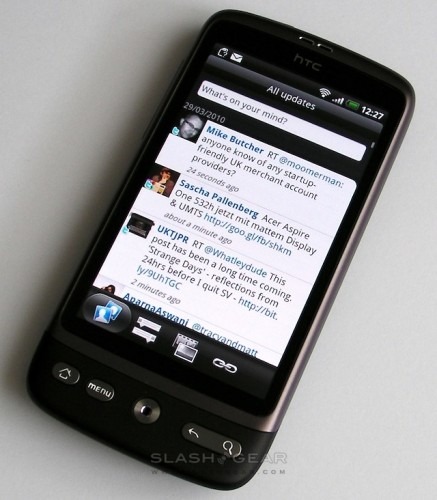 Friend Stream certainly works, though as with other attempts to harness social networking on a mobile device, it's nowhere near perfect. HTC Peep is a decent Twitter app – at least, unlike MOTOBLUR, you can set it to specifically alert you to @ replies rather than leave them in among the rest of the stream – but Friend Stream doesn't do anything to prioritise messages from those people you're most interested in. There's no way to flag up certain people whose photos, tweets or Facebook statuses you'd particularly like to be alerted to, and since Facebook status updates are generally far less frequent than Twitter ones it's easy to miss them.
Still, there are plenty of Twitter apps to chose from (as well as the official Android Facebook app) and if you don't want to use Friend Stream then it's easily avoided. It's not the only example of HTC tweaking the underlying Android 2.1 experience, either. Their Exchange support is far better than what you get as standard on the Nexus One, pulling in not only email and contacts but calendar entries too. You can also view emails as conversations, pull out only those messages flagged or currently unread, set up a "VIP" group the emails of which are pulled together, and handle Exchange meeting requests. Given much of that functionality would require the purchase of a third-party app on the Nexus One, we have to give HTC some serious credit.
Of course, if you'd rather look to a third-party then the Android Market is available, and the choice of apps is getting more and more broad. Happily the Snapdragon chipset feels more than capable of keeping up with even gaming demands, though Android's limitation to using in-built ROM rather than memory cards for app installation still rankles.
You could say that the mobile world is separating into those phones which support Flash and those which don't, and if in-browser video and game support is important to you then the Desire should appeal. HTC have customised the Android browser with Flash Lite, meaning that together with multitouch (which you get on the Nexus One) you also get the ability to play videos from sites like YouTube and the BBC (which the Nexus One lacks). Playback performance can vary, with some clips coming through smoothly while others stuttered and jerked, but we generally found that allowing them to buffer entirely before watching settled things down. Otherwise, the Desire makes for an excellent browsing companion, with intuitive double-tap to zoom/reflow and speedy flips between portrait and landscape orientation.
HTC Desire: Sense highlights:
[vms e97bacb63e52c54f0ada]
The browser is also a good place to check out HTC's work on copy/paste and text selection. As on the Legend, tapping and holding on a block of text prompts a magnifier window, allowing you to highlight a single word; when you let go, you can then use two handles – one at each end of the highlight – to extend it. Above float three buttons, Copy, Look Up and Share; the first, obviously, copies the selection to the clipboard, while the last allows you to send out that snippet via email, SMS, Twitter or other means. As for Look Up, that opens a new dialog which offers a dictionary or Wikipedia definition, together with Google Translate options.
Some of HTC's deepest changes have been to the Desire's camera app. Where basic Android 2.1 handsets have rudimentary manual features at best, the Desire gets granular control over exposure, contrast, saturation and sharpness, together with ISO ranges from 100 to 800 and optional geotagging and face detection. However there's no automatic linking of faces spotted in photos into their related contacts, however, as you get on the Sony Ericsson XPERIA X10. Tapping on the Desire's photo preview lets you prioritise focus points or exposure, with clicking the optical mouse actually taking the photo, and it's perhaps the most successful HTC camera to date. The LED flash is still of limited benefit – it has the same narrow "sweet spot" outside of which images are either over- or under-exposed – but that's not a critique we can level solely at HTC.
Happily our other frequent Android complaint – the music app – has also come in for some work, and while it's still not the best mobile media client, it's a big improvement over the standard UI. In fact the Desire sounds a lot better than it looks, with healthy amounts of bass and surprising clarity in the mid-range. You'll have best results by junking the uninspiring bundled headphones and plugging in a decent aftermarket set, of course, but we were more motivated to do that with the Desire thanks to its above-average audio quality. Video, meanwhile, looks great on the 3.7-inch WVGA display, and the Desire can handle .3gp, .3g2, .mp4 and .wmv content out of the box. There's no video-out connection, however, so you can't drive a TV or other display from the phone.
It'd be easy to forget that the HTC Desire is, in fact, a phone, given everything else it's capable of. We had mixed expectations for the smartphone, frankly; HTC devices have delivered great audio quality of late, but the Desire lacks the noise-cancelling microphone array of the Nexus One, and we weren't sure how it would fare in comparison. In the end, performance was on a par with other smartphones, though there was some background hiss that the Nexus One didn't experience. Similarly, speakerphone performance proved strong, with the loudspeaker cranking up to sufficiently high volumes, but callers who had no problems on the Nexus One did occasionally ask us to speak up on the Desire. If you've never used the Nexus One then it's unlikely to bother you, however.
Battery life seems likely to be the Desire's main stumbling block, and at the risk of spoiling the punchline this is a device that you'll be recharging daily. More specifically, longevity is a factor of how many data-heavy widgets and apps you have running at any one time. With Friend Stream doing its thing, pulling in regular Twitter updates together with periodic Facebook and Flickr checks, the Desire's battery began to look perilously low in the evening. Reducing the frequency of updates, switching from push to timed email, or manually setting the screen brightness to low all made a difference.
HTC Desire vs. Google Nexus One:
[vms 31ea2830a5e73ce3ed32]
However, one of the more surprising factors was the absence of docking cradle support as on the Nexus One. The Google-branded device has battery charging contacts along its bottom edge, which can be used with the optional docking station; the Desire lacks those contacts. Where we find we usually drop the Nexus One into its cradle periodically through the day, giving it a brief top-up as we go, we were less likely to plug in the microUSB cable to the Desire. It's a similar behavioural change to what we observed with the Palm Pre and its Touchstone inductive charger: the easier it is to dock, the more likely you are to feed your phone at periods through the day.
Charging contacts aren't the only omissions HTC have made with the Desire. Voice Search functionality is missing, which means you can't make speech commands as you would on the Nexus One, and the Desire only has HSPA/WCDMA support for the 900/2100MHz bands. That means, unlike the Nexus One with its choice of 900/AWS/2100MHz T-Mobile USA support or 850/1900/2100MHz AT&T support, you won't get 3G access on the Desire if in the US.
Still, it's not all bad. We haven't noticed any of the touchscreen glitches that can sometimes affect the Nexus One – where selections don't match where your finger hits, or lists fly by without a touch – and the Desire has a little extra RAM in comparison. 64MB extra doesn't sound like much, and to be fair there wasn't any noticeable difference in our day to day use, but if you're an avid multitasker then it may keep the Desire ticking along a little happier.
As we said in our HTC Legend review, we've grown to be wary of manufacturer customisations like HTC Sense. The UI may be excellent in its visual appeal, and add some great extra features, but HTC have shown with the Hero that bringing such devices up to speed with newer OS releases takes longer than for unmodified, stock-Android handsets. Yes, you should always buy the device that satisfies your needs today, rather than for what it might do six months down the line, but with Google pushing out Android builds at a rate of knots we could understand some buyers opting for the Nexus One simply because of the ease of updating it.
Nonetheless, in a move to pre-empt the future, such buyers would be missing out on a great user experience – and a great smartphone – right now. It's hard not to be convinced by the HTC Desire; this isn't just "good for an Android device", it's brilliant period. Having to think a little more than usual about battery usage is perhaps our biggest complaint, but with some experimental tweaking you'll undoubtedly find a setup that gets you through the day with the features you most value active. With official launch dates for the Google Nexus One still MIA for Europe, the Desire offers most of what the Google Phone does and even throws in a couple of extras. Couple that to what will likely be competitive carrier subsidies for the Desire, and importing an unlocked Nexus One starts to make less sense for the majority of users. Anyone looking to travel outside of Europe and still use 3G, or who predominantly uses their phone for voice calls should probably look to the Nexus One, but for everyone else the HTC Desire does a very impressive job of balancing cutting-edge hardware, Android flexibility and Sense usability.