HTC Desire HD Gets Early Amazon UK Listing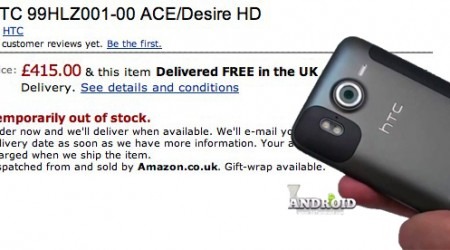 It's still up in the air whether HTC's press event midway through next month will be for the company's first Windows Phone 7 handset or something running Android, but with Electricpig spotting an Amazon UK listing for the HTC Desire HD we've a feeling it's the latter.  The listing – which suggests the Desire HD will be shipped from Amazon themselves, not a third-party seller – prices the smartphone at £415 but mentions no specifications.
According to previous leaks, the HTC Desire HD will be a larger version of the existing Desire, with a 4.3-inch WVGA display like the US-only HTC EVO 4G.  There's also an 8-megapixel camera and 1GHz Snapdragon processor tipped, together with Android 2.2 Froyo as the OS with HTC's own Sense interface on top.
SlashGear will be at the HTC event on September 15th 2010 so we'll have all the details as to what exactly they're planning then.  Whether it's WP7 or the Desire HD, one thing is for sure: the big-screen Android smartphone is coming.