HTC Desire EYE Review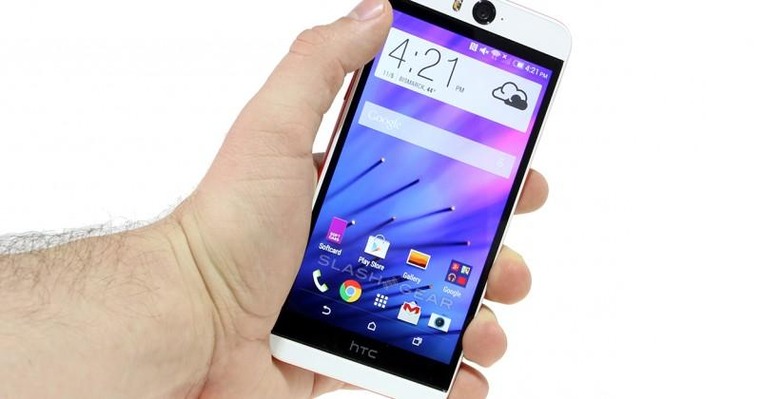 The HTC Desire EYE seems to have one key point in its favor, at first – selfie power. But it's a whole lot more than that. Instead of a smartphone that's made for taking photos of yourself, the Desire EYE is a surprisingly well-rounded phone. And it's not a mid-tier phone either – in fact it has many of the same specifications as the HTC One M8, the company's current major hero phone. This isn't your everyday average after-thought – it's a re-imagining of the HTC One M8's key points put inside an almost shockingly well made "Desire" brand device.
It's not just about the camera
Despite the name, the Desire EYE is not your common HTC Desire-level device. Generally Desire devices are released internationally – not inside the United States – for markets that don't always have a love for massively expensive hero phones.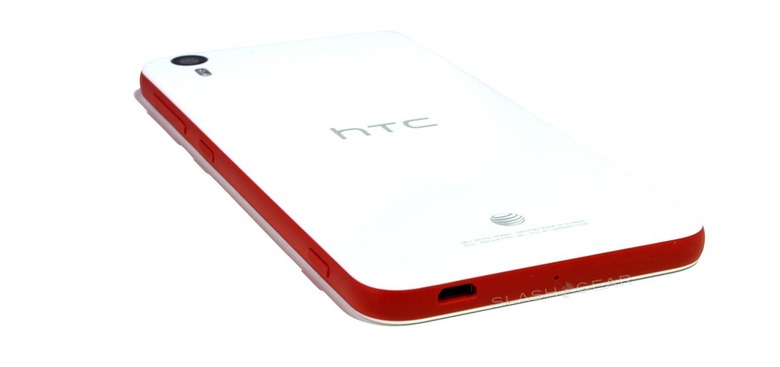 With the Desire EYE, HTC bucks that trend. This device is a hero phone. It might not look like a hero phone when you set it alongside the HTC One M8 – it's not metal, after all – but it certainly packs a punch. Here are the elements the HTC Desire EYE has that are the exact same as the HTC One M8:
Display Resolution: 1080 x 1920OS: Android 4.4 KitKat with HTC Sense 6Internal Storage: 16GB (M8 has a 32GB edition too)MicroSD card slot: 128GB capacityProcessor: 2.3GHz quad-core Qualcomm Snapdragon 801RAM: 2GBWireless Connectivity: Wi-Fi, 4G LTE, USB 2.0, HSPA+, NFC, Bluetooth 4.0Charter: micro-USB (standard)Sound: Boomsound Speakers, front facing

Here are the elements that the HTC Desire EYE has that the HTC One M8 does not:
• 13MP Camera front and back
• LED flash with front-facing camera
• Water resistance at IPX7
The HTC One M8 does have a metal body, and it does look like a more premium device. It also has a slightly larger battery (by 200mAh) and a slightly denser display. The M8 display is more dense – sharper – because it has the same amount of pixels spread out across a smaller screen at 5-inches.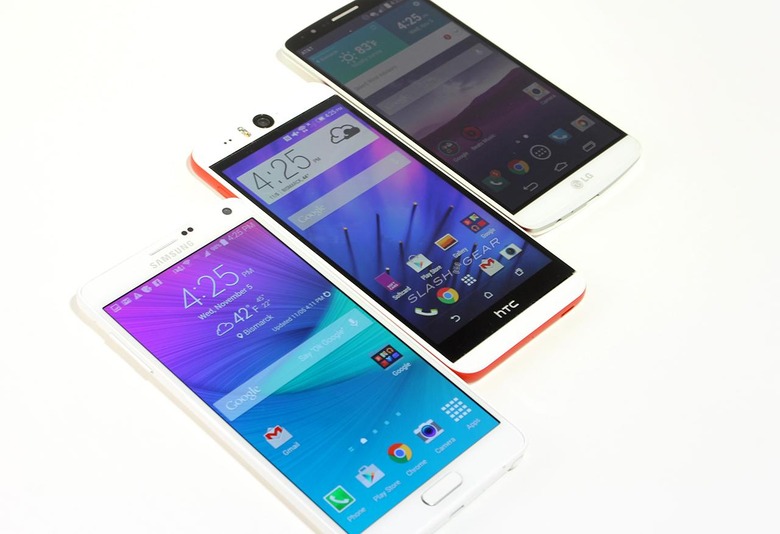 The HTC Desire EYE's 5.2-inch LCD is brilliant, though, going up against the finest displays on the market today. Have a peek at how it fares against the LG G3 and the Samsung Galaxy Note 4 here. Pretty darn nice.
On the left of the EYE you'll find two easy-to-remove drawers, one for your SIM card, the other for your microSD card.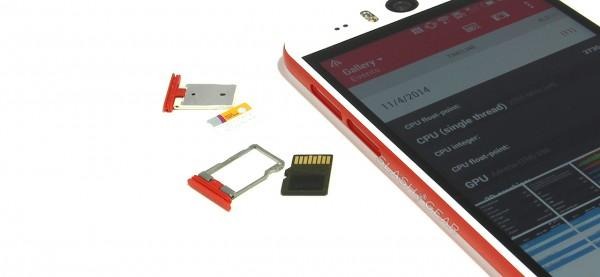 On the right you've got your volume rocker, your power button, and your dedicated camera shutter button. More on that in the camera section below.
The processor on this device makes it more than a formidable device for running every app and game on the market. It's being the same processor you'll find in several of today's top smartphones, there's no reason to consider this device as running with anything less than AAA-quality processing.
Above you'll see several benchmarks. They really don't tell you a whole lot about the device – but there they are anyway. Good fun as always.
Actually it IS all about the camera
HTC knows cameras. They proved this beyond a shadow of a doubt last year with the release of what's come to be known as the HTC One (M7), complete with "UltraPixel" technology. Now with the Desire EYE, HTC has left that branding behind (if only for a phone or two), working instead with the much more widely understood Megapixel.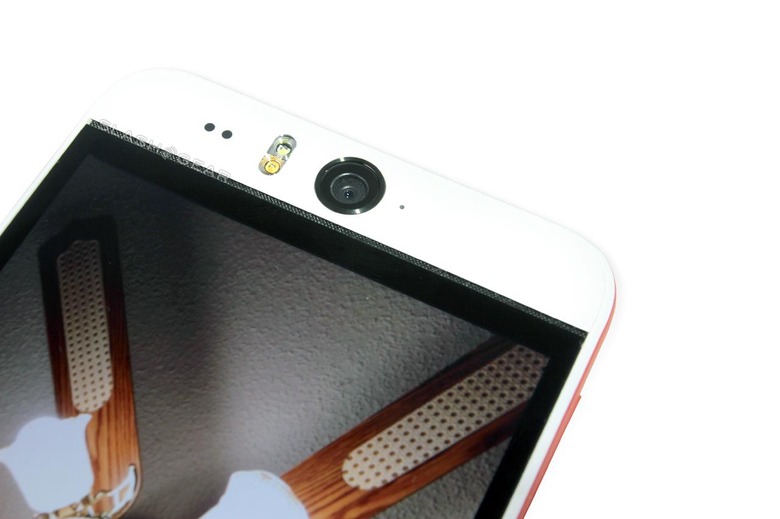 On both the front and the back of this device you'll find a 13-megapixel camera. On both the front and the back of this device you'll also find a dual-LED flash.
HTC calls the camera's feature suite the EYE Experience – not much different in the editing suite from the HTC One M8, which is a good thing, but with a few additions to the camera app. There's a Selfie mode, of course, but there's also Split Capture mode, Camera, 360 Panorama, and Photo Booth.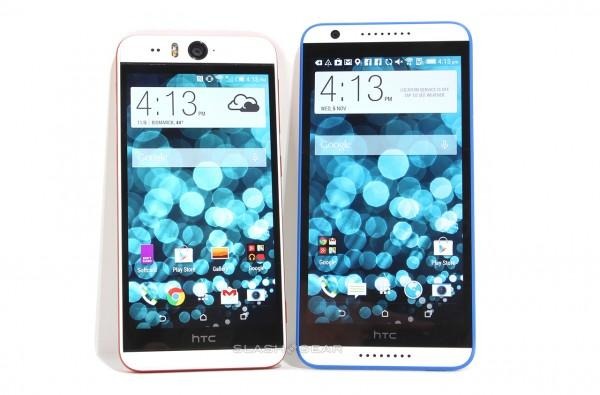 We got a glimpse at this suite in our HTC Desire 820 Camera Testing hands-on. It's a set of simple separation of modes we wish we had on every Android device, to be frank.
The HTC Desire Eye also features a dedicated shutter button – a hardware button we'd forgotten could exist on an Android smartphone. Long have we wished for its return. Long has Nokia kept the light aloft with their Windows Phone devices and precious camera buttons.
Now you can wake the HTC Desire EYE up with the camera button and begin taking photos immediately. The first time you do so, you'll get the option of telling it which mode to wake up in.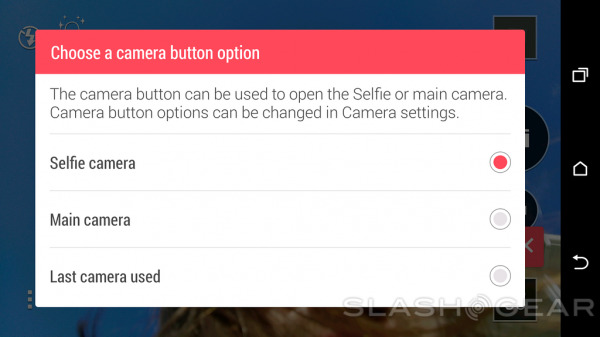 First what you're going to see are a collection of Split Capture photos. This mode makes it fairly easy to compare the front and the back capture abilities of this device both at once.
Next you'll see a collection of photos taken with both cameras. You'll probably be able to tell which photos are taken with the front camera ONLY because if you're using the front camera to take anything other than a selfie, it's really difficult to see what you're capturing. Stick with selfies – trust that both cameras are basically identical.
Finally you'll see a Split Capture video. Just like the Desire 820, we could well have captured one video, then the next for this compilation, but I opted to use the simultaneous capture mode to show one super great use for it.
As with all of our reviews, this is not the end – if you'd like to see more photos in more odd situations, please, by all means, let it be known!
Wrap-up
The HTC Desire EYE is a unique proposition. The HTC design team have created a device that kind of, sort of, ALMOST beats out the company's most heroic device of the year. The specifications on the EYE trump the HTC One M8 in several places. The look is different and – for those that don't love metal – a pleasing alternative take.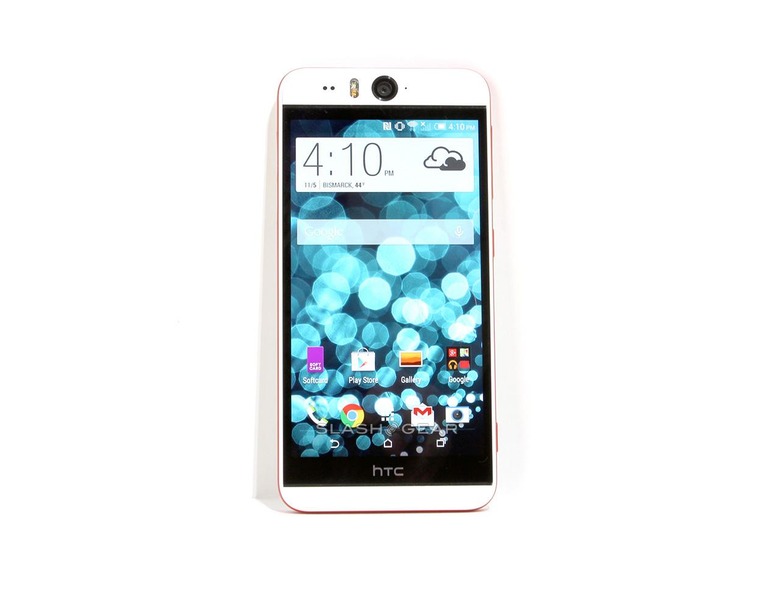 If you're looking for a device that takes amazing photos from either side – front or back – this is that device. If you want one of the most unique smartphones on the market today – you've got it here in the EYE.
If you're stuck deciding between this and the HTC One M8 – that's still going to be up to you. We're currently considering them on equal terms.