HTC confirms there will be no One Mini 3 [UPDATE: Not so fast!]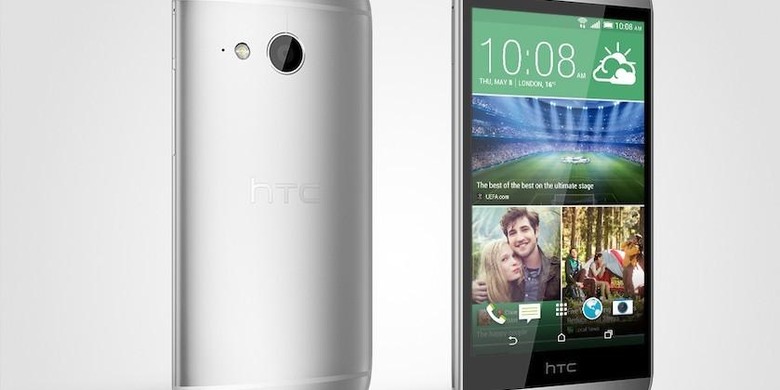 If you're attracted to HTC's new flagship smartphone, the One M9, but were holding out for a model featuring a slightly smaller screen, it's time to let go of that hope. Head of HTC's North Asia division, Jack Tong, has stated that they will not be continuing the One Mini line of phones*, instead maintaining focus on devices with 5-inch screens and larger. Tong made the comment at the Taiwan launch of the One M9+, adding that the smartphone market as a whole is moving away from smaller screen phones.*UPDATE: According to HTC's Jeff Gordon via PhoneScoop, Tong "did not say HTC is not planning any more mini versions of its phones", suggesting that while he wouldn't be confirming a mini version of the M9, just that "Jack Tong didn't say what some press are attributing to him." Strange!
The original report comes from Focus Taiwan and suggests the following (see image).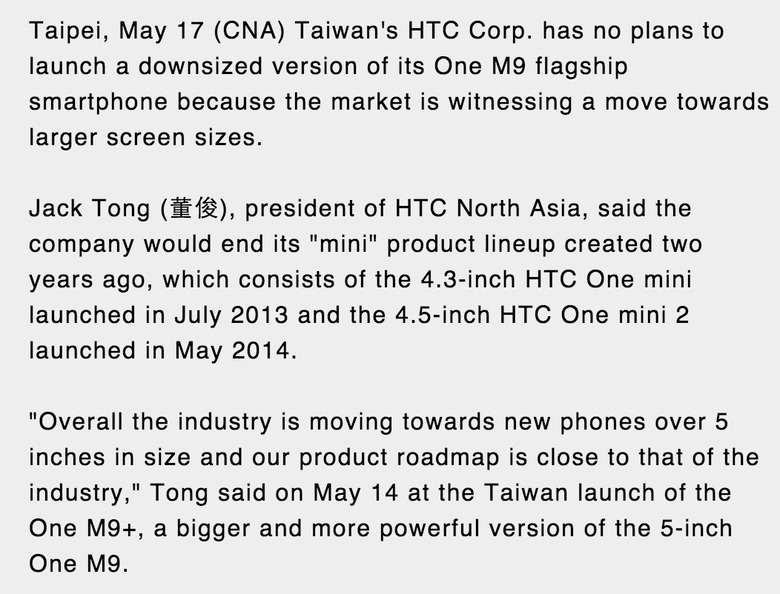 Below is the rest of our report as reported before HTC clarified.
The One Mini line began in July 2013, with May 2014 seeing the next, and final, model, the One Mini 2. Each device was essentially a shrunken version of the One M7 and One M8, respectively, maintaining the premium feel of the metallic hardware, but reducing the screen by about half an inch in both cases.
Unfortunately, while the One Mini and Mini 2, kept the premium design, they did feature reduced specs on the inside, meaning they were comparable to budget-friendly smartphones, but with higher prices. It appears HTC has now realized the One Minis weren't very popular among consumers, which is also likely why they stated earlier that the One Mini 2 won't be receiving and update to Android Lollipop.
This leaves HTC to focus on the One M9 with its 5-inch screen, the One M9+ with a 5.2-inch screen, and the One E9+ with a 5.5-inch screen. It's probably for the better anyway, for as good as the M9 is, it just hasn't taken off with customers as well as hoped, and HTC's financials are taking the hit to show it.
SOURCE Android Authority