HTC calls out Apple for competing in courts, not on products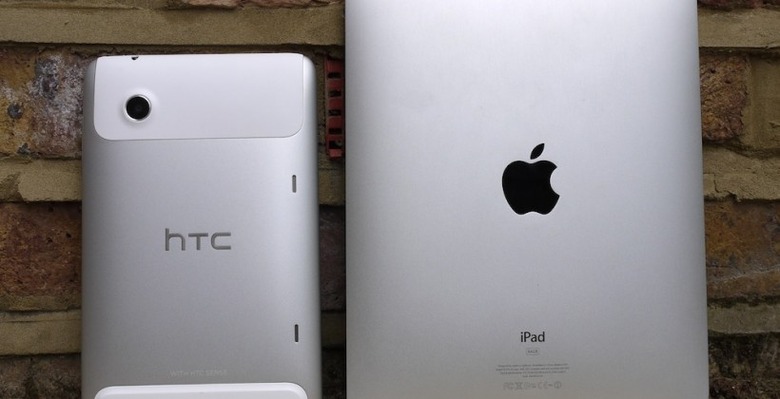 HTC has officially commented on yesterday's news that Apple has added a fresh batch of patent infringement allegations to the ongoing legal action between the two companies, telling SlashGear that it "vehemently denies" all of Apple's claims. "HTC is dismayed" the company's general counsel, Grace Lei says, "that Apple has resorted to competition in the courts rather than the market place." As expected, the second set of claims detail HTC's more recent devices, including the EVO 4G and HTC Flyer tablet.
Patent law specialist Florian Mueller has dug out the full list of devices Apple has cited, and it's basically a summary of the models HTC has released to the market prior to the fresh range announced at MWC 2011 in February. That means the original 2010 Desire is on the list, but not the newer Desire S variant, and nor is the HTC Sensation. The addition of the Flyer means for the first time an HTC tablet has been included, though since it's HTC's first slate since the Shift several years ago, that comes as little surprise. The full list is below.
According to Apple's filing, there are five patents included in the new suit: "application programming interfaces for scrolling operations" (7,844,915); "list scrolling and document translation, scaling, and rotation on a touch-screen display" (7,469,381); "programmable tactile touch screen displays and man-machine interfaces for improved vehicle instrumentation and telematics" (7,084,859); "double-sided touch-sensitive panel with shield and drive combined layer" (7,920,129); and "portable computers" (6,956,564).
"HTC is dismayed that Apple has resorted to competition in the courts rather than the market place," said Grace Lei, general counsel, HTC Corporation. "HTC continues to vehemently deny all of Apple's past and present claims against it and will continue to protect and defend its own intellectual property as it has already done this year."
HTC has promised to defend both this and previous claims against it, though has not specified whether it intends to file any counter-suit against Apple itself.
Smartphones
HTC T-Mobile myTouch 3G Slide
Tablet computer