HTC Bolt leak offers first look at headphone jack-less device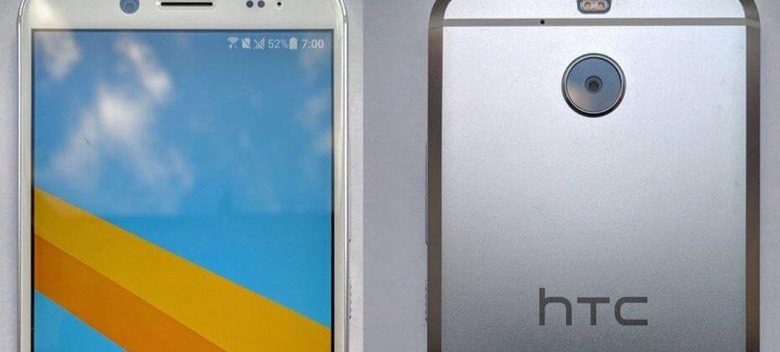 HTC is expected to reveal a new smartphone later this month — long rumored as the HTC Bolt — and a handful of leaked images have given us our first look at the device in the wild. Exact details on the specs remain unclear, but the Bolt should debut running Android 7.0 Nougat, and while it bears a physical resemblance to the HTC 10, released earlier this year, it will be more of a mid-range device than a new flagship model.
Along with a metal unibody chassis, the HTC Bolt features a 5.5-inch display, however the exact resolution remains unknown. Other rumored specs include 3GB of RAM and 64GB of built-in storage, paired with microSD card support. Notably, the rear camera is said to have 18-megapixels with an aperture of f/2.0, a step up from the HTC 10's 12MP rear shooter.
Other details visible from the images are the presence of a physical home button and a USB-C port; what's not included, however, is a 3.5mm headphone jack. We're not sure if that home button includes a fingerprint sensor or not, but at this point they've become commonplace on even mid-range Android models, so it's probably a safe bet.
The HTC Bolt's version of Android 7.0 Nougat will obviously be re-skinned as the newest version of HTC's own Sense UI. This is also expected to be available for the HTC 10, which shipped with Marshmallow, as an update in the near future.
While HTC just launched another mid-range device in the Desire 10 a few month ago, it seems there's no plans for that phone to come to the US market. The latest Bolt leak mentions that it will be getting a worldwide release, with availability on Sprint in the US.
SOURCE Venture Beat