HTC Bolt Launched With 3x20 MHz Carrier Aggregation Support, No Headphone Jack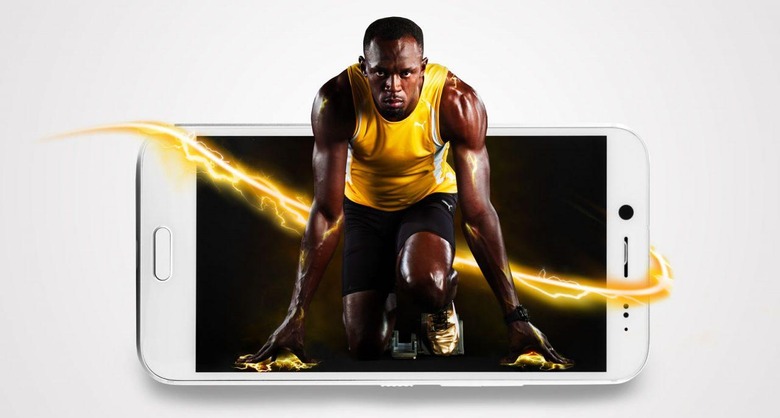 Sprint has announced that it has landed a new smartphone for customers to choose that is the fastest device Sprint offers on its network. The smartphone is called the HTC Bolt and the big feature of the device is that it is built for the speedy Sprint LTE Plus network and supports 3x20 MHz Carrier Aggregation. Support for that network comes thanks to a Qualcomm Snapdragon X10 LTE modem.
Sprint claims that the fast modem allows the smartphone user to download files, stream video, and music smoothly and quickly wherever they are. The Bolt uses a 5.5-inch Quad HD 2K display and has a water-resistant aluminum unibody. Sprint offers the Bolt in Gunmetal or Glacial Silver.
The edges of the Bolt are chamfered and each side is 3.7mm thick with the cut chamfered edges giving the device a thinner look. HTC equips the Bolt with its BoomSound Adaptive Audio earphones that are able to modify the sound users hear to the structure of their ears for a personalized audio experience.
The earphones connect to the smartphone via USB-C port and the Bolt supports 24-bit Hi-Res audio. The main camera is a 16MP unit and it has optical image stabilization. The camera is capable of 4k video and has fast autofocus with 0.3s Phase Detection Auto Focus. The front camera is an 8MP unit with Auto HDR. The OS is Android 7.0 Nougat and the device has a fingerprint reader. Power is from a 3200mAh battery with Quick Charge 2.0. The Bolt is available on Sprint right now at $25 monthly for 24 months or $600.
HTC Bolt specifications:
- OS: Android 7 with HTC Sense
- Size: 153.59 x 77.3 x 8.09 mm
- Weight: 174g
- Display: 5.5" 2560 x 1440 Super LCD 3 display
- Processor: Qualcomm Snapdragon 810
- RAM: 3GB
- Internal Storage: 32GB
- microSD card slot
- Camera (rear): 16MP (F2.0)
- Camera (front): 8MP
- Connectivity: WiFi 802.11 b/g/n/ac (2.4/5GHz), Bluetooth v4.1, NFC
- Battery: 3200 mAh
- Others: Fingerprint, USB 2.0 Type-C, Quick Charge 2.0