HTC Athena gets older brother: Shift is company's first UMPC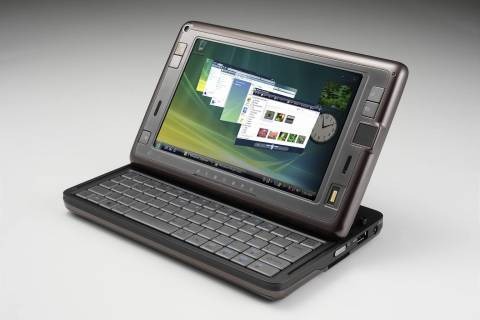 Bless HTC.  While everyone had their eye on the Advantage/Ameo/Athena and its ever-changing name, they were quietly beavering away correcting the biggest criticism of the device: the fact that it ran Windows Mobile rather than XP or Vista.  Enter the HTC Shift, a sliding-screen device which runs – you guessed it – Vista Business on its widescreen 7-inch touch display. 
Inside there's Tri-Band UMTS/HSDPA, Quad-Band GSM/GPRS/EDGE, Bluetooth 2.0 and Wi-Fi, as well as a 30GB hard-drive and 1.2GHz VIA CPU.  A fingerprint sensor prevents all of that pesky corporate espionage, and there's a front-mounted webcam for sending rude pictures of yourself to Julie in Accounting.
The design is redolent of Acer's short-lived TravelMate C200 Tablet PC, although the Shift trumps the C200 both on size and in having a screen with adjustable tilt.  Considering the compact UMPC form-factor that keyboard looks pretty damn cramped, though.  Expect to see it hit Europe and the US in Q3 2007.