HTC Arrive Hands-On and Unboxing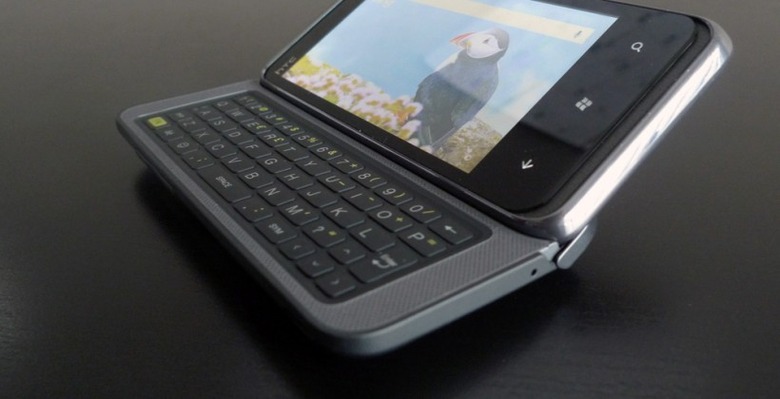 Today we've received a package from Sprint that's contained no less than the newest Windows Phone 7 handset in the world, the HTC Arrive! This is a piece of hardware that you'll never forget you've held. It's got not only a unique hinge revealing a full QWERY keyboard under its head, it's one of the most substantial and hardcore smartphones we've ever laid eyes on. It's got metal pieces and speakers all over the place, smoothly placed HTC and Sprint logos at the top of it's face with a classic Windows logo down below, and a giant heavy screwed-down battery cover on the back. Take a journey with us through the opening, handling, and holding of this lovely phone.
Before we continue, I must tell you that this is the first Windows Phone 7 phone I've ever held. I've used and reviewed my share of Android phones in the time they've existed, but WP7 has until now evaded me. That time has ended! This review will truly come from a fresh set of eyes, ladies and gentlemen, yours truly, a person who does know a thing or two about devices such as this, but will be giving this phone the test of an everyman, an everyman with distinct tastes!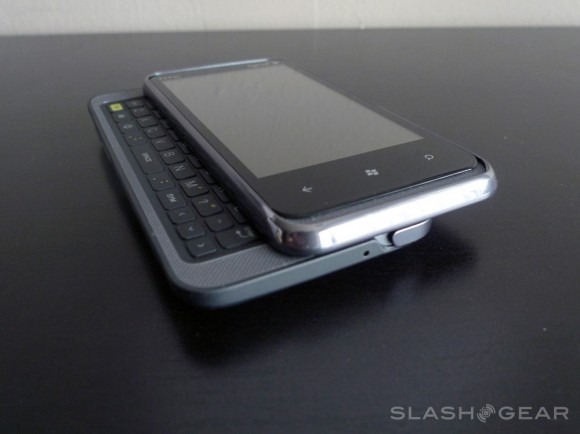 First Impressions
This is a heavy phone. That said, compare it to phones on the average a few years ago, and it's just a normal weight phone. It's not a phone that weighs more than a smartphone of today should, but it's definitely up there. It's substantial as its mostly metal, and you've definitely got a device that looks like it's worth the money you've payed for it. Then there's the hinge. It's such an odd hinge. This is a hinge that's so weird, I'd say it's stranger than the hinge I last saw on the G2. Take a look at that, then take a look at this. Weird – and incidentally, totally refreshing.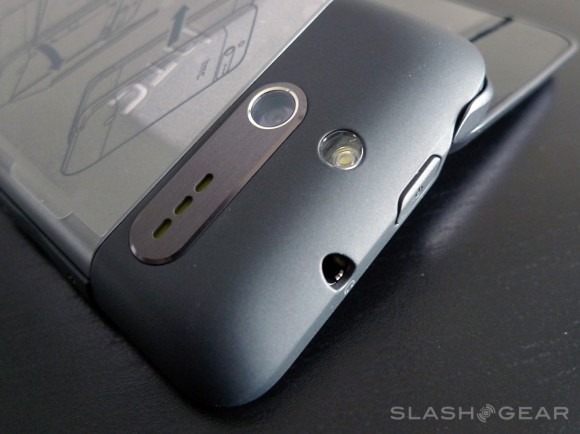 Handling
The phone handles like a dream thus far. Holding the phone feels like you're really holdings something fabulously expensive, or at least filled with lead. This is a masculine phone, if you'd have to decide between that or feminine, and it's made to get things done quick. Windows Phone 7 is all about making things uber-simple, or so they say, and having a phone like this to run such an operating system is going to amplify that effect without a doubt. Typing is fast, the hinge slides in and out without a problem, and the screen is top-notch responsive.
[vms 6185eec06286af6bec36]
I'll be working with this phone for a few days in order to give everyone a full review, and you can be sure we'll be testing out ev-ry-thing. Stay tuned to SlashGear.com for a real deep dive.
Bonus facts! This is Sprint's first Windows Phone 7 device, a rebranded version of the HTC 7 Pro – well played, HTC. This makes Sprint the first US carrier to pick up the HTC 7 Pro, and it'll be out on the market on March 20th, 2011.
It's so fancy!