HTC announce Touch Diamond: 'Usable Mobile Internet'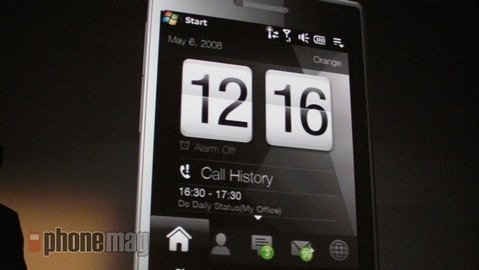 At HTC's London event this morning, the company announced their latest smartphone, the HTC Touch Diamond. With a casing made up of multiple angled facets, the handset will be the first to feature HTC's new TouchFLO 3D, with an animated 3D touchscreen interface meaning that the Touch Diamond can be operated with just one hand. As for connectivity it will have HSDPA/HSUPA 7.2Mbps, and for imaging a 3.1-megapixel camera.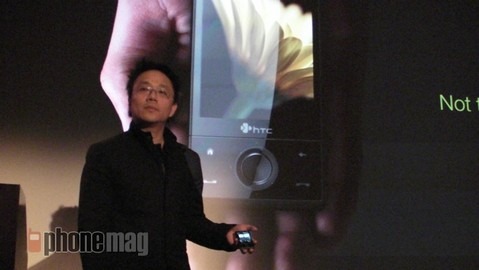 Supposedly in development since the original HTC Touch was launched, the Touch Diamond has 4GB of internal memory and is described by the company as "the perfect form factor ... not too big, not too small." The D-pad on the front doubles as a touch-sensitive scroll wheel, for skipping through the new row of animated icons on the home-screen. The screen itself is VGA resolution.
"The most important challenge [in developing] the Touch Diamond is the simplicity of using it" Horace Luke, CIO
The Touch Diamond also has an accelerometer orientation-sensor, similar to that of the iPhone, which changes the screen orientation as the handset itself is rotated. HTC also demonstrated a new music application with album-image navigation very similar to Apple's CoverFlow. This is definitely the device that HTC are hoping to take down the iPhone with – everything has been given a gloss of animation, creating the feel-good factor that has helped make the Apple cellphone such a success. The weather app, for instance, is fully animated, with a windscreen wiper on rainy days.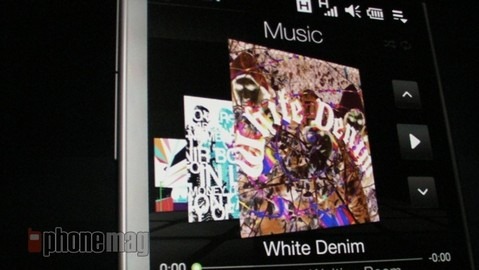 As for internet access, HTC have included the Opera 9 browser in the Touch Diamond's ROM, promising the full desktop experience but with HTC's own skin on top. Content can be zoomed on by touching it, and the scroll-wheel can also be used to more accurately manage the level of zoom. Both portrait and landscape orientations are supported, courtesy of the accelerometer, as is YouTube Flash-video playback thanks to a custom video app that HTC are claiming offers "the best YouTube experience on any device."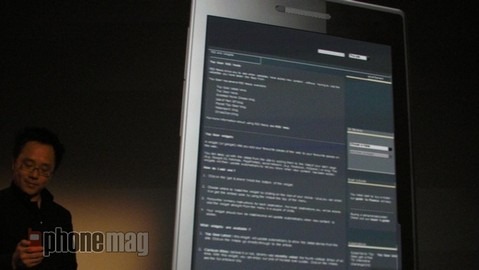 Set to be available through all HTC's operator partners and, in an HTC first, all five UK operators, the Touch Diamond will be released in Europe and Asia in June. The rest of the world will have to wait until later on in the year. HTC did not suggest the estimated price-tag.
Check out the full live image gallery of the HTC Touch Diamond here. We'll have hands-on video for you at our sister-site PHONE Magazine later on today!