HTC 10 Gets Leaked In Gray, Black, A Bit Of Its Innards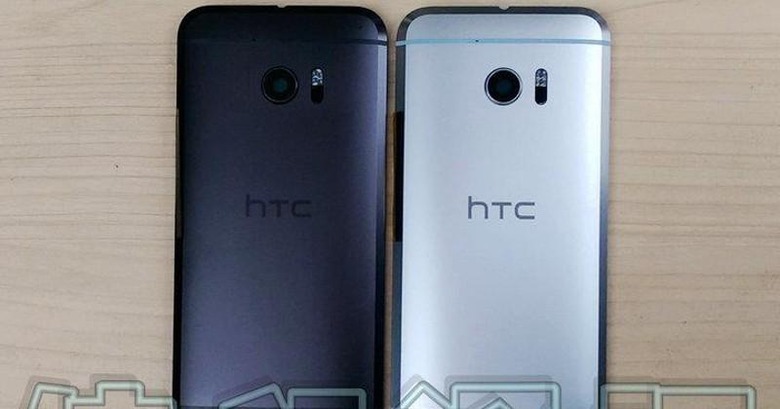 In two weeks' time, HTC will finally show its hand. It promises to deliver what its fans, nay the world, has been waiting for with the HTC 10. Of course, given how it promised that each year, we'll have to wait and see to believe. For now, we'll have to distract ourselves with yet another batch of leaked photos, this time courtesy of Chinese retail site Taobao. Though they don't really divulge anything new that we haven't seen leaked before, it does, at least, confirm and emphasize the design direction that HTC is taking its flagship, both the good and the bad.
Since the HTC One (M7), the company's flagships and their derivatives have mostly been characterized by smooth curving backs. While that hasn't completely disappeared in the HTC 10, HTC has definitely shifted things a bit. The curve, for one, is less pronounced. And now there is a prominent chamfered edge that joins that curved back to the front of the smartphone. Perhaps to the satisfaction of HTC fans, the iPhone-like design that HTC promised to use since the One A9 is nowhere to be found.
We also get a glimpse of the smartphone with its back cover. It's not a full blown tear down, of course, but we already see hints of what could be yet another difficult process.
The photo set doesn't show the smartphone's face, which might turn out to be one of the most controversial aspects of the HTC 10. Then again, if that will be the only controversial part of the smartphone, then HTC might have successfully created a miracle. The controversy surrounds the return of capacitive touch buttons, once again eschewing on-screen ones. The pros and cons of those two opposing conventions are still debated today, however.
HTC could sugar coat the HTC 10 all it wants, but, at the end of the day, it will be the hardware that could make or break the smartphone in this particular context. HTC's previous flagships have fallen short of market expectations and, consequentially, sales. Company execs have promised that fans will finally get a camera that they will want, rectifying the mistakes of the past three years. The HTC 10 might finally also make the jump to QHD resolution at long last. And 4 GB RAM too, to be paired with the latest Qualcomm Snapdragon 820.
Suffice it to say, HTC has a lot banking on the HTC 10. At least as far as its smartphone business is concerned. Should that still flop, however, HTC might have found a fallback in the virtual reality market with the HTC Vive and its partnership with Valve.
VIA: Nowhereelse.fr