HSL 2.75G Femtocell to support multiple networks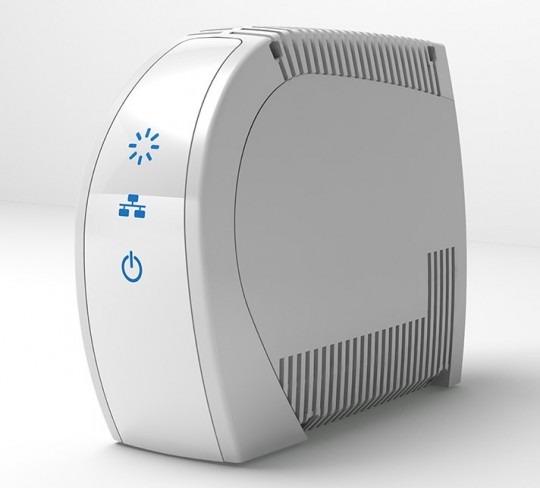 Femtocells aren't exactly embedded into the public vocabulary yet, but the carriers are ramping up to make a pretty decent push for it.  So far we've seen a handful of models from some of the bigger operator names, but now a Scottish firm, HSL, are promising a single femtocell that can support users on different networks.
The HSL 2.75G Femtocell seems, going by the picture above, to be in the render stage of final design, but according to the company's press release they're already in talks with European, Asian and other regions' carriers.  While the language might lead you to initially assume they'll be offering the femtocell directly to end-users, unfortunately they'll need to get carrier agreements in place first; still, the possibility of a single femtocell device – which bridges voice and data calls from a mobile phone to your broadband connection, thus creating a small "cloud" of personal cellular coverage – that could handle traffic from phones on multiple networks is a promising one, should HSL be able to pull off the agreements.
Unfortunately, as the 2.75G name suggests, this first HSL model does not support 3G speeds, only EDGE data rates.  That's going to make for a slower surfing experience, but then it's likely better than no signal at all (which is, after all, the point of femtocells) and if you're in range of the HSL 2.75G you're likely also in range of your WiFi router.  Apparently up to 7 cellular clients can be connected at once, and HSL have opened up a page for pre-registering interest; no word on pricing as yet, though.
Press Release:
HSL Announce Direct Availability of Femtocells to Mobile Users

HSL, a provider of mobile infrastructure, are today announcing that their femtocell, the HSL 2.75G Femtocell, is to be made available directly from HSL to mobile users around the world to improve mobile service availability for 2G and 3G mobile users. In support of this HSL are today also releasing the website www.femtonow.com to give mobile users the means to express interest in obtaining the HSL 2.75G Femtocell ahead of the femtocell becoming available for use with their operator's network.

Many mobile users in rural, suburban and urban locations experience problems using their mobile indoors due to poor coverage. As a result of this users can experience very low mobile service availability or no service at all. This problem is particularly acute for 3G mobile users but also greatly impacts 2G mobile users. Poor coverage prevents a mobile user from making use of their mobile phone in a location important to them such as their home or office. Given that on average at least 30% of calls occur when at home poor coverage in the home is a real issue for mobile users.

The HSL 2.75G Femtocell effectively addresses this problem for 2G and 3G users. The HSL 2.75G Femtocell is connected to the user's broadband router so to communicate with their mobile operator's own network across the Internet, and creates a cell of good quality coverage throughout the home or office. When within coverage of the femtocell users can reliably use their mobile for voice calls, SMS, MMS and data at EDGE speeds.

The availability of the HSL 2.75G Femtocell for use with individual mobile operators is subject to HSL entering into agreements with those operators. In conjunction with this announcement HSL has commenced pursuing agreements with operators in Europe, the Middle East, Asia, Africa and Oceania.

In certain markets the HSL 2.75G Femtocell will be able to simultaneously support mobile users belonging to different mobile operators. This will allow a single femtocell to serve all mobile users in a household irrespective of which network each mobile user belongs.

Mobile users interested in purchasing the HSL 2.75G Femtocell should register their interest at www.femtonow.com. As individual mobile networks become available for use with the HSL 2.75G Femtocell, mobile users belonging to those networks who have registered their interest will be contacted to allow them to purchase the HSL 2.75G Femtocell.