HP/Palm's Jon Rubinstein Made Amazon Director: Kindle Tablet In His Remit?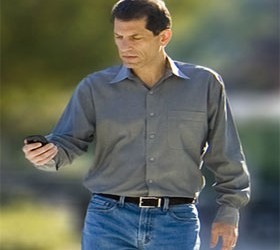 Amazon has quietly announced that ex-Palm CEO and current HP SVP Jon Rubinstein has joined as a director. The news, part of a security and exchange commission filing, does not suggest that Rubinstein's role as director will include, but it's possible that he could assist in Amazon's development of a Kindle-brand tablet to better compete with the iPad and Barnes & Noble NOOKcolor.
Speculation regarding an Amazon tablet has been circulating for some time, though the company has resolutely stuck to the party line that it is focused on its Kindle range of dedicated ebook readers. Nonetheless, the Kindles have become more functional as the line has matured; Amazon now offers third-party applications, and the most recent Kindle has a WebKit based browser like the latest smartphones.
Amazon already has a tablet-centric UI for its store – albeit currently only for the iPad – and ambitions for mobile music downloads that, according to recent figures, fall well short of Apple's strong iTunes lead. A piece of dedicated – and more functional – hardware that could gather up all of those threads might well present strong competition to Apple's head-start, and that's before you factor in the inevitable rumors of an Amazon-branded device based on HP acquisition webOS.
[Thanks Peter!]