HP ZR30W 30-inch S-IPS display supports 1.07bn colors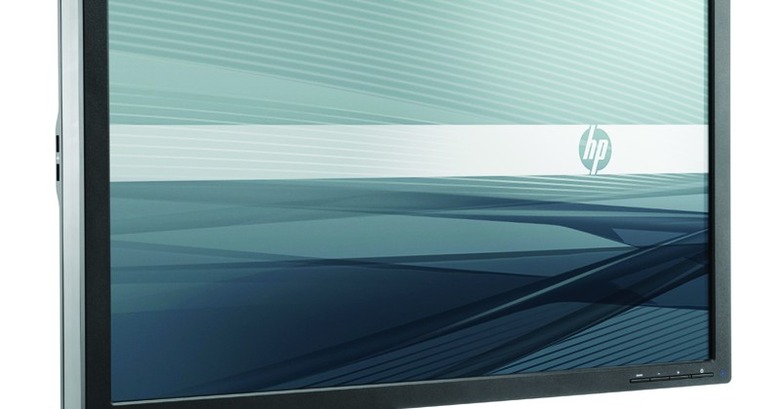 HP are all about the colors with their new LCD display, since they reckon the 30-inch S-IPS panel used in the HP ZR30W is capable of showing more than one billion of them.  In fact, it'll reach 1.07bn colors, spread across its 2560 x 1600 16:10 display.  The ZR30W is accompanied by a pair of slightly more affordable monitors, the Compaq S1922 and Compaq S2021, sizing in at 18.5- and 20-inches respectively.
The S1922 comes in at a somewhat more mundane 1366 x 768 resolution, while the S2021 musters 1600 x 900.  They also only have VGA inputs, as opposed to the ZR30W which gets DisplayPort and DVI-D inputs, together with an integrated 4-port USB hub.
Still, the pricing is weighted accordingly, and if you'd like to be as obsessed with colors as HP then you'd better have a thick wallet.  The HP ZR30W comes in at $1,299, while the Compaq S1922 and Compaq S2021 are $125 and $140 respectively.
Press Release:
HP Announces Its First 30-inch Performance Display to Deliver More Than 1 Billion Colors

Company expands display options for the SMB customer

PALO ALTO, Calif., June 1, 2010 – HP today announced its first 30-inch monitor to display a range of more than 1 billion colors, the HP ZR30w S-IPS LCD Display.

Adding to the already powerful lineup of HP Performance Displays, the 30-inch diagonal display provides 30-bits per pixel color resolution and 1.07 billion displayable colors, compared to 16.7 million colors available on most 30-inch diagonal panels.

Ideal for professionals in animation, game development, broadcast, design and graphic arts where accurate color is imperative, the HP ZR30w achieves more than 64 times the colors available on mainstream LCDs. With a wide gamut panel that covers 100 percent of sRGB and 99 percent of Adobe RGB, reds, blues and greens are visibly deeper.

"HP continues to drive innovation in the monitor space with solutions that push the boundaries of traditional panel technology," said Jun Kim, Vice President and General Manager, Display Business Unit, HP. "The HP ZR30w is the latest example of our commitment to provide customers with the technology they demand to push the limits of creativity and increase ROI."

The new HP ZR30w features 4.1 million pixels, to achieve maximum accuracy, and touts a resolution of 2560 x 1600 in a 16:10 aspect ratio and a 3000:1 dynamic contrast ratio, for brilliant visual performance.

Building on the HP ZR30w's wide viewing angles and outstanding visual performance technologies, the monitor is equipped with DisplayPort and DVI-D inputs, an integrated 4-port USB hub and an HP Quick Release(1) for simple out-of-the-box set up. The HP ZR30w enables maximum comfort and best visual positioning with a 6-way adjustable stand that provides tilt, swivel and height adaptability.

The performance monitor features a brushed aluminum industrial design that is complementary to HP's Z Workstations,(2) and uses a minimum of 25 percent post-consumer recycled resin. Additionally, the monitor houses a lower power panel and comes with an 85 percent efficient power supply.(3)

Small business, big value

HP also introduced the Compaq S1922 and Compaq S2021 Widescreen LCD Monitors that are designed for small and medium businesses that want value and reliability. The Compaq S1922 and S2021's VGA inputs make "plug and play" connectivity quick and easy, while adjustable tilt settings enable best visual positioning and VESA mounting capabilities free up desk space. The monitors also offer guaranteed out-of-the-box compatibility with HP business products and HP monitor options.(2)

Available in 18.5- and 20-inch diagonal sizes, both displays feature a broad 16:9 aspect ratios, fast 5 ms response times(3) and 5,000:1 dynamic contrast ratios. The Compaq S1922 features wide resolutions to 1366 x 768, while the Compaq S2021 offers resolutions to 1600 x 900.

Both monitors use lower power consumption panels that contain 50 percent less mercury than other four lamp LCD monitors on the market.

Pricing and availability

The HP ZR30w is available today for a starting price of U.S. $1,299. The Compaq S1922 and S2021 are also available today in the U.S. at $125 and $140, respectively.(4)

About HP

HP creates new possibilities for technology to have a meaningful impact on people, businesses, governments and society. The world's largest technology company, HP brings together a portfolio that spans printing, personal computing, software, services and IT infrastructure to solve customer problems. More information about HP (NYSE: HPQ) is available at http://www.hp.com.

(1) The HP Quick Release has been designed to support a maximum of up to 24 lbs (10.9 kg) for all devices mounted. Because mounting surfaces vary widely and the final mounting method and configuration may vary, mounting fasteners are not supplied (other than the VESA-compliant screws). HP recommends that you consult with a qualified engineering, architectural or construction professional to determine the appropriate type and quantity of mounting fasteners required for your application and to ensure that your mounting solution is properly installed to support applied loads.

(2) Sold separately or as an optional feature.

(3) All performance specifications represent the typical specifications provided by HP's component manufacturers; actual performance may vary either higher or lower.

(4) Estimated U.S. street prices. Actual prices may vary.