HP ZBook 15 And 17 Hands-On: Thunderbolt Arrives With Haswell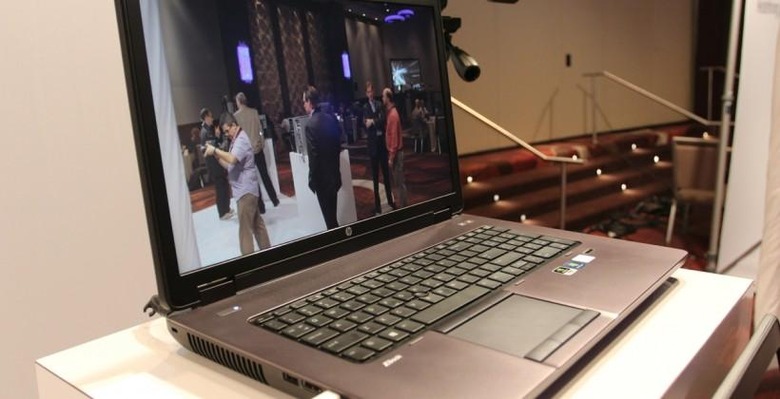 Along with the ZBook 14 – the world's first workstation Ultrabook – the ZBook family has arrived with the ZBook 15 and the ZBook 17. The larger two devices work with much of the same technology as the smaller, but each brings on its own unique blend of high-powered features that makes the price jump worth the cash. Each of these units is also thinner and lighter than previous generations of mobile workstations from HP, bringing with them a new industrial design that doesn't just scream "I'm at work."
The HP ZBook 15 and 17 work with 4th generation Intel Core technology – dual- and quad-core processor options for the both of them. These processor choices are joined by NVIDIA and AMD graphics technology, both units also available with the newest in NVIDIA Quadro discrete cards. This includes the NVIDIA Quadro K610M, NVIDIA Quadro K1100M, and NVIDIA Quadro K2100M for the 15 and NVIDIA Quadro K610M (this is available for both machines), NVIDIA Quadro K3100M, VIDIA Quadro K4100M, and NVIDIA Quadro K5100M (that's a massive 8 GB dedicated GDDR5) available for the 17. Both machines also have NVIDIA Optimus Technology support – supposing they're working with NVIDIA graphics, of course.

Both notebooks work with integrated stereo speakers, DTS Studio Sound HD audio (so long as you're running windows) and have all the same connectivity options as the HP ZBook 14. Ports and connectors are a bit different on each machine, that is to say, with the 17 working with 3x USB 3.0 ports (one for charging) and a single USB 2.0 port, DisplayPort, stereo microphone-in/headphone-out combo, RJ-45, secondary battery connector, VGA out, and a docking connector. The 17 also has a single ExpressCard/54 port, Secure Digital, and a Smart Card Reader.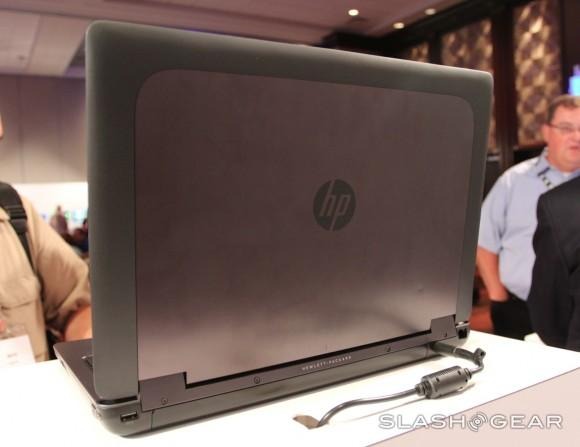 The 15 also works with a single ExpressCard/54 port, Secure Digital, Smart Card Reader, DisplayPort, the same USB collection as the 17, RJ-45, a docking connector, a secondary battery connector, and a VGA out for good measure.
Both notebooks also work with a single Thunderbolt port for high-speed data and video transfer. Both devices work with HP Remote Graphics Software for collaboration with servers, remote workstations, or colleagues anywhere on the web. The 17 works with up to 2.75TB of storage and up to 32GB of memory while the 15 works with up to 1.8TB of storage and 32GB of memory.
ABOVE: A demonstration of the HP ZBook 17 rendering 4K video from a Canon C500 through its Thunderbolt input.
Both units also work with optional HP DreamColor display technology. The 17 has a choice of three different monitors, each of them with 17.3-inches of LED-backlit technology: one works with HD+ SVA anti-glare (1600 x 900), the next with FHD WVA anti-glare (1920 x 1080), the last with FHD DreamColor UWVA anti-glare (1920 x 1080). The 15 works with three similar options, each of them LED-backlit and 15.6-inches: FHD SVA eDP anti-glare (1920 x 1080) is one, FHD UWVA eDP anti-glare + PSR (1920 x 1080) is another, and FHD DreamColor UWVA eDP anti-glare (1920 x 1080) is the last and most impressive.
While the 15 comes in at 15 x 10.1 x 1.2 in and 6.2 lb, the 17 rolls up with a chassis at 16.37 x 10.7 x 1.33 in and a weight of 7.67 lb. Both of these units are available worldwide immediately with prices completely dependent on build – the HP ZBook 15, for example, is launching with a quad-core build starting at around $1899 while the dual-core builds will be launched at a later date.