HP Z1 Workstation hands-on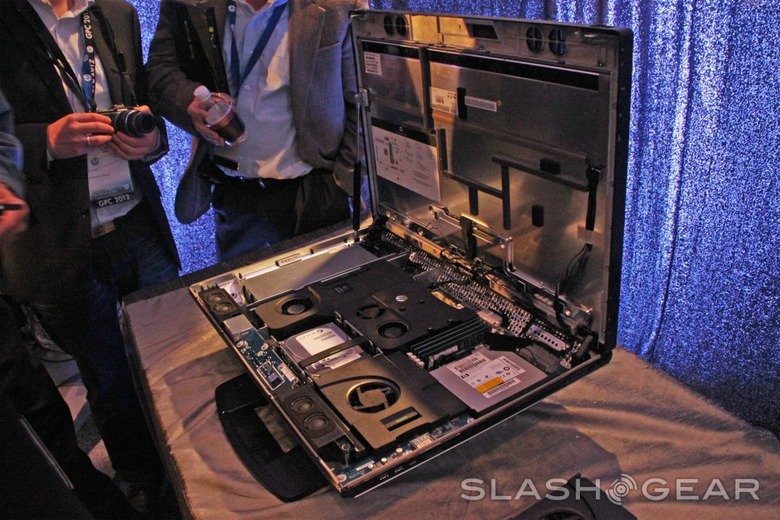 HP rocked the stripey ties off the high-powered workstation world today when they unveiled the Z1 Workstation, the first all-in-one form factor computer that incorporates workstation-class hardware. This impressive machine targets corporate customers from small graphics shops to medical imaging customers to high-end Hollywood 3D rendering. SlashGear was on-hand to check out the hardware, and we came away with some impressive first looks.
While significantly larger and heavier than a standard all-in-one machine, the fact that HP's managed to cram full-sized processors, storage, RAM and Quadro (mobile) graphics into the Z1 is astounding. Even more so is the engineering that's gone into the folding, flipping design, which allows end-users access to the components by folding the unit flat and opening the screen module. The hinge and piston mechanism allows for quick and safe opening of the 27-inch screen.
Once open, you're greeted with a sight that's familiar to anyone who's used a full-sized Z-family workstation. Heat is separated into four zones, with the 400w power supply, Quadro graphics card, CPU and memory isolated behind fans and panels. All are easily removable, as are the power supply, hard drive chassis and DVD/Blu-ray drive. Note the use of standard desktop parts for the storage and RAM: two 3.5-inch or 2.5-inch storage drives and up to four 8GB full-sized memory DIMMs can be added.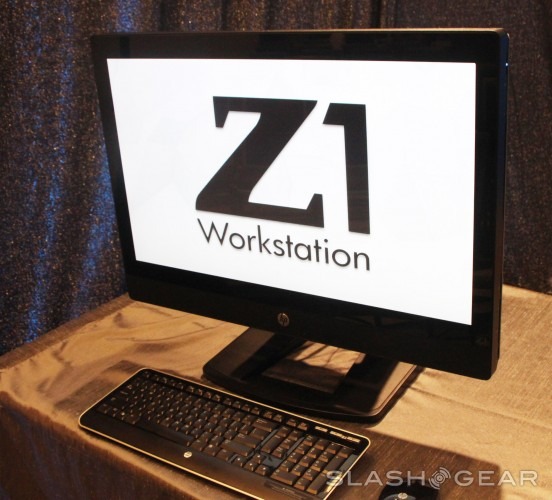 Other touches include three mini-PCI slots (one occupied by a WiFi/Bluetooth module) an internal mount for USB-based license keys, a 1080p webcam and a set of four front-facing SRS speakers. The graphics card uses a MXM standard, which will require custom cards from Nvidia – the base model uses Intel integrated graphics, but Quadro 500M, 1000M, 3000M and 4000M graphics cards are optional. Standard PCI-E cards will not work.
Close the lid and turn to the side, and you'll see standard audio in and out, two USB 3.0 ports and a 4-card multifunction reader, plus Firewire and the external view of the disc drive. The 27-inch screen gets a resolution of 2560x1440. Back connections include four standard USB 2.0 ports, Ethernet, audio in and out plus SPDIF. There's only one video-out with a Display Port, but HP has created a unique port that handles both input and output. If necessary, the HP Z1 can be used as a display only, with a hotkey that switched between modes.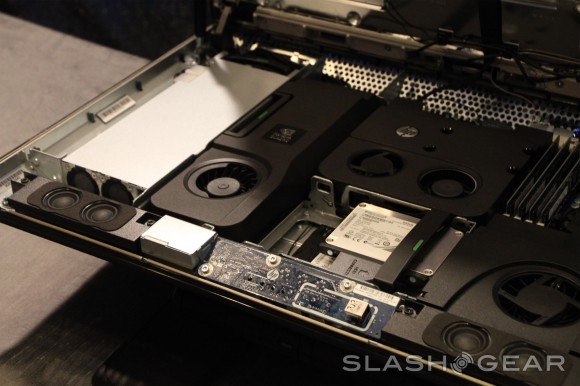 The stand itself took considerable engineering, as it has to support the 40+ pound weight of the unit itself, fold down flat and release with a single button. In its upright mode it can be tilted backwards and forwards by about 25 degrees, and lifts up and down by 100mm. When folded flat a back handle allows for easy carrying, and removing the stand completely reveals a standard VESA mount.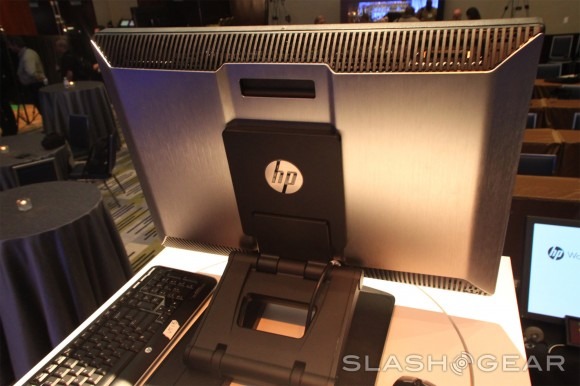 The hardware itself is very impressive, with minimalist styling intended to draw the eye of fashion-conscious designers. You'll be able to buy the Z1 yourself in April, with a fully configurable spec sheet (though the custom Nvidia Quadro cards won't be available separately at first). The base model of the HP Z1 Workstation will start at $1899.
Check out our hands-on video below, with Chris Damir, HP's Director of R&D Platforms & Technology for Workstations.
[vms ac4bf073c1bcd63171f8]