HP Z Workstation Series: SlashGear Exclusive Launch Coverage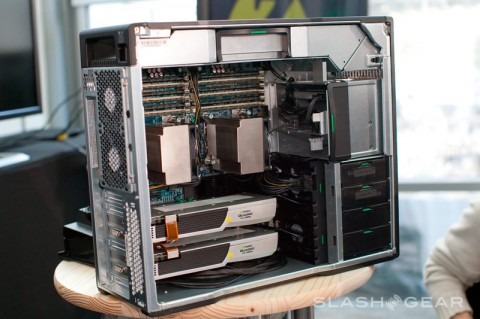 HP have announced a new range of workstations, the HP Z Workstation series, using Intel's Xeon processor and more than 20 design innovations.  SlashGear had the opportunity to see the Z-series demonstrated as part of HP and DreamWorks' Monsters vs. Aliens event last week, from the entry-level HP Z400 models, through the mid-range HP Z600 machines and up to the high-spec HP Z800 workstations.
After the cut, video demonstrations & full launch gallery
The HP Z400 is a minitower that can be outfitted with Xeon processors from 2.40GHz to 3.20GHz, together with Intel's Z58 express chipset and up to 16GB of DDR3 1333MHz memory across four DIMM slots.  An integrated SATA 3GB/s controller can handle up to four 3.5-inch drives in RAID 0, 1, 5 or 10 setups for a maximum of 6TB; alternatively there's an optional SAS controller for up to four 15,000rpm SAS drives and a maximum of 1.8TB.
Graphics options scale all the way to the NVIDIA Quadro FX 3800 1GB, Quadro FX 4800 1.5GB, or Quadro CX, or the ATI FirePro V7750 1GB.  There's also a range of optical drives, up to and including a Blu-ray burner, three external 5.25-inch bays and two 3.5-inch internal bays (four with a converter).  Connectivity includes two PCI Express Gen2 x 16 slots, one PCI Express Gen2 x8 mechanical/x4 electrical slot, one PCI Express Gen1 x8 mechanical/x4 electrical slot, and two PCI slots.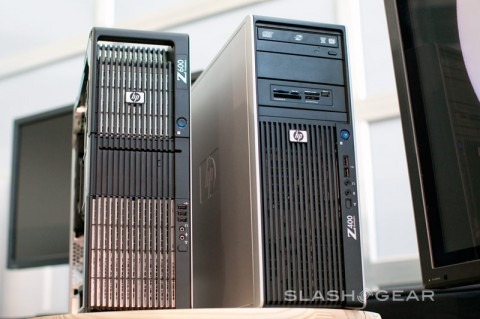 As for the HP Z600 and Z800, they feature a new brushed-aluminum casing with integrated handles, optimized airflow through "visually cable-less engineering", modular components that are completely tool-less, and ENERGY STAR qualified power supply options.  The design is the work of BMW Group Designworks USA, who compare the new workstation cases to the BMW Z4 roadster.  Each can be outfitted with one or two Intel Xeon processors, up to the W5580 3.20GHz quadcore, paired with up to 24GB of DDR3 memory in the Z600 or up to 192GB of DDR3 memory in the Z800.  Storage is up to 4.5TB in the Z600 or 7.5TB in the Z800, the latter having a standard 8-channel SAS controller, together with optional Blu-ray burners.
As for graphics, the Z800 is NVIDIA SLI capable, and can be outfitted with up to an NVIDIA Quadro FX 5800 4GB, Quadro CX or ATI FirePro V7750 1GB.  Connectivity includes two PCI Express Gen2 x 16 slots, two PCI Express Gen2 x16 mechanical/x8 electrical slot, one PCI Express Gen2 x8 mechanical/x4 electrical slot, one PCI Express Gen1 x8 mechanical/x4 electrical slot, and one PCI.  There are also a total of 12 USB 2.0 ports, two Firewire ports and dual gigabit LAN, among others.
As of July 2009 there'll also be a liquid-cooling option for all three Z-series models, and all have access to features like a self-checking power supply.  The HP Z Workstation range will be available worldwide starting April 6th.  US pricing begins at $969 for the Z400, $1,679 for the Z600 and $1,999 for the Z800.
Rather than expect the Z400, Z600 and Z800 spec-sheets to do all the talking, HP had also brought some customers along to talk about how the new workstation range lived up in practice.  Part of that has been HP SkyRoom, a new real-time video conferencing system that has sub-100ms latency (four-times faster, HP tell us, than the blink of an eye), together with support for 3D graphics.  That's been in use by Renault's F1 team – alongside the Z800 – for instance, used by the engineering and design departments at the team's French and UK sites to collaborate on shared projects.  Meanwhile SpaceX took the stage to discuss the Z series' strengths compared to their existing HP xw8600 workstations; the Z800 is 45-percent faster in all of their benchmarks.  For more details, check out the exclusive launch day videos below.
[vms a7a8315fa3c5a946e826]