HP xw9400 Workstation gets dual Six-Core AMD Opteron CPUs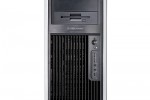 HP have announced their latest workstation, and if you've been disappointed with the power on offer in past models then this one might just do the trick.  The HP xw9400 Workstation can now be specified with the six-core AMD Opteron 2400 series processors, giving a total of 12 cores overall when two of the processors are paired together.
Those multiple cores are coupled with AMD's latest HyperTransport 3.0 technology (HT3) which boosts interconnect rates to up to 4.8 gigatransfers per second (GT/s).  You can also specify ATI's FirePro V7750 graphics accelerator, with its dual DisplayPort outputs as well as a Dual Link DVI-I and support for 18, 24 and 30-bit displays with a resolution of up to 2,560 x 1,600.
The new xw9400 workstation uses the same tool-free case design as before, and uses an 80 PLUS PSU for more economical running costs.  The six-core xw9400 is apparently available to order from HP now, though there's no sign of it on the company's site, nor specific pricing. 
Press Release:
HP Introduces First Professional Workstation with Six-core AMD Opteron Processor

PALO ALTO, Calif., July 1, 2009

HP today announced the immediate integration of the highly anticipated Six-Core AMD Opteron™ 2400 Series processor into the award-winning family of HP Workstations.

Ideal for high-end workstation applications in fields such as engineering, 3-D digital content creation, oil and gas, and science, the HP xw9400 Workstation taps the power of the new AMD Opteron processors to deliver higher productivity, especially for multi-threaded applications, multi-tasking and mega-tasking environments.

With the built-in engineering advantages of HP's highly tuned workstations, the HP xw9400 Workstation can accommodate up to two Six-Core AMD Opteron processors – for a total of 12 cores – each of which offers up to 34 percent more performance per watt(1) over the previous-generation quad-core processors.

"HP understands the immense pressure its customers are under to deliver more return on investment in a shorter period of time," said Jeff Wood, director, Worldwide Marketing, Workstations, HP. "By providing the most extreme combination of technologies – up to 12 cores in one workstation – HP continues its commitment to bringing customers leading-edge technologies."

AMD HyperTransport™ 3.0 technology (HT3) increases interconnect rates from 2 gigatransfers per second (GT/s) up to a maximum 4.8 GT/s, allowing the entire system to provide superior performance. Additionally, the HP xw9400 can be configured with the ATI FirePro V7750 3-D workstation graphics accelerator.

"The Six-Core AMD Opteron processor delivers top-line performance with no compromise in feature sets across the product line," said John Fruehe, director, Business Development, Server Workstation Business, AMD. "Including the Six-Core AMD Opteron processor and ATI FirePro V7750 3-D workstation graphics accelerator in the powerful HP xw9400 Workstation offers customers an optimal combination of computing performance and high-end graphics capability."

The HP xw9400 Workstation is registered as an Electronic Products Environmental Assessment Tool (EPEAT™) Gold product, the highest rating available. All HP workstations are more than 90 percent recyclable by weight and incorporate a tool-less chassis design for quick and easy upgrades by hand. The HP xw9400 workstation includes an 80 PLUS power supply, which is substantially more efficient than a standard power supply, reducing both overall energy usage and the amount of waste heat released into the environment.

Companies use HP Workstations to design everything from running shoes to race cars, animated characters to deep-sea submersibles, and to manage everything from billions of dollars of tradable securities to mission-critical IT environments.

The HP xw9400 Workstation starts at a U.S. list price of $1,899(2) and is available for purchase at www.hp.com/go/workstations.

About HP

HP, the world's largest technology company, simplifies the technology experience for consumers and businesses with a portfolio that spans printing, personal computing, software, services and IT infrastructure. More information about HP (NYSE: HPQ) is available at http://www.hp.com/.

——————————————————————————–

(1) AMD Opteron processor Model 2435 (SPECpower_ssj 2008 overall 1,297 ssj_ops/watt; 501,246 ssj_ops at 287 watts at 100 percent target load) compared to AMD Opteron processor Model 2382 (SPECpower_ssj 2008 overall 970 ssj_ops/watt; 376,878 ssj_ops at 272 watts at 100 percent target load). ZT Systems 1224R Datacenter Server, HT1, 16GB (4x4GB DDR2-800) memory, 80GB SATAII SSD, 400W Sparkle Power Int'l LTD SPI4001UG power supply, Microsoft Windows® Server 2008 Enterprise SP1 64-bit.

(2) Estimated U.S. list price. Actual price may vary.

——————————————————————————–

AMD Opteron and AMD HyperTransport are trademarks of Advanced Micro Devices Inc. Microsoft and Windows are U.S. registered trademarks of Microsoft Corporation.

This news release contains forward-looking statements that involve risks, uncertainties and assumptions. If such risks or uncertainties materialize or such assumptions prove incorrect, the results of HP and its consolidated subsidiaries could differ materially from those expressed or implied by such forward-looking statements and assumptions. All statements other than statements of historical fact are statements that could be deemed forward-looking statements, including but not limited to statements of the plans, strategies and objectives of management for future operations; any statements concerning expected development, performance or market share relating to products and services; any statements regarding anticipated operational and financial results; any statements of expectation or belief; and any statements of assumptions underlying any of the foregoing. Risks, uncertainties and assumptions include macroeconomic and geopolitical trends and events; the execution and performance of contracts by HP and its customers, suppliers and partners; the achievement of expected operational and financial results; and other risks that are described in HP's Quarterly Report on Form 10-Q for the fiscal quarter ended April 30, 2009 and HP's other filings with the Securities and Exchange Commission, including but not limited to HP's Annual Report on Form 10-K for the fiscal year ended October 31, 2008. HP assumes no obligation and does not intend to update these forward-looking statements.

© 2009 Hewlett-Packard Development Company, L.P. The information contained herein is subject to change without notice. The only warranties for HP products and services are set forth in the express warranty statements accompanying such products and services. Nothing herein should be construed as constituting an additional warranty. HP shall not be liable for technical or editorial errors or omissions contained herein.