AMD ATI FirePro V7750 GPU announced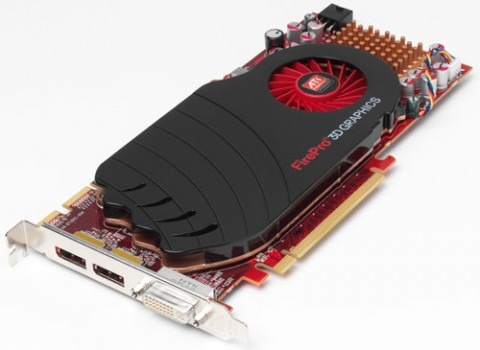 The ATI FirePro V7750 graphics accelerator was announced by AMD yesterday and it's definitely a great choice for those that require high quality graphics for their chosen professions like scientists and engineers. It includes OpenGL 3.0 support and 1GB of frame buffer memory, for starters.
Other features include a 128-bit memory controller, 320 stream processors, a 30-bit display pipeline and PCI Express 2.0 support. Two DisplayPort outputs are included as well as a Dual Link DVI-I output with support for 18, 24 and 30-but displays with a resolution of up to 2,560 x 1,600.
This GPU makes it so less processing power has to be used by the CPU for graphics. Plus, High Dynamic Range rendering is supported. The ATI FirePro V7750 is available now for $899 and works on machines running Linux, Windows XP and Vista.
[via HotHardware]