HP webOS Tablet Arriving First Quarter of 2011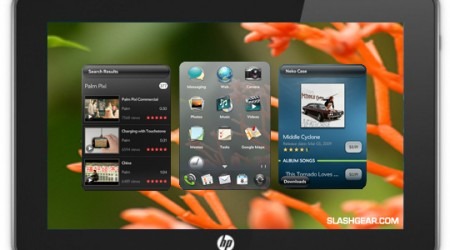 When HP acquired Palm, there was a lot (and we mean a lot) of speculation about what would happen to webOS. Would it be appropriately utilized? Or would it fade away into oblivion, leaving all of us wanting more? Thanks to HP, they were quick to assure us that webOS wouldn't be going anywhere, and that it would even be making an appearance on things like printers. But, what about something that matters, like a tablet? Well, according to Engadget, that's coming too.
Perhaps not as quickly as some of us out there would like, but at least it's coming, and at least HP is taking the time to manufacture something that is, truthfully, fully capable of stealing our hearts. Just based on the software. According to some trusted sources, HP is telling employees that the HP-branded, webOS-fused tablet will be making an appearance some time in the first quarter of 2011. Personal Systems Group VP Todd Bradley said something to that extent, regarding the release date, at an all-hands meeting over at HP yesterday. What's more, is the project is indeed known as "Hurricane" internally. That sounds familiar.
We're hoping that a webOS tablet is as good as it can be, so it will be up to HP to make the hardware as enticing as the software. Only time will tell if this will be worth the wait or not, but even as we inch closer and closer to 2011, it's still a ways off. So try not to get too excited just yet.
[via Engadget]