HP Voodoo Firefly concept gaming notebook gets hands-on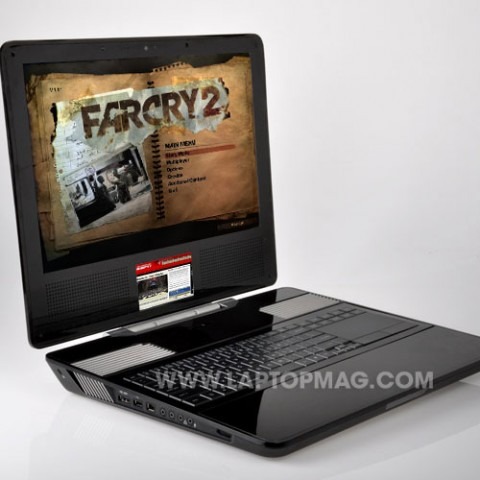 As monstrous beasts of laptops go, HP Voodoo's prototype Firefly certainly stomps its way near the top.  Intended to demonstrate some of the innovation coming out of the hardcore gaming team, the Firefly pairs a 17.1-inch 1920 x 1200 main display with a 4.3-inch 800 x 480 sub-display underneath (similar to the Fujitsu N7010), together with Intel's 2.4GHz Intel Core 2 Extreme Quad Core processor, 4GB of RAM, a pair of ATI Mobility Radeon HD 3870 GPUs running in CrossFire mode, and a 7,200rpm 250GB hard drive.  That's comfortably enough to run Far Cry 2 with its graphics set to max.
LaptopMag spent some hands-on time with the Firefly, and while they're clear this notebook isn't for everyone (or, more accurately, for anyone, since Voodoo insist it's just a concept), there are plenty of features that we might be seeing on the company's future production models.  The multitouch trackpad has been shifted off to the right, where a gamer's mouse would normally be, and the webcam apparently has some clever night-vision webcam abilities meaning your friends can see you game in the dark. 
Some aspects aren't as successful – the sub-display, for instance, runs at such a high resolution for its size that text can be too small to comfortably read – and of course it's heavy at 13lbs.  Still, there's plenty of Voodoo DNA here that would work great in upcoming notebooks, so expect the company to be very interested in the feedback it gets from CES 2009 next week.