HP unveils Split x2 detachable Windows 8 notebook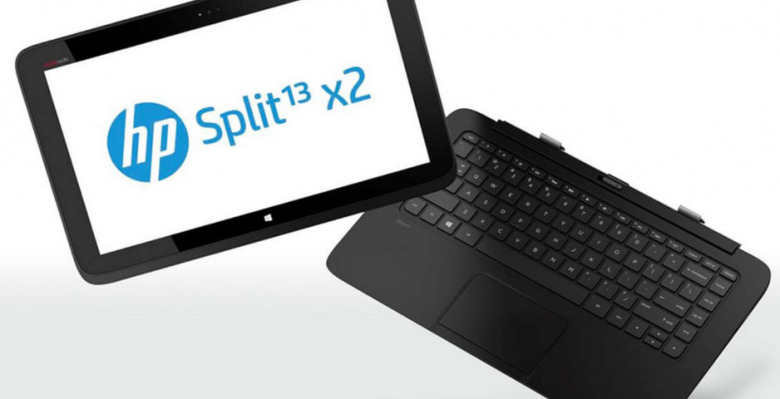 Sometimes you need a laptop, and sometimes you need a tablet. Such is the philosophy behind detachable PCs, with the newly unveiled HP Split x2 being one of two announced today, with the HP SlateBook x2 being the other. With a 13.3-inch HD display, it's big enough for a variety of tasks, yet still small enough to tote around sans-body as a tablet. Read on for the full details; we've got a video for you after the jump.
With the HP Split x2, consumers get a 13.3-inch high-definition touchscreen display that can be detached from the base, which contains an extra optional hard drive for additional storage on top of the storage in the detachable unit. As with the dual hard drives, there are dual batteries for "ultramobility," all of it wrapped up in a soft-coated shell to keep fingerprints to a minimum.
Under the hood, users will find a 3rd-generation Intel Core processor (Core i3 and Core i5 options) and up to 8GB of RAM, while audio is provided via Beats Audio and HP Connected Music. There's a multi-finger ClickPad trackpad, as well as a 2-megapixel HP TrueVision Full HD integrated webcam for video chatting. Storage can be expanded via an SD card slot in the base and a microSD card slot in the slate. You can see the device in action in the video above.
There are the various software trimmings you'd expect, such as support tools and other similar resources, as well as various warranty options for protection against accidents. The HP Split x2 is slated to hit shelves in the United State this upcoming August, and will have a starting price of $799.99.
Said HP's Senior VP of Consumer PCs Ron Coughlin: "Customers want to access and share content anywhere, anytime, on any internet connected device-and they expect those connections to be seamless. The HP SlateBook x2 and the HP Split x2 are next-generation devices and the latest examples of our continued commitment to evolving the computing experience by providing the flexibility necessary for customers to be productive at home, at the office or on the go."