Workstations are some of the most powerful computers you can buy… but man, are they boring. With the possible exception of Apple's Mac Pro, there's really no workstation-class machine that inspires desire, despite the backbone that they provide for high-end work in industry. HP may have just changed that with the unveiling of their Z1, the company's first all-in-one workstation. HP showed off the new hardware at their workstation event in Las Vegas.
Getting a high-performance machine into the size of a large consumer all-in-one is impressive in and of itself, but the really amazing thing about the Z1 line is that it retains the same level of access to the internals as a full-sized machine. The display slides down to a 180-degree view, at which point the top panel with the LCD pops up. From there you've got access to all the major components: storage, processor, memory, graphics cards, etc. and it all uses HP's tool-less swapping system.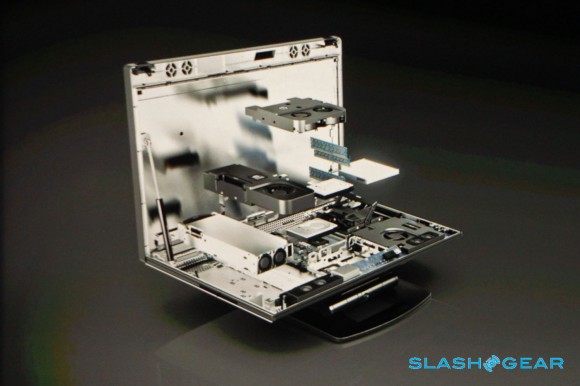 All the components are full desktop parts, not laptop silicon like consumer-grade all in ones. Since the Z1 is designed with high-end work in mind, expect hardware to range from just powerful to monstrous. Intel Core and Xeon processors are available, as are the fastest traditional hard drives and SSDs. Intel integrated graphics are standard on the low end, but you can configure the Z1 with an Nvidia Quadro up to the Q400M. There's also a full-sized PCI-e 16x slot on the motherboard. DVD-RW is standard, with Blu-ray reader and writer options set to be included as well. 4 DIMM slots max out a 32GBs of DDR3 memory. The power adapter is just 400 watts, which helps with the size, but may limit upgrades.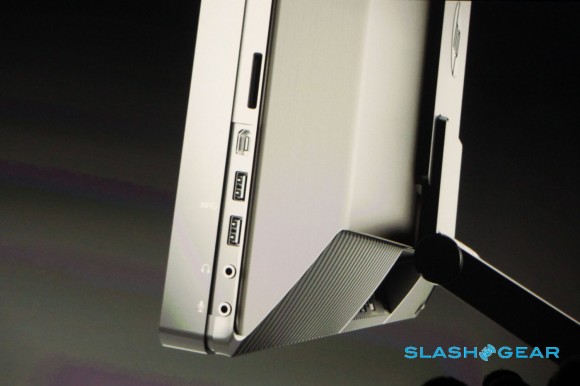 As far as the exterior goes, HP has put a lot of thought into designing a machine that meets workstation requirements without compromising on space. Most of the pedestrian connections run along the right side, including USB 3.0, Firewire, a card reader and standard audio. The back holds the more juicy stuff, including the various audio out (including subwoofer) Display Port and high-speed data transfers. Permanent USB fixtures (like a license key) can be mounted to the inside. The screen itself is impressive, a 27-inch 2560×1440 IPS display that's thin enough to flip up to access the interior. The back of the screen can be removed from the stand and mounted on a standard VESA mount – the idea of a workstation that can be treated as a high-end monitor for space and power requirements is downright shocking.
This is the sort of hardware that makes a performance junkie drool, even if most home users never get to see it. Graphic designers, video editors and 3D modelers, start saving your pennies now: the HP Z1 Workstation will be available in April starting at $1899 USD.