HP TouchSmart IQ800 media PC: Video Demo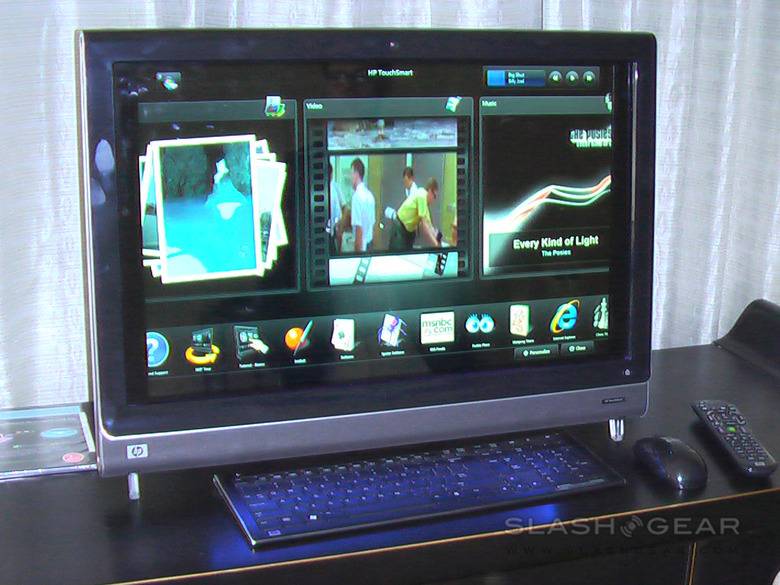 HP have taken the wraps off of their latest TouchSmart PC, the IQ800-series.  Two models make up the new range, the IQ804 and IQ816, the former having a 2.16GHz T5850 Core 2 Duo (667MHz bus, 2MB cache) while the latter has a 2.10GHz T8100 Core 2 Duo (800MHz bus, 3MB cache).  Each uses HP's TouchSmart interface on a 25.5-inch 1920 x 1200 display, which you can see demonstrated after the cut.  The IQ816 also has a Blu-ray burner and GeForce 9600M GS graphics, while the IQ804 makes do with DVD and GeForce 9300M GS graphics.
Both TouchSmart models include a TV tuner with remote, HP Pocket Media drive bay and WiFi.  There's also Bluetooth and an integrated webcam, which can be used to leave video messages for family or uploading footage direct to YouTube.  An LED ambient light is built into the underside of the bezel, to illuminate your keyboard in a variety of user-selectable colors.
Touch-sensitive buttons along the edges control volume and jumping into the TouchSmart GUI, while there are also USB and Firewire ports together with a multicard reader.  The remaining ports are hidden underneath a cover on the rear of the PC.
The TouchSmart IQ804 will be available on September 21st, priced at $1,899; the IQ816, meanwhile, won't drop until October 12th, priced at $2,099.