HP TouchSmart 310, Omni100 and TouchSmart tm2 get official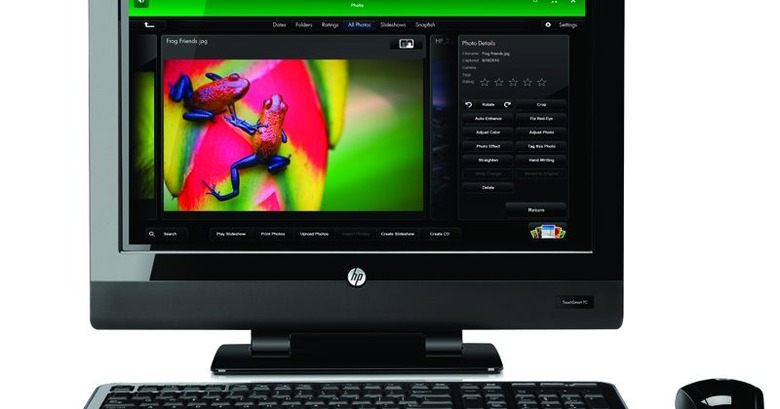 HP has outed a trio of new PCs, including the HP TouchSmart 310 and HP Omni100 desktops, and the HP TouchSmart tm2 convertible notebook.  The TouchSmart 310 is a 20-inch all-in-one running AMD's 2.8GHz Athlon II 240e dual-core CPU with 4GB of RAM and a 1TB HDD; it has a TV tuner, DVD burner and multitouch capable display.
The Omni100, meanwhile, has a 20-inch non-touchscreen display, 1.8GHz Athlon II 260u dual-core CPU, 3GB of RAM and a 500GB HDD.  There's also ATI Radeon HD 4270 graphics, WiFi b/g/n and a webcam.  Like the TouchSmart 310, it runs Windows 7.
As for the tm2, that gets a Core i3-380UM 1.33GHz processor, 4GB of RAM and Intel HD graphics, along with a twisting 12.1-inch 1280 x 800 multitouch screen (with stylus input too).  There's also WiFi b/g/n, gigabit ethernet, a 5-in-1 memory card slot, 500GB HDD and HDMI/VGA outputs; HP reckon users will see up to 6.5hrs runtime from the 6-cell battery.
The HP TouchSmart 310 starts at $699.99 and will go on sale from September 22; the Omni100 will start at $499.99 at the same time.  HP also has a refreshed TouchSmart 600 desktop range, priced from $999.99.  Finally, the HP TouchSmart tm2 will go on sale October 27th from $829.99.
Press Release:
HP Advances the Touch Experience for Consumers and Businesses
New HP TouchSmart PC and HP Omni100 make computing an immersive experience for customers

PALO ALTO, Calif., Sept. 20, 2010 – Introducing a more personal, intuitive and entertaining computing experience for consumers, HP today unveiled the sleekly appealing HP TouchSmart310 PC, which features the most advanced version of the company's exclusive TouchSmart software to date.

The company also announced the HP TouchSmart Apps Center for one-touch access to free and subscription-based applications, as well as the HP Omni100, which offers the performance users demand from a tower and monitor in an all-in- one design.

HP also is helping businesses make touch an integral part of the customer experience through relationships with American Airlines, ESPN and the National Football League's San Francisco 49ers.

―Each generation of TouchSmart is a reflection of what HP has learned from its customers, complemented by the latest technologies,‖ said James Mouton, senior vice president, Desktop Organization, Personal Systems Group, HP. ―The TouchSmart PC's unique interface lets users do more than just basic computing – it acts as the anchor of one's digital lifestyle, encouraging creativity, organization and a truly immersive experience.‖

Create, communicate and personalize with just one touch

The latest version of HP TouchSmart software transforms the desktop into a ―Magic Canvas‖ that enables users to freely drag applications, music, photos, videos and web content(1) directly onto the desktop as ―Magnets.‖ Multilayered wallpapers bring depth and perspective to the screen, while the new ―Carousel‖ and ―Magic Menu‖ allow users to easily locate applications and content – all with the touch of a finger.

In addition to existing applications from Twitter, Hulu, Netflix, RecipeBox and the HP Music Store powered by Rhapsody, the software now features a built-for-touch Facebook application that makes it easier than ever to stay connected with friends and family. Users can create a personalized video greeting and post it directly to a friend's Facebook Wall.(1)

The new HP TouchSmart Apps Center – available via an icon on the TouchSmart Carousel – provides seamless one-touch access to free and subscription based applications from partners such Marvel Comics and the Cartoon Network.(1)

Applications include:

— Marvel Comics: Featuring the Marvel Digital Comics UnlimitedTM online library of over 8,000 comics – tap and be immersed in the colorful stories of the world's most popular superheroes, including Iron Man, Thor, Captain America, The Avengers, Spider-Man and Wolverine

— Cartoon Network: Offering regular news updates on Cartoon Network shows and characters.

— A variety of touch-enabled games to entertain every member of the family.

The new version of the TouchSmart software will be available on the HP TouchSmart310 desktop PC and the current HP TouchSmart 600 desktop PC. The TouchSmart 600 PC also is available with Beats Audio – a unique, high- performance technology that provides an optimal sound experience – the way the artist intended it.(2)

The convertible HP TouchSmart tm2 notebook PC will include updated TouchSmart Mobile 2.0 software. Similar to the interface on the HP TouchSmart desktop PC, the software allows users to drag multimedia content to use the notebook's desktop like a personal canvas and access applications through a carousel view. The tm2 features many of the same touch applications as the TouchSmart desktop PC and includes DigiFish Dolphin, a screensaver that recreates an interactive ocean environment.

The tm2 features a capacitive multitouch, 12.1-inch diagonal, LED BrightView, touchscreen display and provides a full notebook PC experience with Intel® CoreTM i3 and i5 processors and AMD Mobility Radeon HD 5450 switchable graphics.

High performance meets elegant design

The fourth generation of the HP TouchSmart PC is a balance of elegant design and performance. The slimmer 20-inch HD display(3) of the HP TouchSmart310 sits on a pedestal base that tilts up to 30 degrees. Built-in wireless LAN,(4) webcam, front- firing speakers and an optional TV tuner(5) provide a robust multimedia experience. Other features include AMD VISION processors and Radeon graphics and up to 2 TB of storage.(6)

Keeping the environment in mind, the HP TouchSmart310 PC is ENERGY STAR® qualified and meets the standards for silver registration in the Electronic Products Environmental Assessment Tool (EPEAT®).

Companies and independent software vendors choose HP TouchSmart PCs

HP TouchSmart 9100 installations are in progress with iconic brands such as American Airlines Admirals Club lounges, ESPN Wide World of Sports Complex and the San Francisco 49ers, showcasing diverse touch technology business use

cases for new markets.

In addition, the National Gallery of Canada is using HP TouchSmart PCs to create the industry's first interactive digital art catalog for antique photography, aiming to enhance the viewing experience for the museum's visitors.

The HP Interactive Solutions ISV Partner Program also continues to build momentum, offering a growing portfolio of touch-enabled applications within healthcare, hospitality, retail and education verticals.

HP Omni100 offers stylish simplicity 100 The sleek, all-in-one design of the HP Omni HD display,(3) AMD VISION technology and up to 1 TB of storage.(6) The PC also features the latest version of HP MediaSmart software, making it easier than ever to manage photos, videos and music.

Pricing and availability(7)

— The HP TouchSmart310 desktop PC starts at $699.99 and is planned to be available Sept. 22 at www.hpdirect.com and at select retailers nationwide on Oct. 24.

— The HP TouchSmart 600 desktop PC starts at $999.99 and is planned to be available Sept. 22 at www.hpdirect.com and at select retailers nationwide Oct. 24.

— The HP TouchSmart tm2 notebook PC starts at $829.99 and is planned to be available Oct. 27 at www.hpdirect.com.

— The HP Omni100 desktop PC starts at $499.99 is planned to be available Sept. 22 at www.hpdirect.com and at select retailers nationwide on Oct. 24.

More information about the products, including product specifications and images, is available at www.hp.com/personalagain.

24/7 service and support

HP PCs are backed by HP Total Care, the company's award-winning service, solutions and support, both in and out of warranty. With HP Total Care, consumers can reach support agents 24/7 by phone or online support options like the HP consumer support forum.

On Sept. 28, HP will host a 24-hour Expert Day on the HP Consumer Support Forum. Experts from HP will be on the community forum to answer questions and give tips to help people get the most out of their HP printers, desktops and notebooks.

HP PCs also come with built-in support through HP Support Assistant, a simple software application that allows PCs to run smoothly right from the start. The software maintains PC performance and resolves problems with automated updates and tune-ups, onboard diagnostics and guided assistance.