HP TouchPad teardown finds it is easy to repair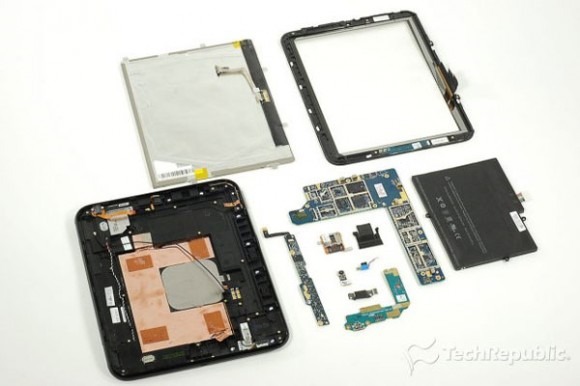 We have already put up or review of the HP TouchPad tablet and found it wanting as far as hardware goes. I have also already mentioned that Vince reviewed the WebOS operating system separately and liked it well enough. If you are the sort of geek that likes to see your own flavor of gadget porn with teardowns of the new gadgets this is for you. TechRepublic has posted up its teardown the HP TouchPad for us to gander at.
The machine is packed tightly as most gadgets are today inside the case. The gang says that the TouchPad is much easier to take apart than the iPad, which is a good thing for DIY repairs but this is also one of the reasons it's larger than the iPad. We already know all the hardware inside the TouchPad, you can check out our review linked above if you aren't familiar.
Inside the case, HP uses normal Phillips screws and most of the components inside can be removed and replaced. The display and the digitizer are also separate components as well allowing you to replace one without the other part. That is cool, but we know what you really want are the photos. Hit the source for tons more photos, but the major parts are in the gallery below.
[via TechReport]