HP to launch NVIDIA GeForce 3D Vision gaming notebook?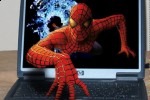 NVIDIA's GeForce 3D Vision system was one of the most surprising demonstrations at CES this year, relying on a special display and glasses to offer headache-free 3D gaming.  Now that same desktop technology could soon be available to mobile gamers, with rumors that Wistron are developing a notebook version for HP machines that will ship later this quarter.
GeForce 3D Vision relies on a 120Hz-refresh capable display, which sends alternate images to a pair of active-shutter LCD glasses.  These glasses independently flicker their left and right lenses between clear and opaque, allowing each eye to see the images; the brain then combines those slightly offset pictures into stereoscopic 3D.
As well as the glasses and LCD panel technology, any mobile version would also require a high-performance NVIDIA GPU.  The speculation was reported as from "market watchers" by the Chinese-language Commercial Times, while Wistron themselves declined to comment on the rumors.
[image via]