HP StorageWorks X300 Data Vault Review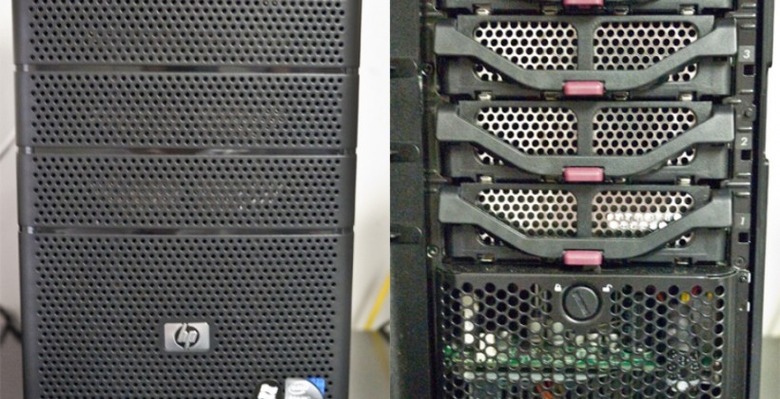 HP continues to push ahead with Windows Home Server, offering domestic and small business users a central storage point for backups and media server duties, together with drive redundancy and more. Latest to the SlashGear test bench is the HP StorageWorks X300, a new Data Vault product that offers up to 7TB of internal storage shared between up to ten users. Check out the full review after the cut.
This isn't the first time we've looked at one of HP's Data Vaults; back in November 2009 we reviewed the X510, a business-centric version of the MediaSmart EX487. The biggest changes are inside, with the StorageWorks X300 throwing out the Celeron and Pentium processors of its siblings and replacing it with a frugal dual-core Intel Atom CPU running at 1.6GHz. That's paired with 2GB of RAM and four 3.5-inch SATA drive bays, all in a short tower case. Along the bottom front edge are the clear status lights, showing drive health for each HDD, power and network status, and overall Home Server health.
OS is Microsoft's Windows Home Server, a straightforward system for sharing files, managing various user accounts – with differing degrees of access – and handling media streaming for iTunes libraries and via Windows Media Connector. The 1TB version of the StorageWorks X300, the X310 (using a single 1TB hard-drive) has a street price of $349.99, around $240 less than their X510. Connectivity includes four USB 2.0 ports and a single eSATA port, all of which can be used to attach external drives; altogether, a single X300/X310 system can offer 17TB.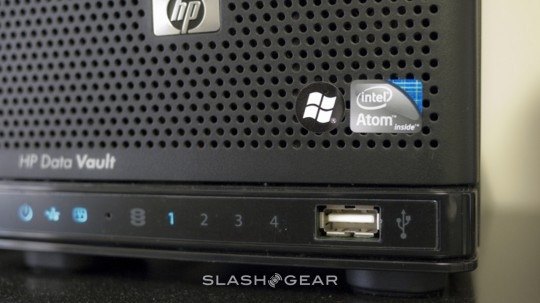 That's plenty, considering you can have up to ten PC users (and unlimited Mac clients); after all, those with more ambitious demands are expected to look to the more expensive units. HP's focus is data protection and disaster recovery (with the X300 paired with their KeepVault online backup service); they provide their own HP Control Center app which, when installed onto each client machine, can be used to perform automated backups, folder duplications and online synchronisation. The X300 will also work with Apple's Time Machine backup system.
Also bundled is a year's subscription to an online file access system, which offers a custom domain for logging in and checking your files wherever there's an internet connection and browser. Unlike a regular RAID array, Windows Home Server uses Microsoft's own "Drive Extender" technology: that's not standardized, but it it does allow for non-identical HDDs to be used, plus external drives being included in the overall array. Setup is straightforward, with WHS automatically establishing the data pool, and you can selectively pick which files or folders are duplicated across multiple HDDs or designate an entire drive as an automatic backup mirror.
Unlike some servers, the X300 only has a single gigabit ethernet port for network connectivity; still, with normal backup use and media streaming we found other network bottlenecks were generally more of an impediment to speed than the StorageWorks' one port. We were able to quickly set up user accounts with varying degrees of access privileges: anything from full read/write through read-only to no-access, individually selectable to different folders if necessary.
As with previous HP WHS products we've tested, there's a reasonable range of online and local media sharing options, including the ability to automatically publish photos to an online gallery, and serve up images, video and music to consoles like the Xbox 360 or PS3. However, the automatic media collector and video convertor we used on the X510 has been removed, as has the Twonky DLNA Media Server functionality, and it's now no longer possible to easily stream content to web or iPhone clients. That's part of HP's focus on backup, it seems, though you can add in third-party plugins to introduce alternative functionality.
In practice, the StorageWorks X300 kept up with the several simultaneous backup jobs we asked of it, shuffling across files from a number of PCs and Macs at the same time. However Windows Media Connector is only really of use if you have a PC, and we missed broader DLNA support for streaming content simply to our Mac. At HP's $520 MRSP we perhaps wouldn't be convinced, but with the street price being $170 less than that it pushes the StorageWorks X300 into regular NAS territory. In that sort of arena, Windows Home Server holds its own as a capable piece of software, and with some careful add-in planning it's possible to easily tailor the X300 into an affordable and flexible backup and media server system.