HP Spectre 13 Review: Thin requires compromise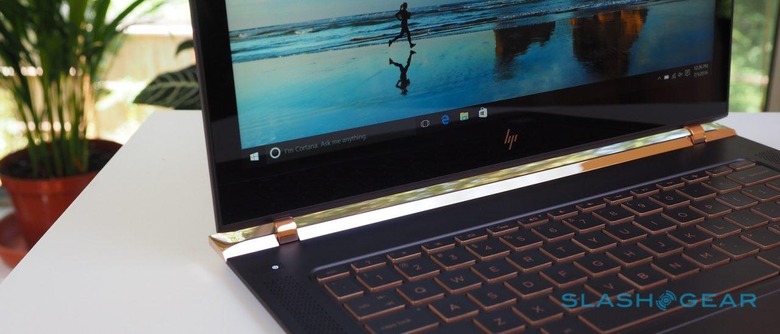 How thin is too thin, and is extreme style worth extreme compromise? The HP Spectre 13 is the latest notebook to ask those questions, chasing – and indeed besting – Apple's MacBook in millimeters of depth and raw power potential, though demanding concessions in functionality and connectivity from users in the process.
HP is no stranger to thin notebooks, but the Spectre 13 takes it to extremes. The chassis – carbon fiber on the bottom, aluminum on the top – is at 10.4mm simply too thin for traditional ports, traditional cooling, and even a traditional touchscreen.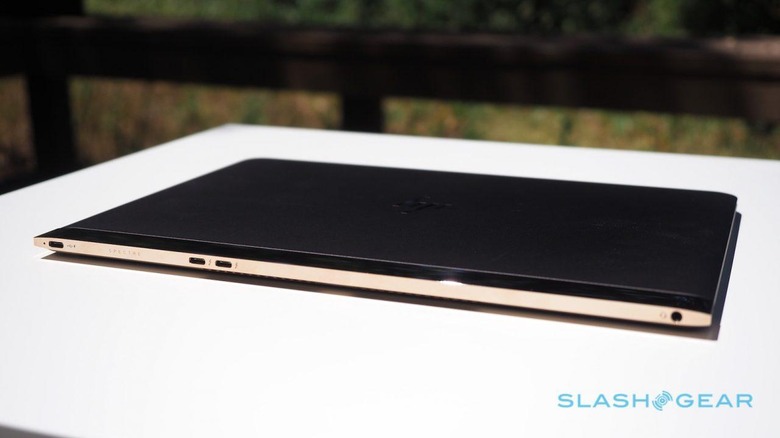 As a result, there are three USB-C ports – two supporting Thunderbolt for up to 40gbs data rates, and the third USB 3 – and a headphone jack, but no regular USB, no ethernet, and no traditional video output like even micro HDMI.
HP insisted on full-strength Core i5 and i7 processors rather than the Core m chips the MacBook uses, even though they demand active cooling; since there was no space for a regular fan, the company designed a hyperbaric cooling system that creates a vacuum around the hotter components to draw in cool air.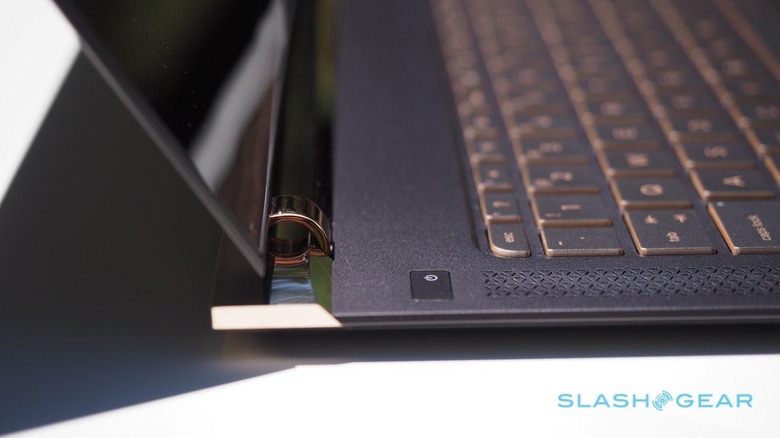 The only thing HP couldn't engineer was a thinner touchscreen panel, and so the Spectre 13 is, fairly unusually, a premium Windows 10 notebook that's non-touch. The engineers, the company tells me, couldn't fit touch in without compromising on thickness – nor, indeed, a 4K panel for that matter – and so you get a Full HD IPS display that you can't use your fingers with.
Thing is, HP tells me, there's a good reason why it keeps making thinner and thinner notebooks: that's what its customers say they want. So, is this a case of consumers not realizing the consequences of what they're asking for?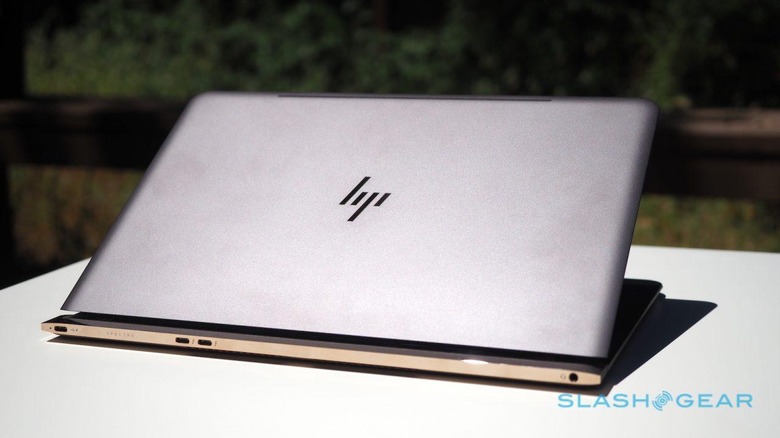 Opting for the Spectre 13 requires not only a conscious functionality decision, but a style one too. With its matte black and shiny bronze two-tone finish, it's definitely eye-catching; throw in the oddly arched screen hinges, and you have a design that polarized those I showed it too.
HP says the hinge mechanism – which counterbalances the weight of the display with four tiny pistons inside – is the answer to keeping bulk down while drawing on artisan cabinetry style. It's certainly clever, though I wouldn't argue with the ability to angle the screen further back.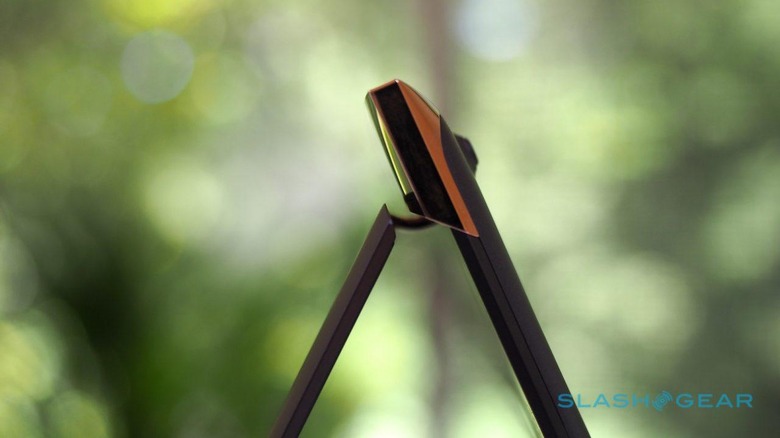 As for audio, while Bang & Olufsen has had its hand in the Spectre 13's speakers, there's only so much tuning can do. Don't expect much in the way of bass, while the mids sound squashed.
Unexpectedly, despite the whole notebook being only 10.4mm thick, the keyboard has an impressive amount of travel. At 1.3mm, it's not quite the 1.5mm of HP's more mainstream models, but it's certainly enough that touch-typists should feel at home with minimal acclimatization. I'm one of the odd minority that really likes the keys on the MacBook, but I suspect HP will please more people with its design.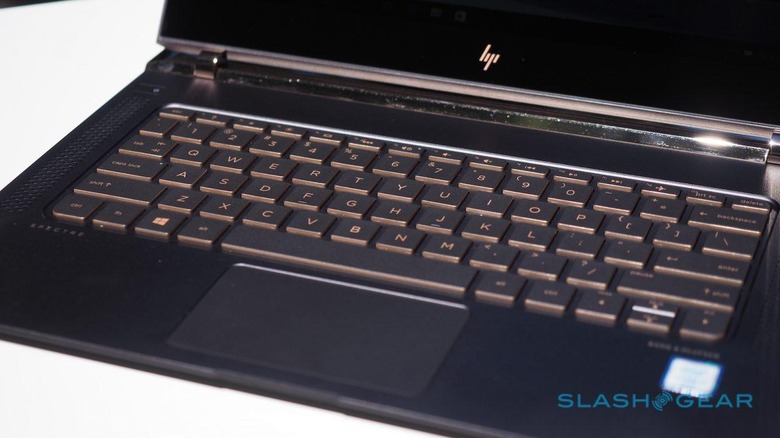 Without a touchscreen, the trackpad is all-important, and there HP both hits and misses. Unlike with an embarrassingly large number of Windows notebooks, I didn't notice any jumps, stutters, or generally stickiness to the cursor when using it. On the flip side, at 3.7 x 2.2 inches it's definitely on the small side, and though the etched glass surface is smooth, my fingers kept running out of space.
Could I get used to it over time? Probably, and I could certainly get used to HP's sensibly flexible ports. Yes, you'll need a dongle to hook up legacy devices – buy the Spectre 13 from Best Buy and you'll get a USB-C to USB-A adapter in the box, but figure on $49 apiece if you want the HP-branded ethernet or HDMI adapters – but with its trio of ports it cocks a snook at the MacBook's single connector.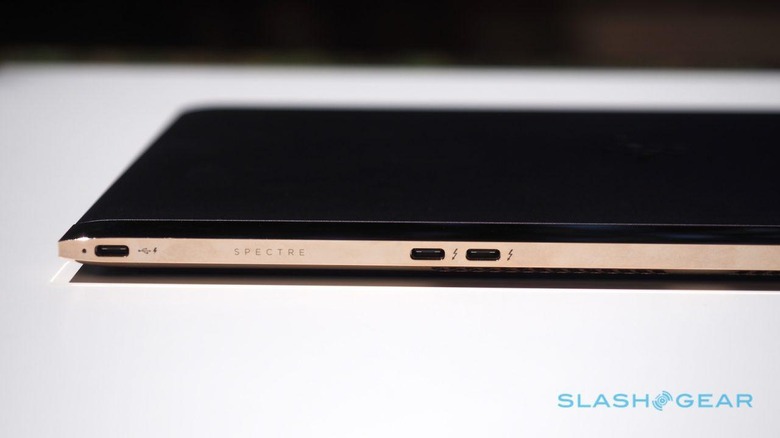 HP offers a docking station that works with the Spectre 13, and with the pair of Thunderbolt ports you can drive two 4K displays from the single notebook. That's useful, because the notebook's own 13.3-inch panel, though bright and with solid contrast and colors, lacks the pixels of the MacBook leaving text and graphics looking a little less smooth. Finally, you can charge the HP through any of the USB-C ports, which is a nice touch.
Given its insistence on Intel's full-strength chips, I had high hopes for the Spectre 13's performance. Cheapest in the line-up is a $1,169.99 Core i5, with 8GB of memory and 256GB of SSD storage; my review model, though, was the $1,249.99 Core i7, with the same memory and storage. If you then want to double the SSD to 512GB, it'll cost you $1,499.99.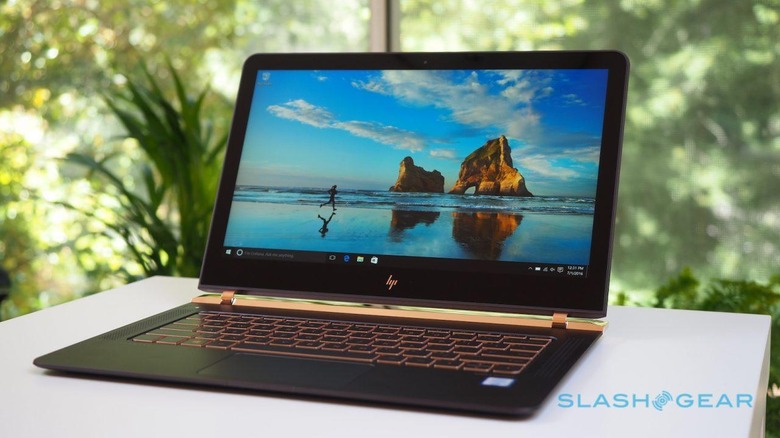 Day to day, I had no problems multitasking between multiple browser tabs, Word, Spotify, Slack, and whatever other apps I needed. I even did some basic video processing with no issues (to put it into context, my everyday machine is a MacBook and, while I'll do video work on that, it's understandably not the quickest of systems). At times, HP's fan noise was certainly noticeable, a distinctive jet turbine-esque whoosh.
In Geekbench 3, the difference that mainstream processor makes over the MacBook becomes more clear. The Spectre 13 scores 3255 in the single-core test and 6900 in the multi-core; in contrast, Apple's 2016 MacBook refresh scored 2,920 and 5882 respectively.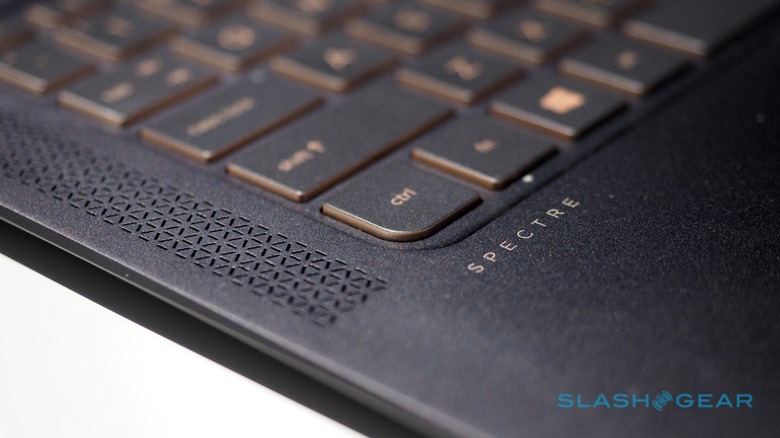 Then there's battery life. HP claims its ultraportable will last for up to 9 hours 45 minutes, though warned me that traditional testing methods – which would typically involve turning off all the power-saving tweaks – might prove misleading, given the amount of software and driver optimization it, Microsoft, and Intel have done.
Nonetheless, I couldn't hit HP's numbers, falling more than two hours short when playing streaming video over WiFi. With more mixed, everyday use, it struggled even more: 5-6 hours was typical.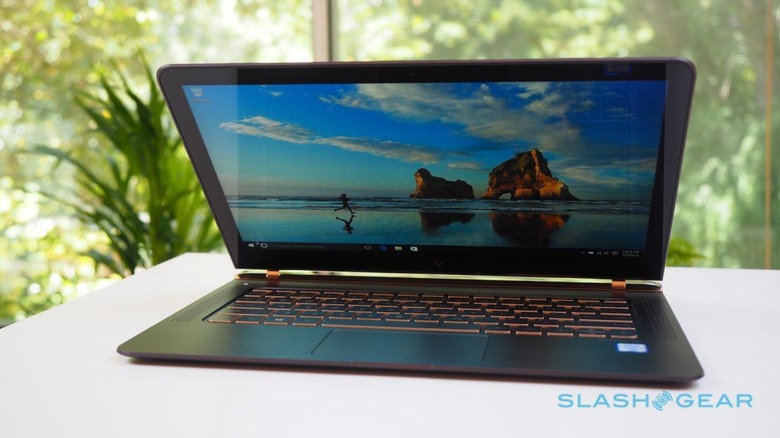 Is it a deal breaker? Not completely; after all, this is a laptop of strange compromises. There's a lot to be said for HP's impressively high build quality – even if the Gorilla Glass 4 protecting the display is maddeningly glossy in some lighting conditions, while the shiny metal parts of the chassis have a greater appetite for fingerprints than the cast of CSI – and at 2.45 pounds it's a waif in your rucksack.
In short, HP will happily sell you more battery life, it just comes in a different laptop.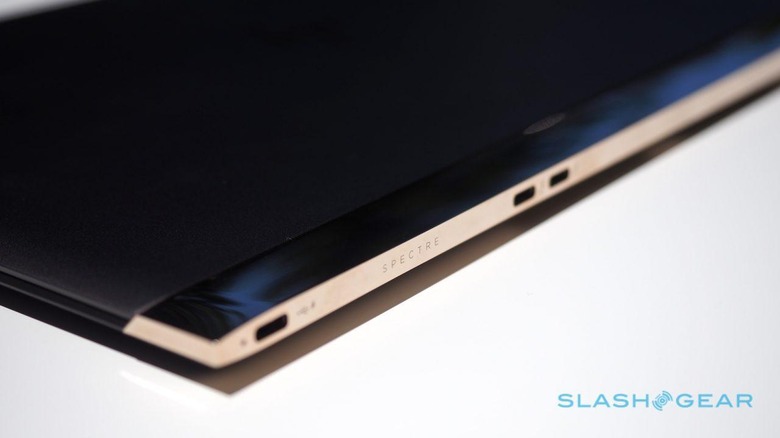 NOW READ: MacBook 2016 Review
Were this an ideal world, the Spectre 13 would have touch and run for longer without increasing in size. Right now, though, that's just not feasible, and if you're one of the people who is telling HP that supreme skinniness in an ultraportable is the number one goal, this is what those ambitions get you.
The Specter 13 is, just like the MacBook, not for everybody, but if you demand the pinnacle of Windows 10 portability it's hard to argue with.