HP Slatebook 14 tipped to be a Tegra-powered Android notebook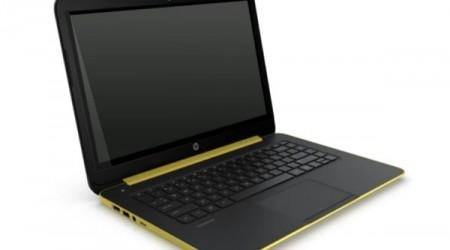 HP's Android Slatebook series hasn't really enjoyed notable success, and yet the PC makers is now reported to be on the verge of unveiling yet another one. The Slatebook 14 is supposedly a device intended for the budget market but still sporting a fine array of hardware features.
Forget your preconceived notions of what a Slatebook is, because the Slatebook 14 is not that. Unlike the Slatebook x2, this one is a straight, no gimmicks notebook, not a two-in-one tablet/laptop hybrid. It does, however, still sport a touchscreen, so it hasn't exactly shed off any semblance with its older sibling. That could very well be due to that fact that this slab of plastic runs Android, of a yet unknown version, which is inherently more touch-oriented.
Deep inside you get one of NVIDIA's Tegra chips powering the device, whether it's the current Tegra 4 or one of the newer Tegra K1, it is still unknown. RAM is marked at 2 GB with an internal storage of 16 GB, expandable of course via a micro SD card. The display is rather nice, considering it's being marketed to be rather cheap. The 14-inch touchscreen display is said to support 1920x1080 Full HD resolutions, but there is talk of an even cheaper HD variant. It also possesses your usual staple of connections, both wired and wireless, like WiFi, Bluetooth, USB, HDMI, and even a SIM slot. And rumors also put Beats Audio Technology in this bugger.
Outside, the HP Slatebook 14 is equally interesting, if not a tad curious. Word is that HP has gone with plastic, of the polycarbonate kind, to keep costs low. It is not known if the leaked photos run the full gamut of color choices available, but in this case the Slatebook 14 is shown with a predominantly black coating, highlighted by yellow edges and accents. Definitely a unique and eye-catching design, though it might hurt the design sensibilities of some.
Nothing's official yet, however, as HP has been rather silent about this notebook. Availability date, pricing, and markets are, naturally, still unknown. If it does come to pass, the HP Slatebook 14 will be one of the very few Android notebooks in the market, a form-factor and use case that has, admittedly, still haven't caught on quite yet.
VIA: Notebook Italia