HP Slate21 Pro Android All-in-One hands-on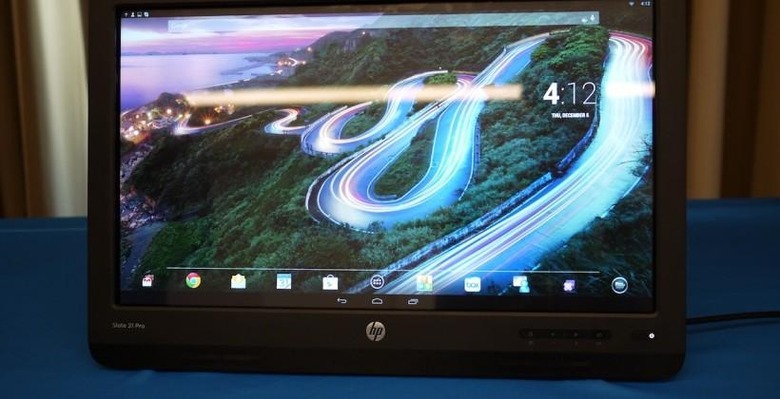 With Android dominating the smartphone and tablet markets, manufacturers are trying to find new territories to explore. While Lenovo has unveiled an all-in-one Android computer suitable for home use, fellow PC maker HP is taking a more business-minded approach with the HP Slate21 Pro all-in-one, which we're getting a first-hand look here at CES 2014.
The Slate21 Pro is the company's first foray into a commercial AIO computer powered by Android. While it might seem strange to employ a mobile operating system in business computers, syncing with Google's Cloud services, access to thousands of apps from Google Play Store, support from various business apps, and integration with users' personal Android devices are pretty convincing arguments.
On one hand, one can look at the HP Slate21 Pro as a gigantic Android tablet. The whole device is driven by an NVIDIA Tegra 4 processor, which should deliver enough power to run most business apps and office suites. The 21.5-inch IPS display with Full HD resolution gives enough visual room to fit all the content you might need, though a pinch of multi-windowing capabilities might be a more efficient use of screen space. The AIO runs Android 4.3, so users are guaranteed to be running a somewhat recent Android version, which includes the restricted profiles security feature.
But the HP Slate21 Pro is also a computer and the bevy of ports is a testament to that. Aside from wireless connectivity options such as Bluetooth 4.0 and 8.11 a/b/g/n dual band WiFi, the AIO also features several USB ports, and HDMI port, and Ethernet. There is also an SD slot for extra data storage, though the amount of internal storage has not been disclosed yet.
Of course, no business computer would be complete without business-oriented features. This Android AIO is Citrix-ready and HDX-verified, making it possible for users to switch between their native Android environment and Windows virtual workspaces. It also comes pre-installed with Citrix XenMobile for easy user and app management.
The HP Slate21 Pro will be available in the US with a price tag of $399 on March 6th. This includes a keyboard and a mouse, as well as a 50 GB Box subscription, though the latter offer can change at any time.