HP Slate Gets Detailed and Priced Thanks to HP Document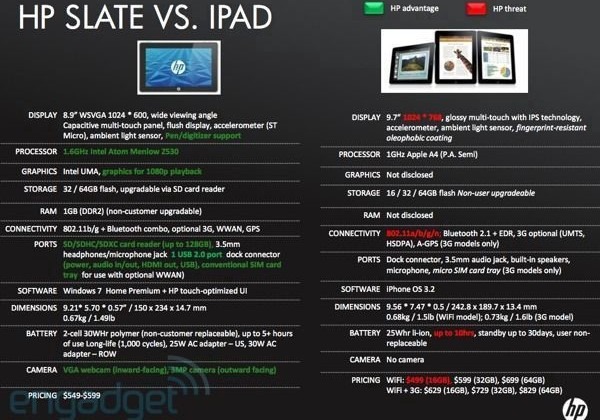 Apparently, a rendered video wasn't good enough for HP employees. No, they needed hard facts, just in case inquisitive people asked all the right questions. Though, we would be willing to bet that if those same employees were indeed asked, they'd probably have to say they don't know anything. Luckily, we don't work for HP.
So, what should we expect from the HP Slate? Size wise, we are looking at an 8.9" WSVGA capacitive multitouch display. It has a 1.6GHz Intel Atom Menlow Z530 processor, it comes in two memory variations: 32GB and 64GB. Both versions come with expandable memory though, so that should definitely be remembered. It also goes without saying that the Slate also comes packed with Windows 7 Home Premium, optimized with HP's custom User Interface.
All of that sounds great, and extra additions like a USB port, and two cameras (one on the back and one on the front) will probably make many out there say that it is better than the competition, but wouldn't be quick to judge. Truth be told, it is Windows 7 Home Premium with netbook internals, so we are skeptical at how well this will all work. Rendered videos ignored, of course. Plus, pricing starts at $549, and that has to be considered as well. Hopefully we get to see more of the Slate soon. We are eager to see what else is coming down the pipe.
[via Engadget]