HP SkyRoom 2D/3D videoconferencing system launches [Video]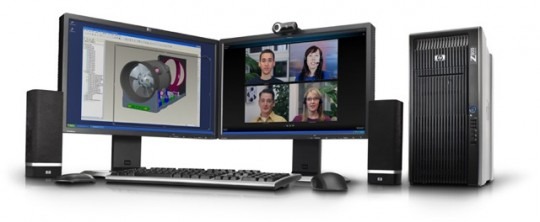 HP have outed their new video conferencing system, HP SkyRoom, with the promise of live conversation and desktop collaboration for up to four users simultaneously and at potentially HD resolution.  First mentioned back at the launch of the flagship Z800 workstation in March, SkyRoom already has some high-profile contented users including an F1 team.  It uses data transfer technologies that NASA used with their Mars rovers, thanks to sub-100ms latency.Video overview after the cut
While SkyRoom is software, HP are also pushing a hardware bundle to accompany it.  The HP SkyRoom Standard Accessory Kit comes with a "high resolution" webcam and headphones (or alternatively powered speakers).  However any reasonable PC can be used; SkyRoom requires a Core 2 Duo 2.33-GHz or equivalent processor with 2GB RAM, though unfortunately there's no Mac support.
SkyRoom supports 2D and 3D graphics, full-motion video and multidisplay, even if one or more of the client PCs doesn't have a 3D-capable graphics card.  The reason for the low-latency is that the software only updates the parts of the screen which have changed, rather than sending the full picture; it's also encrypted and compressed on the way.
HP SkyRoom is priced at $149, but will be preloaded on HP Z800, Z600, Z400 and xw4600 workstations and loaded as a 90-day trial on certain business desktops and notebooks from the company.  As for the accessory kit, that will drop for $119.
HP SkyRoom overview:
[vms e51891440e4da0b65a70]
Press Release:
HP Introduces SkyRoom: Powerful and Affordable Videoconferencing for Businesses

Pioneering collaboration software leapfrogs freeware offerings, enables instant face-to-face meetings with full desktop sharing

PALO ALTO, Calif., Sept. 22, 2009 – HP today established a new category in videoconferencing with the introduction of HP SkyRoom – affordable, high-definition videoconferencing software(1) that offers live, real-time collaboration for instant face-to-face meetings with no subscription fees.

HP SkyRoom is based on breakthrough video and image communication technology developed in HP Labs, the company's central research arm. Elements of this technology were used by NASA's Mars rovers to transfer high-resolution images back to Earth.

HP SkyRoom is the only videoconferencing tool to offer live collaboration for up to four people over a standard business network for $149 – less than the cost of round-trip airfare from San Francisco to Los Angeles.

Until now, companies have had only two options for videoconferencing – expensive enterprise telepresence systems or Internet freeware tools that strip out the subtleties of human interactions and don't allow for the sharing of rich media content such as video and computer-aided design manipulation.

HP SkyRoom will be included as a standard feature – at no cost – on select HP business desktop and mobile workstations and for free for a trial period on many upcoming HP premium business PCs and notebooks. HP SkyRoom can be used on workstations or PCs from Dell, Lenovo or Sun that meet minimum technology requirements. Companies now have the power to change the economics of travel and reduce their carbon footprint while preserving the value of personal human interaction.

"Finally, video meetings with genuine eye contact and natural human interaction are as easy as starting an instant messaging connection," said Jim Zafarana, vice president and general manager, Workstations, HP. "It takes business productivity and collaboration to a completely new level when we can connect people around the world in a day via HP SkyRoom and let them get home to family dinner and bedtime stories – without the wear and tear of travel."With HP SkyRoom, users can share any type of application supported on their PC or workstation, including office documents, streaming video and interactive 3-D applications:

· Digital content and engineering teams can collaborate on sophisticated design concepts, allowing tremendous flexibility and performance for sharing content and visually rich human conversations.

· Production houses can preview animation clips to dispersed teams for live, instant feedback.

· Financial teams spread across the world can run live models for discussion and collaboration.

Using HP SkyRoom is as easy as beginning an instant message conversation. Users simply click a contact to connect, which quickly initiates a live SkyRoom session. Another click shares the desktop or rich media content, and participants are instantly collaborating. During an HP SkyRoom session, information is transferred at a rate four times faster than the blink of an eye.(2)

HP SkyRoom is the culmination of three years of research to design video and image compression algorithms by HP Labs into a customer-centric implementation by the HP Workstation team, which designs professional-quality solutions in collaboration with industry-leading brands around the globe.

The breakthrough innovation behind HP SkyRoom comes from the combination of high-definition, multiuser videoconferencing and a sophisticated capability to share display information more securely than with actual transfer of data and processing functions.

HP SkyRoom's video engine enables all participants to see the presenter's display and each other through a multiway videoconferencing session. The video engine is multithreaded to take advantage of the power of today's multiprocessor and multicore processing technologies.

HP SkyRoom's image engine gives remote users a view of the host presenter's desktop and its applications as if they were using a local machine. It enables the display of 2-D and 3-D graphics, full-motion video and multidisplay on a system that only has a 2-D graphics card.

The HP SkyRoom software on the presenter's system monitors and updates only changes in screen appearance – not the entire display – then compresses and encrypts the information before sending it to the participants, where it is decrypted, decompressed and updated. In this way, network traffic is greatly reduced, latency and bandwidth requirements are reduced, and the need for dedicated networking hardware is eliminated.

Minimum requirements for HP SkyRoom

To run HP SkyRoom on any vendor PC, minimum requirements are Intel® Core 2™ Duo 2.33-GHz or equivalent processor with 2 GB RAM, a webcam and Microsoft Windows® XP or Vista®. Minimum network requirement is a broadband network with a minimum transfer rate of 400kb/second. HP SkyRoom must run over a corporate VPN to connect to systems outside the local firewall.

Pricing and availability(3)

HP SkyRoom is available worldwide preinstalled at no cost on the HP Z800, Z600, Z400 and xw4600 workstations. Select premium business PCs and notebooks due out from HP in the coming months will include a 90-day trial of HP SkyRoom, which will be available for purchase thereafter. Customers using current HP workstations, desktops, notebooks or non-HP systems can purchase HP SkyRoom for $149 at www.hp.com/go/hpskyroom.

For an optimal quality experience that beta testers have said makes their own environment fall away as they feel present and immersed in the conversation, HP recommends users also purchase the HP SkyRoom Standard Accessory Kit for $119, which includes a high-resolution webcam and headphones. HP also offers a kit with speakers as an alternative to the headset.

More information is available at www.hp.com/go/hpskyroom.

About HP

HP, the world's largest technology company, simplifies the technology experience for consumers and businesses with a portfolio that spans printing, personal computing, software, services and IT infrastructure. More information about HP (NYSE: HPQ) is available at http://www.hp.com/.

(1) High-definition content required to view HD images.

(2) Performance dependent on network latency and image frame content.

(3) Estimated U.S. street prices. Actual prices may vary.