HP Reveals Material & Construction Innovation Roadmap For Future Notebooks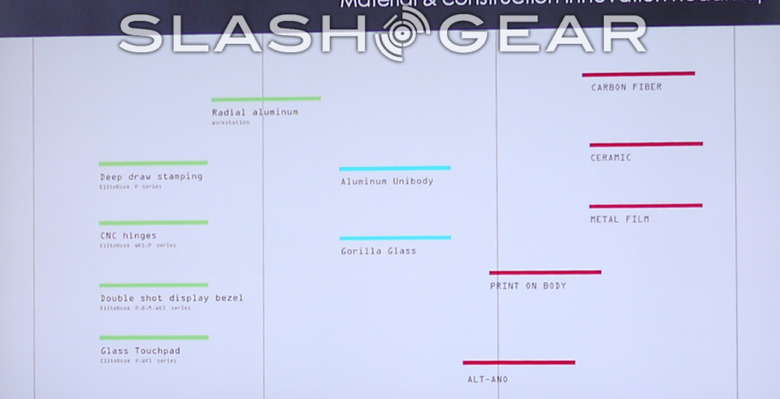 While on tour of the Houston Texas campus of HP, we were presented with a lovely little map of what they planned on adding to the roster for their EliteBook line in the near future. This map was shown on what's called HP's Tour of Elite, and we've been releasing bits and pieces of it all week long. What you'll see here is a short set of items already existing in HP's EliteBook line as well as some radical futuristic techniques and materials as well. Look like the oddness to you?
On the left of the chart you see above (or in the enlarged version in the gallery below) you'll see some already in-effect titles, those being Radial aluminum for casing, deep draw stamping, CNC hinges for utter accuracy, double shot display bezel and glass touchpad for strength. Added to this list inside 2012 are two major factors you've seen popping up in the mobile world over the past year, those being a completely aluminum unibody construction and Gorilla Glass.
Tap the thumbnail for a larger view
On the right, leading into 2013, you'll find a set of 5 new materials and methods for greatness, Print on Body, ALT-ANO, Metal Film, Ceramic, and Carbon Fiber. Let your guesses run wild about what each of these topics will unfold as over the next few years, but your humble narrator is most excited about the ceramic bit. Speakers set in ceramic have a certain lovely sound to them, especially when combined with such classic forms of music transmission like vinyl records. That's only the tip of the iceberg, of course, and I'm certain there'll be more than a couple readers ripping their fingernails off in protest of such a claim, but have at it – what do you think HP will bring with such futuristic methods and materials?
For more coverage of our tour, simply head to our big [HP Elite portal] and click around until your mouse finger cracks. You'll be seeing more content like this:
[vms 87e9e29bd20e24f0c050]
EliteBook Notebook PC Concepts hands-on with HP's Eric Chen
Cool beans!