HP remind us that they do streaming media too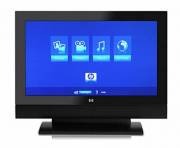 If you thought Apple's media competitors would sit back and let the company bask in Apple TV-related limelight, then you're a silly monkey with unpleasantly cottage-cheese-like thighs.  No sooner had we written about the latest batch of reviews and musings on the slinky streamer than HP dropped us a line to gently remind everyone that they've been flexing their media-muscles for some time now.
Core to their boast is the MediaSmart line, a range of Windows-powered media centres built into flat-panel TVs.  To be fair to Apple, there's no small amount of price difference; for the $2,199 the 2006 MediaSmart 37-inch TV cost you could buy seven Apple TV units and still have enough for a few iTunes Store downloads too.
Check out HP's comparison chart after the cut, but remember to take it all with a pinch of fiscal-salt...
Click for full-size: