HP ProOne 400 G1 and HP 205 All-in-One PC hands-on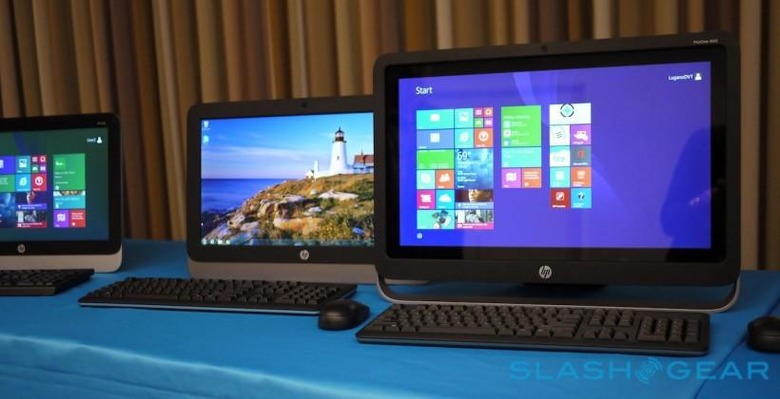 HP may have just announced a new Android all-in-one PC designed to cater to business, big and small alike, but it hasn't forgotten the still larger portion of the desktop pie: Windows users. Here at CES 2014, we're getting a first-hand look at HP's two new Windows-powered business AIO machines, the HP ProOne 400 G1 and the HP 205.
The ProOne 400 G1 means business and it definitely shows. This is HP's more powerful and bulkier offering, and it doesn't skimp that much on the features. It is powered by a fourth generation Intel Haswell processor and boasts of a number of multimedia and imaging features such as DTS Sound+ audio software, business-class speakers, a webcam and a microphone for making Skype calls. It runs the latest Windows 8.1 version and also includes some of HP's business software such as HP BIOSphere and HP Trust Circles. Buyers will have an option to get a 21.5-inch touch screen model or a 19.5-inch non-touch version
But more than just a personal computer, the ProOne 400 G1 is also a connectivity hub. It has a DisplayPort for adding a second monitor and a number of USB 3.0 ports on the side. However, it goes beyond the basics and can even share its Internet connection with up to five devices, thanks to HP Wireless Hotspot. It even has one fast-charging USB port for quickly charging yours, or others', mobile device in a pinch.
The HP 205, on the other hand, is the company's smaller and less powerful option, giving small and medium sized business (SMB) a more affordable alternative. It still has the basic connectivity options and ports but comes in only one 18.5-inch display configuration. Instead of Intel's latest chips, this model is run by an AMD E-Series dual-core processor. The advantage of this AIO is that it is more portable and easier to set up compared to HP's heavier offering.
Both the non-touch and the touch models of the HP ProOne 400 G1 is now available in international markets, priced at $649 and $799, respectively. The HP 205, on the other hand, will be sold only in selected regions and has a lower price tag of $449.