First-gen HP Project Moonshot bypasses ARM for Intel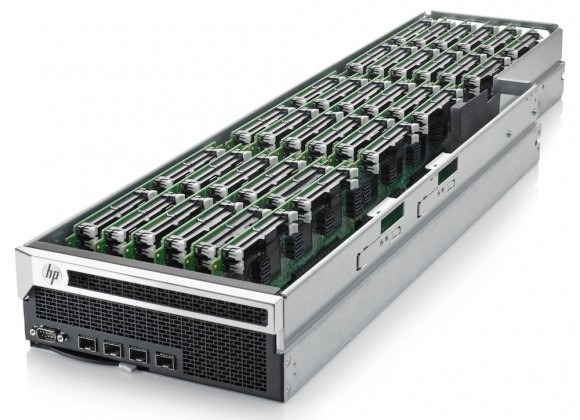 If you recall, HP's Project Moonshot was an attempt ot create an ultra low-power server using ARM's Calxeda, allowing the company to pack a large number of servers into a single rack unit. Now it looks like HP has decided to move in a different direction, announcing that it will be initially using Intel's "Centerton" Atom chips instead. HP say they went with Atom due to the 64-bit support, hardware virtualization, low power requirements, and a broader software ecosystem.
HP say that the new system using Centerton instead of Calxeda is "an ideal solution for web serving, offline analytics and hosting." Interestingly, HP make a point of saying that Intel's solution should be just as cost effective and power efficient as the previous ARM-based system. HP and Intel will also be working together on future generations of Atom processors, further reducing power consumption.
The Gemini system is currently being using in HP's Discovery Lab in Houston, Texas, but will be made available to customers for testing "soon." A production version will ship towards the end of the year.
It's an interesting move from HP, and an important win for Intel. ARM pulled off quite a feat by coaxing HP to use its chips for better server scaling, but it looks like Intel isn't going to let ARM into the enterprise and server industry without a fight. Intel has been trying to maximize Atom's performance while reducing power for quite some time, to the point where one version of the chip is now included in smartphones like the Orange San Diego and Lava Xolo X900.
Update: HP has been in touch to clarify that ARM chips will still be used for the Redstone development platform, which is "still on track to begin shipping to HP Labs and select customers later this year." Gemini, this initial server, is "processor neutral" HP says, and there will be ARM-based versions eventually.