HP ProBook S-Series business notebooks [Video]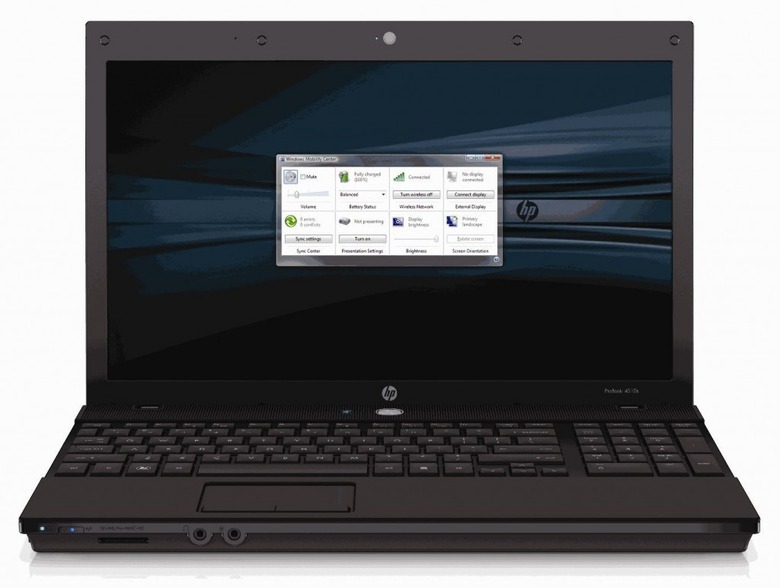 HP have announced the ProBook S-Series, a range of value business notebooks with displays ranging from 14-inches to 17.3-inches.  Each has an HD-capable display and uses either Intel or AMD processors; there's also optional Qualcomm Gobi WWAN with the HP un2400 mobile broadband card.
Two color schemes are on offer, glossy black or matte merlot-red, and the 15.6-inch and 17.3-inch models have separate numeric keypads.  WiFi is standard, Bluetooth an option, and certain models have HDMI outputs and optional Blu-ray drives, particularly useful with the 14- and 15.6-inch models' 16:9 aspect widescreen displays.  Graphics are via either Intel GMA X4500HD or ATI Mobility Radeon HD 4330 chipsets, and HP will even install Novell SuSE Enterprise Desktop 11 if Linux appeals.
Full specifications of the HP ProBook 4415s, 4510s, 4515s and 47610s are available here.  The new notebooks start from around $529.  Our friend Xavier over at Notebooks.com caught up with the new S-Series and shot the following video demo: 
Press Release:
Blending Business Chic with Affordability, HP Unveils HP ProBook Notebook PC Line

PALO ALTO, Calif., April 28, 2009

HP today announced a new brand of affordable notebook PCs that merge business functionality with sophisticated design to stand out from the crowd.

The HP ProBook series joins the award-winning HP EliteBook series to form one of the most versatile business notebook portfolios in the industry. Inspired by minimalism, the design of the new HP ProBook series combines matte and glossy surfaces while stripping out the extraneous, leaving only a stylish and clean look.

Distinguished by a choice of merlot or glossy noir finishes, a unique keyboard design and a set of professional innovations previously found only on higher-priced models, the HP ProBook series delivers HP's best combination of business features, functionality and value.

"The stunning HP ProBook s-series delivers exceptional style and aggressive pricing that will captivate small and medium business users," said Ted Clark, senior vice president and general manager, Notebook Global Business Unit, Personal Systems Group, HP. "But it's not just about good looks or low cost, the HP ProBooks deliver the right blend of features and professional innovations to provide a great user experience."

The standard series (s-series) of the new HP ProBook models incorporate a mercury-free design, and features high-definition (HD)(1) LED backlit displays in a choice of 14-inch, 15.6-inch and 17.3-inch diagonal widescreen sizes.

The keyboard's innovative layout provides a visually open and spacious keyboard with keys raised from the surface. Usability is the same as with traditional keyboards and the raised surface means fewer places for dirt and dust to hide making it easy to clean and more maintenance free than ever before.

Select HP ProBook models incorporate the latest in wireless connectivity with HP Mobile Broadband. Built-in Qualcomm Gobi technology enables HP notebooks to use a single module, the HP un2400, to support multiple mobile broadband network technologies and mobile operators.(2) This increases users' international roaming options and offers greater choice and flexibility in choosing a mobile data plan.

In addition to Microsoft® Windows® operating system offerings, select HP ProBook s-series models will offer Novell SuSE Linux Enterprise Desktop 11 preinstalled. SuSE Linux is an easy-to-use open source operating system that gives users the connectivity, usability and features they expect.

HP Professional Innovations included on the ProBook s-series include HP QuickLook 2 software, which provides access to e-mail, calendar, task and contact information within seconds at the touch of a button.(3) The HP SpareKey feature addresses the hassle of forgotten passwords by using a sequence of three predetermined personal identification questions to gain immediate entry into the system.(4) For added data security, File Sanitizer for HP Protect Tools permanently deletes individual files, folders and personally identifiable information from the notebook, which also allows customers to recycle the notebook with confidence that their business data has been removed.

Designed for recyclability, the ProBook s-series has been engineered for reduced impact on the environment by eliminating or reducing substances of concern, using fewer resources and reducing energy consumption.

The entire HP ProBook portfolio holds an Electronic Products Environmental Assessment Tool (EPEAT®) silver rating and is ENERGY STAR® qualified for energy savings. HP ProBook models configured with the Microsoft Windows operating system include a power management capability to save energy by automatically switching the PC into a low-power mode after a period of inactivity. Energy-saving HP Smart AC Adapters allow the notebooks to automatically make power adjustments as needed. Additionally, more than 90 percent of HP notebook PCs (by weight) are recyclable or recoverable (do not go to a landfill).

Infusing style into everyday business

The HP ProBook s-series includes:

HP ProBook 4410s and HP ProBook 4415s – Feature a 14-inch diagonal 16:9 HD widescreen LED backlight display, integrated optical drive with Blu-ray option(5) and choice of ATI Mobility Radeon™ HD 4330 or Intel® GMA X4500 HD graphics controller. Wireless connectivity includes standard Wi-Fi certified WLAN(6) and optional integrated Bluetooth® wireless technology.(5) The notebooks also incorporate an HDMI port to connect to HD displays, and include Intel (4410s) or AMD (4415s) processors to offer a variety of options for mobility and longer battery life.

HP ProBook 4510s and HP ProBook 4515s – Offer a 15.6-inch diagonal 16:9 HD widescreen LED backlight display. Customers can select the optional HP Mobile Broadband connectivity with built-in Gobi technology,(2) while standard Wi-Fi certified WLAN(6) and optional integrated Bluetooth wireless technology(5) round out the wireless connectivity technologies. They also feature an integrated numeric keypad. The notebooks include a choice of Intel (4510s) or AMD (4515s) processors to meet high demands for performance and connectivity and choice of discrete or UMA graphics. There is also an integrated numeric keypad on the 15.6-inch and 17.3-inch models.

HP ProBook 4710s – Features a 17.3-inch diagonal HD widescreen display, the largest of the lineup. For more graphics-intensive environments, the notebook includes the ATI Mobility Radeon HD 4330, with up to 512 megabytes of GDDR2 for video memory. It also features the latest Intel Core™ 2 Duo processors. Wireless connectivity includes standard Wi-Fi certified WLAN(6) and optional integrated Bluetooth wireless technology.(5) The notebook incorporates a HDMI port to connect to HD displays, as well as an integrated numeric keypad.

The HP USB 2.0 Docking Station is a compatible accessory for the HP ProBook s-series. In just one step, users are connected to their keyboard, mouse, monitor, printer and other accessories, and they are able to get video, audio, network connectivity and up to four universal serial bus (USB) connected devices working at the same time.

Pricing and availability(7)

Estimated starting U.S. street pricing begins at $529. Notebook availability varies by region. Merlot color option is available only on 14-inch and 15.6-inch models and is expected to be available in June. The HP USB 2.0 Docking Station is available now for $139.

HP is extending its recently announced zero percent financing promotions that make it simple and affordable for small businesses to continue investing in the technology that can help them increase efficiency and grow their businesses. Offered through HP Financial Services, the company's asset management services and leasing subsidiary, the two promotions provide customers the choice to either lease or own products.