HP Photosmart eStation C510 Android Zeen tablet/printer combo detailed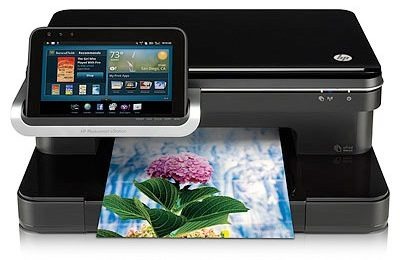 HP's Photosmart eStation C510 printer is indeed the rumored Android-based Zeus/Zeen printer/tablet combo according to HP product documentation supplied to Engadget.  Tipped last month, the pairing will consist of the Zeen tablet – a capacitive touchscreen slate running Android 2.1 with a custom HP skin on top – and the Zeus printer; alone, the printer will have basic functionality like most HP models, but when the Zeen tablet is docked it will enable web-centric functionality such as internet printing, Barnes & Noble NOOK ebookstore access and more.
That means printing ebook content direct from the Zeen on the Zeus, without an intermediary computer involved.  Unfortunately, it sounds like HP aren't keen on turning the Zeen into a general-purpose slate: it apparently lacks either the Gmail app or Android Market access, is locked to the custom UI, and only offers a curated web-printing experience including preloaded apps for Facebook, Yahoo and Snapfish.
Unfortunately, leaked first-impressions of the hardware aren't especially positive either: the Zeen has capacitive touch buttons, an SD card slot, supports video and (on some prototypes) has a webcam, but touchscreen accuracy is said to be particularly shoddy.  There's also little chance of a Froyo update, given HP has now shifted its attention to webOS.
The Zeen/Zeus bundle will apparently come in at $399.99 and is expected to begin shipping on September 20th (though that could well slip); the Zeen slate will supposedly be available separately, though no prices have been revealed.