HP Pavilion Elite HPE Desktops Plus HP Compaq L2105tm Multitouch LCD Arrive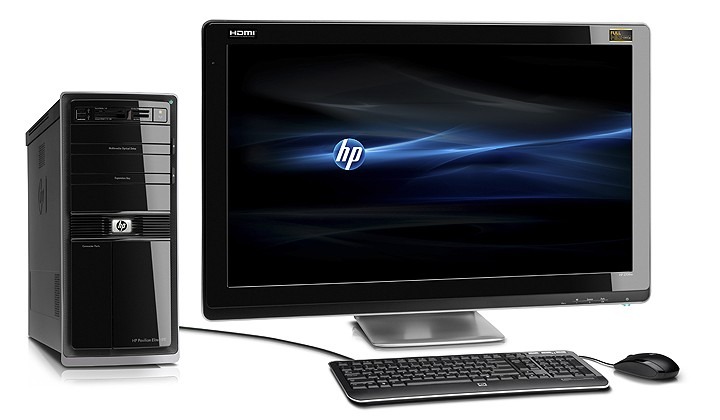 Thinking of a new Windows 7 desktop with multitouch?  HP may have just the setup; they've announced their latest desktop PC, the HP Pavilion Elite HPE, along with a new, multitouch-capable 21.5-inch LCD, the HP Compaq L2105tm, at CES 2010.  The Pavilion Elite HPE will be available with various Intel Core 2 Quad, Core i7 and AMD Phenom II processors, along with up to 1TB of storage, NVIDIA or ATI graphics and Windows 7.
Four SKUs look to be available at launch, the HP Pavilion Elite HPE-110f (with an AMD Phenom II 925), the HPE-120f (Intel Core 2 Quad Q9300), HPE-130f (AMD Phenom II 955) and the HPE-170f (Intel Core i7-920).  Various levels of RAM are supported – up to 24GB in fact on the HPE-170f – and there are DVD burners, WiFi a/g/n and gigabit ethernet.  No pricing as yet, but the HP Pavilion Elite HPE range is expected to drop at the end of January.
As for the HP Compaq L2105tm, that's HP's first optical-touch monitor and offers a 1,000:1 contrast ratio and 1920 x 1080 resolution.  It's available now, priced at $299.
Press Release:
HP Unveils HP Pavilion Elite High Performance Edition

Consumer Desktop PC HP Pavilion and Pavilion Slimline series consumer desktop PCs now available with future Intel® CoreTM processors

PALO ALTO, Calif., Jan. 6, 2010 – HP, the world's number one provider of PCs,(1) today introduced the HP Pavilion Elite High Performance Edition (HPE) PC, which offers premium performance levels and is packaged in an elegant design.

The HPE satisfies users who demand a stylish, high-performance desktop PC at an affordable price.

It incorporates the very latest technologies, including a choice of AMD Phenom II Quad- Core processors(2) or future Intel® CoreTM processors, ATI RadeonTM or NVIDIA GeForce graphics.

It features Genuine Windows® 7 Home Premium 64-bit(3) and its configurability allows up to 2-terabyte (TB) of hard drive capacity(4) and up to 24-gigabyte (GB) DDR3 memory, delivering a robust solution that demanding users need.

The HPE offers a full set of features including:

• A front-panel 15-in-1 memory card reader(5) to easily transfer photos, music and other files to and from a digital camera or other peripheral devices;

• A SuperMulti DVD burner with LightScribe technology(6) to create custom, silkscreen- quality labels and artwork on LightScribe-enabled CD and DVD discs;

• A built-in wireless antenna for Wireless LAN 802.11a/b/g/n networking;(7)

• An optional TV tuner(8) to watch, pause, rewind and record live television – with no monthly fee. The free online Electronic Program Guide lets users review a TV schedule and choose a single episode or an entire series;

• An optional pocket media drive and Blu-ray drives

The HPE also includes the HP MediaSmart software suite, which offers a fun and easy way to enjoy digital content – from watching TV or Blu-ray movies, to sharing photos via Snapfish,(9) to burning music and videos to DVDs.(10)

The HPE is expected to be available at www.hp.com, by phone at +1 800-BUY-MYHP and at select retail stores nationwide in early January.

Additionally, the Pavilion and Pavilion Slimline consumer desktop PC series feature new components and offer a choice of select future Intel® CoreTM processors. More

News advisory

information and pricing is available at www.hp.com/go/desktops.

HP products are backed by HP Total Care, the company's award-winning service, solutions and support, both in and out of warranty. HP's online support options include consumer support forums, online classes offered at no charge, a dedicated support video channel and the HP Customer Care site, named one of the "Ten Best Web Support Sites of 2009" by the Association of Support Professionals. HP support professionals also are available by phone 24/7.

HP Windows 7 PCs come with built-in support through HP Support Assistant,(11) a simple- to-use software application that allows PCs to run smoothly right from the start. The software maintains PC performance and resolves problems with automated updates and tune-ups, onboard diagnostics and guided assistance. More information is available at www.hp.com/go/totalcare.

About HP

HP creates new possibilities for technology to have a meaningful impact on people, businesses, governments and society. The world's largest technology company, HP brings together a portfolio that spans printing, personal computing, software, services and IT infrastructure to solve customer problems. More information about HP (NYSE: HPQ) is available at http://www.hp.com.

(1) IDC Worldwide Quarterly PC Tracker, October 14, 2009. (2) Processor speed 2.80 GHz, 2 MB L2 + 6 MB shared L3 cache, 4,000 MHz System Bus. Triple/Quad Core is a new technology designed to improve performance of certain software products. Not all customers or software applications will necessarily benefit from use of this technology. This system requires a separately purchased 64-bit operating system and 64-bit software products to take advantage of the 64-bit processing capabilities of the AMD Phenom processor. Given the wide range of software applications available, performance of a system including a 64-bit operating system will vary. (3) This system may require upgraded and/or separately purchased hardware and/or a DVD drive to install the Windows 7 software and take full advantage of Windows 7 functionality. See http://www.microsoft.com/windows/windows-7/ for details. (4) For hard drives, 1 GB = 1 billion bytes. Actual formatted capacity is less. Up to 14 GB of storage space is reserved for the system recovery software. (5) Supports SmartMedia, xD, MultiMedia Card, Secure Digital (SD, SDHC), Mini Secure Digital, Compact Flash I, Compact Flash II, IBM Microdrive, Memory Stick, Memory Stick Pro, Memory Stick Duo, Memory Stick Pro Duo, RSMMC, MMC Mobile, MMC+. (6) Actual speeds may vary. Does not permit copying of commercially available DVD movies or other copyright-protected materials. Intended only for creation and storage of original material and other lawful uses. Double Layer is a new technology. Double Layer media compatibility will widely vary with some home DVD players and DVD-ROM drives. LightScribe creates a grayscale image similar to black and white photography. LightScribe media required and sold separately. Note that DVD-RAM cannot read or write to 2.6 GB Single Sided/5.2 GB Double Sided – Version 1.0 media. Data transfer rates up to 6,000 KB/s (CD read/write) and 21,632 KB/s (DVD read/write). (7) Wireless access point and Internet service sold separately. The specifications for the 802.11n WLAN are draft specifications and are not final. This may affect the ability of the PC to communicate with other 802.11n WLAN devices. (8) ATSC high-definition (HD) and NTSC source content varies and will depend on broadcast signal, antenna, geographic location and other factors. An external over-the-air antenna that receives UHF and VHF signals is

required for ATSC reception. Viewing HD content will require a compatible high-definition display. Ability to record, edit, or transfer broadcast content such as TV programming may be limited depending on the type of content. Performance issues may arise, and do not constitute defects in the product. (9) Internet access required and sold separately.

(10) Intended for original content and other lawful uses. Do not copy copyright-protected materials. (11) HP Support Assistant also is preinstalled on select PCs with Microsoft Windows Vista®.