HP mini-Q nettop with dual-core Atom 330 CPU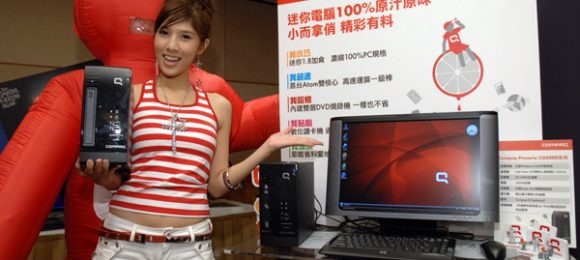 HP should be ashamed of themselves: this poor model (who isn't really dressed appropriately, considering it's almost December) is so excited by the new HP mini-Q nettop that she's entirely failed to notice the ominous red sponge-man creeping up behind her.  I'm no lawyer but that's a sexual misconduct lawsuit just waiting to happen.  Still, you can sort of see why she's happy: the mini-Q 2030 uses Intel's dual-core Atom 330 processor together with 2GB of DDR2 RAM, a 160GB 7,200rpm SATA hard-drive and a dual-layer DVD burner.
If the Vista-based 2030 is a little to speedy for you (what, really?) there's always the mini-Q 2020 which uses a 1.6GHz single-core Atom 230, 1GB of DDR2 RAM and Windows XP Home.  The 2030 weighs between 1.5 and 2kg and has four USB 2.0 ports, two PS/2 ports, ethernet, VGA out (no DVI) and audio ports.
The HP mini-Q 2030 will go on sale in Taiwan for around 12,900 NT$ ($386).  The HP mini-Q 2020, meanwhile, will come in at 9,900 NT$ ($296).  No word on a US launch.
[via Engadget Chinese]