HP Mini 5101 netbook gets slick, business-ready design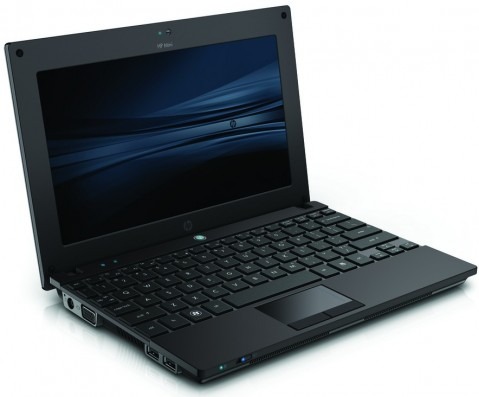 HP have announced a new netbook, the Mini 5101, and like their original entrant to the market they've gone with business-friendly materials targeted at "on-the-go professionals".  The HP Mini 5101's 10.1-inch display is clad in anodized aluminum, while the lower case is made from magnesium alloy.  Inside, there's the usual Intel Atom processor, in this case the 1.66GHz N280, paired with up to 2GB of RAM and up to a 320GB HDD or an 80GB SSD.
Two display options are available, a standard 1024 x 600 or an HD-capable 1366 x 768 16:9 panel, with graphics via Intel's GMA 950 chipset.  Ports include three USB 2.0, VGA, ethernet, audio in/out and an SD/MMC card reader, while there's also WiFi a/b/g/n, optional Bluetooth 2.0 and optional EVDO/HSPA WWAN.  A 2-megapixel webcam lurks up in the screen bezel, along with stereo microphones.
The whole thing weighs from 2.64lb, and measures 10.3 x 7.09 x 0.91 inches.  It's being offered with either Windows XP Home, SUSE Linux Enterprise 11 or FreeDOS, as well as either 4-cell or 6-cell batteries.  Pricing starts from $449, and you can pick up the HP Mini 5101 from July.
Press Release:
HP Blends Functionality, Durability and Style with New HP Mini PC

PALO ALTO, Calif., June 24, 2009 – HP today unveiled its top-of-the-line Mini PC for on-the-go professionals who demand a stylish, yet durable fully functional companion PC.

The HP Mini 5101 features a sturdy, lightweight anodized aluminum display enclosure with a black, brushed finish. Complementing the aluminum is the use of magnesium alloy in the lower case of the Mini frame. Soft-touch paint on the base and palm rest further advance the PC's look and feel. This combination of materials, an industry first in the netbook category, not only delivers an eye-catching design, but also improves durability.

Furthering the stylish look of the HP Mini 5101 is a newly designed, spill-resistant keyboard that is 95 percent of a full-size QWERTY keyboard. It features a visually open and spacious keyboard design with keys raised from the surface. HP DuraKeys, a clear coating over the keys, makes the keyboard 50 times more resistant to visible wear than keyboards without it. (1) In addition, the mouse buttons are located in the traditional space below the touchpad, making for a familiar user experience.

"HP Mini PCs have no equal when it comes to industrial design, use of innovative materials and overall feature sets. The HP Mini 5101 is truly a work of art, a sophisticated companion PC crafted for the trend-savvy mobile professional who needs functionally, durability and style."

- Ted Clark, senior vice president and general manager, Notebook Global Business Unit, Personal Systems Group, HP

Specifications and Accessories

Starting at 2.6 pounds, (2) the fully functional and durable HP Mini 5101 is an ideal companion PC for the on-the-go professional. It features a large 10.1-inch diagonal LED display available in either WSVGA or high-definition (HD) (3) resolutions. Customers can also choose either the four-cell battery for lighter weight or six-cell battery for longer battery life. When configured with the optional six-cell battery, the HP Mini 5101 delivers up to eight hours of battery runtime. (4)

Mobile professionals can stay ultra-productive with the HP Mini 5101 PC's small, low-power Intel ® Atom processor, which enables the unit to run cooler, use less power and improve battery life. A fast-performing 7,200 RPM hard drive comes standard with the unit. Alternatively, an optional Solid State Drive (SSD) is available in either 80 or 128 gigabytes.

New accessories designed for use with the HP Mini include a USB 2.0 port replicator that adds a variety of audio, networking and USB ports to allow greater productivity. A lightweight, functional messenger bag designed specifically for the HP Mini or a neoprene slip case offer added protection for professionals while on the go. Other accessories available for the HP Mini include a USB 2.0 docking station, external optical drive and USB-powered external speakers.

More information on HP Mini 5101 product specifications, images and other HP mobility solutions is available in an online press kit at www.hp.com/personal.

(1) In independent testing conducted by Trace Laboratories, HP DuraKeys showed no wear after 250,000 cycles. Competitor notebooks showed significant wear after only 5,000 cycles.

(2) Weight will vary by configuration.

(3) HD content required to view HD images.

(4) Battery life will vary depending on the product model, configuration, loaded applications, features and power management settings. The maximum capacity of the battery will decrease with time and usage. Sold separately or as an add-on feature.