HP Mini 1100-series netbook listings appear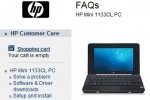 Early details of HP's next Mini netbook models have emerged, courtesy of the company's own support site.  Along with the current range of Mini netbooks, there are new listings for the HP Mini 1100 series.  Nine different models of standard 1100-series netbook are suggested, together with a Vivienne Tam Special Edition.
The new models are the HP Mini 1110NR, Mini 1111NR, Mini 1120NR, Mini 1125NR, Mini 1130NR, Mini 1133CL, Mini 1135NR, Mini 1136NR and Mini 111NR.  Beyond model numbers, however, little is known about the netbooks; none have a working product page as yet, and there the image appears to be a generic one.
According to one set of rumors, an HP sales agent in Canada suggested that the 1100-series all have ExpressCard slots, intended to offer compatibility with a wide range of mobile broadband modems.  However no details are known for certain.
[via Tech Ticker]