HP Mini 1000 netbook: 8.9 or 10.2-inch display, Atom CPU & 3G in December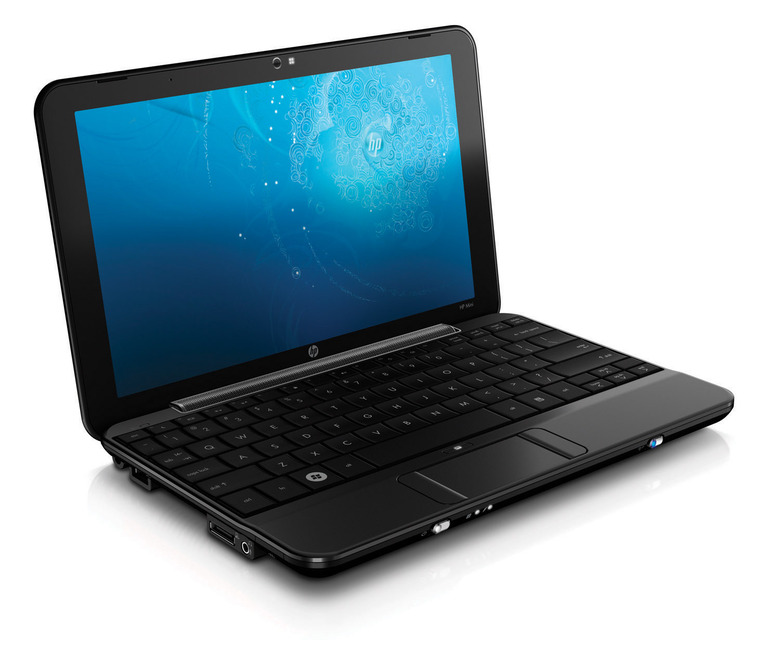 The HP Mini 1000 netbook has been officially announced. Borrowing much of the design style of the HP Mini-Note 2133, only with a cheaper plastic casing, four versions of the HP Mini 1000 will be on offer: each will use Intel's 1.6GHz Atom N270 processor, a change from the VIA processor used in the 2133.  Available today, the HP Mini 1000 offers Windows XP Home on a choice of 8.9-inch 1024 x 600 or 10.2-inch 1024 x 600 BrightView displays, 512MB or 1GB of DDR2 RAM and either a 60GB 4,200rpm hard-drive or 8/16GB SSD. In mid-December, the Mini 1000 Vivienne Tam Edition will launch, offering the 10.2-inch netbook with a casing matching the designer's Spring 2009 collection.  Then, in January 2009, the HP Mini 1000 with MIE (Mobile Internet Experience), a custom HP Linux build, will launch.
The HP Mini 1000 weighs 2.25lbs (8.9-inch) or 2.4lbs (10.2-inch) and measures 10.3 x 6.56 x 0.99-inches.  It has two USB 2.0 ports, 10/100 ethernet, audio in/out, an SD/MMC slot and VGA output via a non-standard port (smaller, thus saving space, but requiring an adapter cable).  There's also WiFi b/g and optional Bluetooth v2.1, plus an integrated microphone and 0.3-megapixel webcam.  A 3G option will come in December.  An optional HD video decode card can be specified to boost the Mini 1000's multimedia credentials; as standard it uses Intel's GMA950 integrated chipset.
At launch all models will come with a 3-cell 26WHr battery; a 6-cell 52Whr battery will be available in January.  The keyboard is apparently 92-percent of the size of a full, standard 'board, and some users will be frustrated to find that the mouse buttons still flank the trackpad, rather than sitting underneath it.  Buyers of the 8GB or 16GB SSD versions can also specify the HP Mini Mobile Drive, with 2, 4 or 8GB of flash storage in a form factor that fits flush against the Mini 1000's casing.
The HP Mini 1000 with MIE uses a custom version of Linux that has been fettled for internet and multimedia use.  Start-up time is apparently much reduced, and it's preloaded with a browser, multi-client instant messenger app, Skype with video call functionality and a media player happy with streaming online video.
Pricing for the HP Mini 1000 starts at $399.99, and it's available now.  The HP Mini 1000 Vivienne Tam Edition will start from $699.99 (with the 10.2-inch display and 1GB of RAM as standard).  Finally, the HP Mini 1000 with MIE will launch in January 2009, priced from $379.99.
Press Release:
HP Expands Portfolio of Mini Companion PCs Designed for Mobility, Social Media and Fashion

New Minis geared for "information snacking"

PALO ALTO, Calif., Oct. 29, 2008 – Following the success of its education-based mini

PC introduced in April, HP today expanded its line of companion PCs with three models

in the HP Mini 1000 family that address the specific needs of Internet-centric consumers,

mobile professionals, always-on social media enthusiasts and fashion-forward women.

These companion PCs provide a uniquely simplified Internet experience in an ultra-

portable design. They share a sleek form factor – at less than 1-inch thick – with

lightweight portability at 2.25 lbs, a keyboard that is 92 percent that of standard PCs,

Brightview widescreen Infinity display with flush glass and LED backlight and a webcam.

The HP Mini will be made available worldwide in an array of configure-to-order options.

HP quote TBD

These companion PCs are geared towards information snacking and content enjoyment

versus the content creation capability found in fully functional Notebook PCs. They are a

complement to HP's award-winning Notebook PC family.

The three models are as follows:

• The HP Mini 1000 features a piano-black finish with HP Imprint swirl design and

is powered by an Intel Atom N270 1.6GHz processor running Windows XP

Home, making the Web, critical files and PC applications easily portable. It

includes an Ethernet jack, 2 USB ports, built-in webcam and microphone. It

comes with wireless connectivity (WLAN,) and 3G versions are expected to be

available in December.

Configuration choices include screen size — 8.9-inch Brightview or 10.2-inch

diagonal Brightview widescreen Infinity display with1024 x 600 resolution –

and solid-state or mechanical hard- drive options.

• The HP Mini 1000 Vivienne Tam Edition comes in vibrant red with a peony-

flower inspired design that reflects the globally acclaimed fashion designer's

Spring 2009 collection. It seeks to satisfy the highly mobile, Internet- centric

fashionista woman and features a 10.2-inch diagonal Brightview widescreen

Infinity display with1024 x 600 resolution.

Its design was first unveiled on the runway of Tam's Fall 2009 Fashion Week

show in Battery Park in New York, although many on the scene mistook it for a

purse rather than the companion PC that it is. Tam labeled it the world's first

"digital clutch," and it ships with an embroidered sleeve to protect the exterior,

Accidental Damage Protection service and an HP SmartFriend Calling Card good

for 6 months of unlimited consultative service.

The Vivienne Tam Edition companion PC is powered by the Intel Atom N270

1.6GHz processor running Windows XP Home and has a 1GMm memory,

making the Web, critical files and PC applications easily portable. It includes an

Ethernet jack, 2 USB port, built-in webcam and microphone. It comes with

wireless connectivity (WLAN,) and 3G versions are expected to be available in

December.

Tam said, "The fashion-forward woman no longer has to sacrifice glamour when

staying in touch with all her favorite digital content. And the flower and vibrant

colors suggest good fortune, happiness and prosperity in the Chinese culture."

• The HP Mini 1000 with MIE (Mobile Internet Experience) is the uniquely simple,

strikingly mobile Internet companion. It delivers a seamless Internet experience

out-of-the-box via an intuitive interface developed by HP that makes it easy to

enjoy digital content – videos, photos, music and email — on-demand and on the

go. MIE comes loaded with Instant Messaging, email and Skype, for online

video chat, making it easy to enjoy social-media experiences anywhere they are

connected.

The HP Mini 1000 with MIE is Linux-based and powered by an Intel Atom N270

1.6GHz processor. It includes an Ethernet jack, 2 USB ports, built-in webcam

and microphone. It comes with wireless connectivity (WLAN.)

Applications such as browsing, email, online video, are pre-loaded and run from

the MIE dashboard, minimizing startup time. Favorite websites that are added to

the dashboard stay live, and the task bar makes it easy to switch between

programs.

Mini Accessories and Service

The HP Mini Mobile Drive gives HP Mini 1000 customers 2, 4 or 8 gigabytes of

additional storage, making it simple to transport and retrieve important files, photos,

music and other data. It sits flush against the HP Mini, so that is doesn't disrupt the sleek

design.

An optional 6-cell Li-polymer battery will be available in January.

The HP Mini 1000 and HP Mini 1000 Vivienne Tam Edition come with a free six-month

subscription to HP Upline for up to three PCs. HP Upline is an easy-to-use, sec

service for the storage, backup, sharing and synchronization of digital conten

Pricing and availability

• The HP Mini 1000 is available today in the U.S. from www.hpdirect.c

starting price of $399.99.

• The HP Mini 1000 Vivienne Tam Edition is expected to be available in

in mid-December via www.hpdirect.com. It – plus its designer sleeve a

offerings – is expected to be priced at a starting price of $699.99 U.S

• The HP Mini 1000 with MIE is expected to be available in the U.S. in

www.hpdirect.com and is expected to be at a starting price of $379.9

Customers can reserve an HP Mini 1000 with MIE or HP Mini 1000 Vivienne

Edition by calling 1-800-230-5752. For more information about the HP Mini

portfolio please visit www.hp.com/