HP launches Compaq LA2405x 24-inch LCD monitor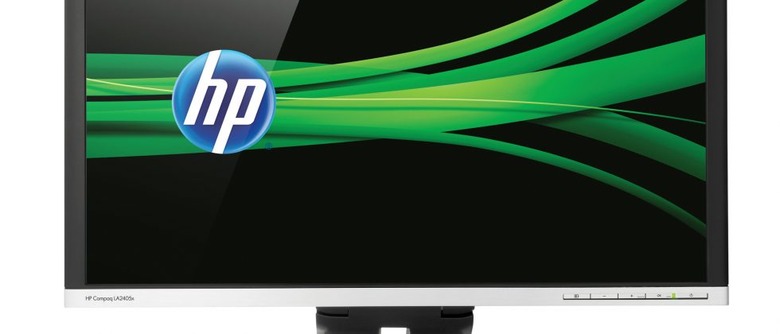 If you're anything like me, the rise of 16:9 computer monitors is the bane of your working life – give me the (slightly) older 16:10 standard or nothing. That seems to be HP's reasoning behind the LA2405x, a 24-inch budget business monitor that bucks the trend of wider displays (with lower resolutions). The TN-LCD panel comes with a size-standard resolution of 1920x1200 pixels.
While it won't win out against professional monitors or all-in-one machines with in-plane switching displays, the Compaq monitor should be more than enough to display business basics – and a lot of them. Connections include VGA, DVI and DisplayPort – sorry, office movie lovers, no HDMI on the unit itself. HP claims a 1000:1 typical and 3 million:1 dynamic contrast ratio, with viewing angles of 170 horizontal and 180 vertical – nothing to sneeze at.
The included base is impressive, and more like what you'd expect to find on a higher-end display. It tilts for five degrees forward and thirty degrees back, 170 horizontal degrees, and pivots for easy switching to a portrait mode. Two USB ports are included on the side. The HP Compaq LA2405x is available starting today for $269.