HP Envy Spectre coming in 15-inch version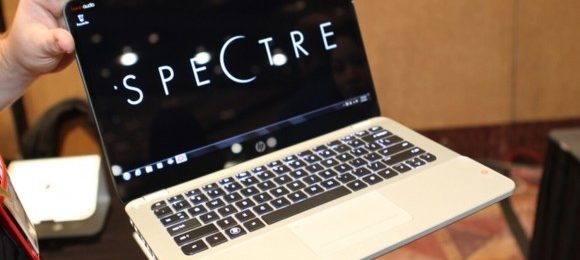 One of the more exciting ultrabooks that we spotted at CES 2012 was the Envy 14 Spectre, HP's high-style and low-weight addition to its ENVY line. The ultrabook made a good impression thanks to is unique Gorilla Glass top, 1600x900 LCD and a compact body that crams a 14-inch screen into a size usually reserved for 13-inch laptops. DigiTimes reports that HP is showing off a 15-inch version of the Spectre in Taiwan, and that means it can't be too long before it shows up in western markets.
Details are scarce on the 15-inch version, but aside from size it's not likely to vary too much from the current Spectre model. The 15-inch Spectre was given a whopping MSRP of $2,200 in Taiwanese currency, but keep in mind that the exchange rate makes for a big price bump. Considering the difference between the US and Taiwanese prices of the base model of the Envy 14 Spectre, the Envy 15 Spectre would probably start at around $1,900. There's no information on what hardware changes are being planned, but a bigger chassis would allow for more storage and discrete GPU options. At 15 inches, a full 1080p screen is not out of the question.
The Envy 14 Spectre is in pre-order status now in the United States, and starts at a price of $1399.99. Initial shipments begin next Friday, February 17th. The base model includes a Core i5 processor, 4GB of DDR3 RAM, a 128GB SSD drive, and a 14-inch 1600x900 display. With its all-glass top and black-on-white styling, it's a radical departure from previous Envy models, and the Beats audio and analog volume dial help make it stand out even more from the ultrabook crowd. Be sure to check out our hands-on coverage from CES 2012 for a better look.
[via Liliputing]